Choosing a Content Marketing Services Provider:
5 Questions to Ask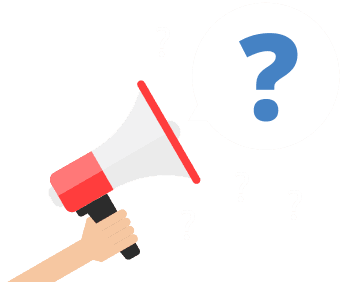 In this practical, informative white paper, you'll learn:
What a solid content market strategy looks like, why it's needed, and how a provider can help you get the results you seek.
Questions you should ask to help you make the best decision when contracting with a provider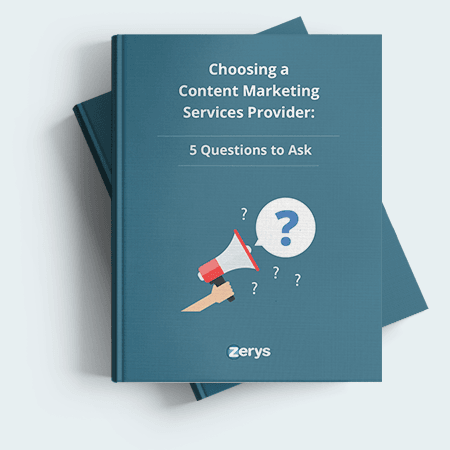 Download a
FREE

PDF version of this White Paper

Read this powerful white paper whenever and wherever you want to know right information and questions to ask while choosing a content services marketing provider.
If you're currently in the process of choosing a content services marketing provider for your organization, you know that finding one that fits your expectations, budget, voice, and goals is not easy. But that doesn't mean it's impossible. In fact, armed with the right information and questions to ask, you can make the process a much smoother and quicker one.
Before we talk about the top 5 questions to ask to land the perfect content services marketing provider, let's go over what a solid content market strategy looks like, why it's needed, and how a provider can help you get the results you seek.
A Solid Content Marketing Strategy
Whether you already have a content marketing strategy in place, or are just starting to form one, it's more important than ever that the one you have positions you as a leader in your industry while keeping pace with your brand's growth. Doing so helps you achieve a range of business objectives:
Demonstrating thought leadership.
Attracting and retaining customers.
Increasing sales.
Encouraging people to become brand advocates.
These goals are best achieved through relevant content that typically includes blogs, white papers, emails, newsletters, videos, social media postings, and web and podcasts.
A solid content marketing strategy is one that helps your brand prepare for strong sources of website traffic and new leads. To create a good strategy, you need to clearly define your goals, develop buyer personas, conduct a content audit, establish a method for managing your content, take advantage of online tools that help you create relevant content, and come up with a plan for publishing that content.
All of this takes time and creativity, as well as plenty of organization, to bring together. Laying the foundation and utilizing content creation and management tools prepares you for the next, most vital step: choosing your content services marketing provider.
How a Content Services Marketing Provider Can Help
Content marketing is one of your most valuable tools to earn more traffic, gain greater visibility, and build better brand awareness. Even if you've previously done in-house content marketing, there are several good reasons for taking advantage of what a provider offers:
They often represent significant costs savings.
They can put you in contact with multiple specialists who are well-versed in your niche.
They often produce better content.
In the end, the best content services marketing provider for your brand is the one that helps you achieve your stated goals. It's time to stop wondering how to get started in your search and set out to find a partner who can help you experience the success you're looking for.

Zerys is a comprehensive content marketing platform that makes it easy to plan, produce, edit, and publish extraordinary content your readers will love. Access over 55,000 pro writers and editors. No setup fees. No monthly fees. Only pay if you're 100% satisfied!
Why You Need a Content Services Marketing Provider
A successful content marketing plan demands the consistent creation of highquality content in the form of blogs, guest blogs, white papers, eBooks, landing pages, website pages, and more. It must capture your readers' attention and help you create a loyal following of people who generate new leads by sharing the content with others.
While you may know what you want your content marketing strategy to look like, if you're like many brands, you probably lack all the resources and manpower needed to execute it. A content services marketing provider will work with you to find the best solutions for your needs and goals.
The Search for a Content Services Marketing Provider
Brands of every size in every industry are turning to content service marketing providers to help them get results, but many aren't sure how to choose the right one.
There are thousands of individuals and companies who say they are the perfect provider for your business. Whether your experience in content marketing is nonexistent, or you're already a long-time practitioner, the sheer number of possible providers can make you second guess yourself. That's where this guide comes in.
Listed below are the top 5 questions you should ask to help you make the best decision when contracting with a provider.
1.

Why do I need your services?

A good content services marketing provider will give you a response that doesn't sound scripted or generic. Yes, they'll talk about how you need a consistent flow of high-quality content that helps you generate new leads and increase conversion rates, but what you're looking for with this question is why you should choose one particular provider over another.

Ask about the provider's resources and manpower. Discuss their collaboration process, and how they handle effectiveness measurement and reporting. Will there be a dedicated project manager and content strategist included in their services?

A professional provider will avoid making grandiose promises it can't follow through on. The people there will speak realistically about content marketing best practices and expectations. They will show they understand that every business is different. They'll be able to discuss general inbound tactics like blogging, landing pages, targeted marketing, and SEO, but will acknowledge they need to know more about your business and its goals before making concrete plans. Beware the agency that claims it can tell you on your first call exactly what they'll do for you.

Need Help Finding Great Writers?
Need to Discuss Your Content Strategy?

2.

Do you offer services for all types of business and industries?

Find out which businesses a provider currently works with. Do they work with companies like yours? Ask what the provider does to understand your business and your clients. Content marketing is not a one-size-fits-all process. What works for one company – even in the same industry – doesn't necessarily work for another.

A good content services marketing provider will give you a detailed plan on how they will learn about your industry, your brand and your targeted audience. They'll be able to knowledgeably and confidently discuss how to personalize marketing strategies to fit your business' needs. Don't forget to ask about how their current clients are benefitting from their services.
3.

Do you have proprietary software?

It's important for a provider to offer a platform that is easy to learn and use. They should also offer consultation and support services. Ask about the project management tools they offer. At a minimum, they should include the ability for you to:
Manage all your projects from one simple dashboard
Use a content strategy planning guide for each client or project
Set up each content project using an intuitive, step-by-step process
Create custom questionnaire templates
Discover the best topics to write about using a keyword and/or topic research tool
Brainstorm interesting and engaging titles for each client
Plan all posts via an editorial calendar
Sample writers risk-free
Manage the entire editorial workflow from start to finish
Verify the content provided is 100% original
Easily submit projects (including keywords, titles, and content)
Interact and collaborate with everyone on your team
4.

Who will be producing the content?

Fresh, relevant content is needed to build and engage your customer base. It must be up-to-date and useful to your audience. You want writers who can provide the content that helps search engines find and rank your website as a trustworthy source of information.

The people who will be responsible for producing your content must be the right fit for you and your business. They should understand what you do and what your values are. Most importantly, they must have the skills sets to help you achieve your goals.

How many writers will you have access to? Do you need a team of writers, or are you looking for just one who will handle your entire workload? Many businesses want to 􀈊try before they buy.􀈋 If that's you, look for a content services marketing provider who offers an audition process that lets you decide if a writer is right for you.

Ask providers about their editing and revision process. Are revisions unlimited? Do you have to pay for content that doesn't meet your standards? Discuss whether you'll need an in-house content manager.
5.

What is your business model?

Different content services marketing providers offer different services. Some specialize in one specific area, while others offer a wider range of services. Ultimately, it's up to you to decide what your company actually needs. What do you hope to get out of your relationship with a provider? Questions to ask include:
What support do you offer?

Ask if the provider offers 24/7 support. Can you reach a live person? Is there an online forum?

How does your pricing work?

Most providers offer pay-as-you-go, flat rate services. Some offer next-level services that include help with generating blog post or article topics, creating a content strategy, and so on.

What is my commitment?

Your level of commitment will vary from provider to provider. Most offer one-off services. Others offer low-risk short-term commitments where you pay month-to-month with the ability to cancel any time. Above all else, look for a provider who stands behind its services 100 percent.

Do you offer different levels of service?

A few content services marketing providers offer an even higher level of service, including strategy sessions, an editing team, and other dedicated services for a premium price.
Closing
Turning to an outside content services marketing provider can help a company accomplish its goals more quickly and improve its bottom line without straining its internal resources. A content service marketing provider offers your business several advantages: cost savings, niche expertise, quality content, higher accountability, and support. Getting the answers to these questions before choosing a provider makes sure you make the right choice for your business' needs.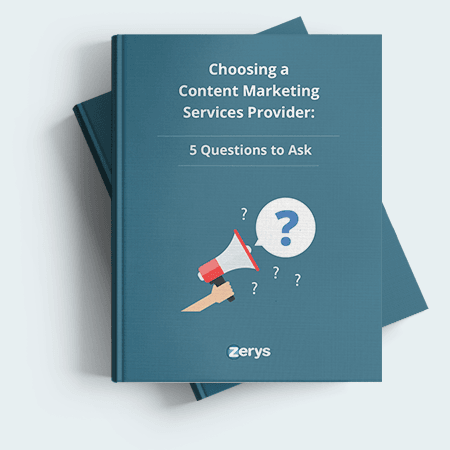 Download a
FREE

PDF version of this White Paper

Read this powerful white paper whenever and wherever you want to know right information and questions to ask while choosing a content services marketing provider.