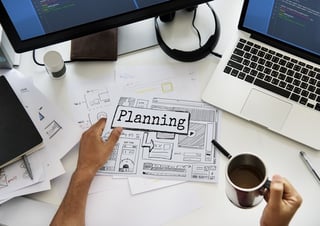 SMBs may have smaller budgets and marketing teams, but that shouldn't keep them from building a content development plan that rivals those of the "big guys." A content marketing strategy helps small and medium businesses:
Build trust with their audiences.
Position themselves as industry thought leaders.
Market themselves as effectively as with paid advertising.
Demonstrate their expertise.
Most importantly, a solid content development plan offers the best opportunity for growth and increasing your bottom line.
Every Business Needs a Content Development Plan
There's no better way to stay top-of-mind with customers and leads than through the relevant information you provide via content. A responsive website, business blog, newsletter, and online articles are a must. Adding white papers, eBooks, webinars, and video content to the mix is even better. Why? Because when you give people information they can use, you automatically become a trusted authority, someone they will look to for what they need themselves and share with others.
Need another reason to embrace content marketing? Search engines like Google reward consistently updated, content-rich websites by ranking the sites higher in organic searches. The more relevant the content you produce, the better you'll rank, and you'll attract more customers looking for your product or service.
The Benefits You'll Realize
Before designing your content development plan, you need to understand exactly what content marketing is, and what you hope to accomplish and gain from it. The definition of content marketing can change depending on what products or services you offer, and what you want to achieve. There are many ways to approach it and the variables can be complex.
What content do you need to produce?
How will you produce it?
How will you track its success?
How will you use it to grow over time?
No matter what your type of business, you can benefit from at least some of the tenets of content marketing. For example, your audience may not need in-depth articles or posts to make a decision, but you can still benefit from using the power of SEO to drive more traffic to your website. You also benefit by:
Providing consistent value to your audience, which builds customer loyalty and referrals.
Using gated content to collect data and generate new leads.
Establishing your brand as a go-to resource.
Having the opportunity to nurture relationships and build trust.
Keeping long sale cycle customers informed in a non-intrusive way.
Finally, content marketing for SMBs is often more cost-effective than more traditional forms of advertising. Spreading the word about your business across multiple channels like social media, websites, emails, or guest posts can help you realize a nice return on a relatively minimal investment.
What Does a Content Development Plan Look Like?
Convinced you need a content development plan? Great! Here's the short version of what one looks like.
Define your vision: who is the target customer, what type of content do they read, and how do their interests line up with your brand's goals?
Define your strategy: what type of content will you provide, what resources do you need to create it, and how often will your content be published?
Define production: what talent will be need? Writers, producers, photographers, and editors are some people you may need to hire.
Define success: how will the content be promoted and what platforms will you use? How will you measure the success, or lack thereof, for each campaign?
A strong content development plan plays a huge role in the success of your overall marketing goals and business growth. It's the engine that powers sales efforts and the development of stronger relationships with your online audience. Remember, when you build trust, demonstrate expertise, and offer something of value, the selling becomes easy.