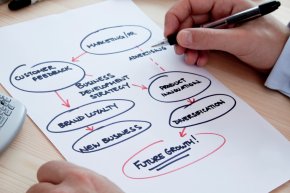 Developing a comprehensive content plan for your small to medium-sized business (SMB) might sound like a daunting task. By gathering the information you need and following tried-and-tested steps, you can make use of the opportunities offered by technology to promote your offering without needing a sizeable marketing budget to do so.
Understanding Content Marketing
The terms inbound and content marketing are often used interchangeably, but while they have similarities and areas of overlap, they aren't the same. Inbound marketing is the "umbrella" term for ways bring your audience in and attract them to your business, while content is the primary tool used to implement it.
Developing a Content Plan for an SMB
Knowing where to begin is challenging, especially if you're the CEO, marketing officer and operations manager all rolled into one. Follow these steps to develop your first comprehensive content marketing strategy.
#1: Define Your Purpose
It's essential to identify the purpose of your content marketing. What specifically are you trying to achieve? This could include:
Raising awareness of your product or service in your target market
Generating fodder for sharing on your social media accounts
Attracting enough users to sign up for an email newsletter, and then keeping them informed
Generating real online leads from interested prospective customers
Building up your reputation as an expert in your field.
You might feel that all these are good reasons for marketing, but it's impossible to achieve them all with one approach. Select the goal you believe will give you the best return on marketing spend at the current time, and go with that.
#2: Identify Your Audience
According to Sprout Social, it's important for a successful content plan to identify the target audience as distinctively as possible. You might feel everyone is a potential customer, and that may even be the case. You can't target all prospects in the same way, though, and you're more likely to reach your ideal client if you know what characteristics he (or she) possesses. Develop at least two personas to represent your primary target market, and create a name, gender, age, occupation and lifestyle for each one. This will help you to customize your content for each segment of your target audience.
#3: Choose Your Content Types
Digital content comes in multiple different types and media, and some may work better than others for your specific audience. The age of your ideal customer, for example, will have an impact on whether she is more likely to watch a video clip or read an article. Identify the types of content and the channels of delivery that have the best chance of reaching the personas you've created. For example, if you're targeting Barry the Business Exec, your content plan should include publishing in the type of media he reads or views such as articles or blog posts shared on LinkedIn and Twitter.
#4: Create a Schedule
By now you know who you're talking to (the customer personas) and what methods you're going to use to connect with them (media and channels). Most SMB owners and marketers say that finding ideas is one of the most difficult aspects of their content plan. Set up a three-month schedule based on the frequency you want to publish, and connect it to real dates. If you're starting half way through the year, for example, you may want to begin with June. Ideally, you should aim to publish new content weekly, but if you're new to inbound marketing and feeling overwhelmed, monthly is far better than nothing. Select the dates on which you'd like to publish, and then work backwards to give yourself enough time to prepare.
#5: Brainstorm Ideas
With your schedule in hand complete with dates, you can give some thought to topics. For a content plan that spans June, July and August, for example, you can start by considering significant aspects:
Spring, which means rain, warmer weather and fresh growth;
Summer, with the heat, vacation time and July 4th.
If your products or services are seasonal in any way, this should give you some ideas. Alternatively, if your offering is celebratory or proudly American, tying it to Independence Day or summer vacations could help you think of suitable blog topics.
Once you have finalized a comprehensive content plan you'll find it much easier to implement than if you're trying to figure it out as you go. Instead, you'll be able to focus on developing the content you've identified and getting it published and shared in a timely fashion.