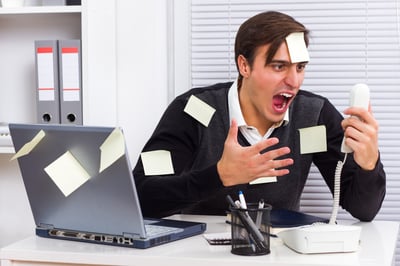 You probably already know that the best way to get the most out of content marketing is to create lots of content and to keep your outlets continually fed with fresh material. If you are not managing your time effectively it will not take long before you are bumping up against deadlines and rushing through your work. The problem, of course, is that quality is always the first thing to suffer when you are rushing—especially with an ongoing project like a blog. Once the quality starts to dip, the entire point of the blog is missed.
How Time Management Can Help
Whether you use a paper to-do list or a calendar on your smartphone, managing your time is essential to your success, and to the success of your content. Along with staying on top of your work and getting more done, managing your time can do so much more.
Fewer Problems. There are some people that claim that they do their best work when they are under the gun. For the rest of us, we usually end up creating more problems for ourselves when we're under pressure. From missed deadlines to skipped instructions, your work starts to come unraveled when you cannot take the time to do the job right. Retracing your steps to fix everything that has gone wrong only eats up more time and leaves you further behind.

More Opportunities. When you are constantly racing the clock, you will never have enough time to pursue new opportunities. You will be too busy making up for missed deadlines and reworking posts that were written too hastily and are not up to par. When you are on your game, you will have more time to go after new opportunities that could lead to better work, and better income.

Downtime. Probably the biggest benefit of effectively managing your time is being able to get some down time--and enjoy it without worrying. If you do not take enough time to rest, it won't take long for you to reach the burnout stage and then you will really get behind. Most writers and content creators benefit from making time for a little exercise, hobbies, and a good nap. After all, a rested writer is a good writer.
Strategies for Success
There are many ways to manage your time; what works for you might not work for someone else. The common thread that runs through every successful strategy is planning. Whether you schedule your time each day or a week at a time, set aside specific blocks of time for writing and set attainable goals.
Content writers and managers often have to work with assignments that pop up without warning and come with a short deadline. One of the benefits of an ongoing content project is that you know what is coming ahead of time so you can work ahead and create a little cushion for yourself. Take a day or two to focus only on creating this cushion—even if it means passing up other work. Remember, the goal here is long-term sustainability, not immediate reward.
Once you have that cushion, you can schedule your ongoing project in at regular intervals while still having plenty of time for jobs that pop up and need to be completed right away. Your days will run more smoothly, and you can finally have time to finish that novel, take a fishing trip, or even just stretch out on the couch and take a well-deserved nap.