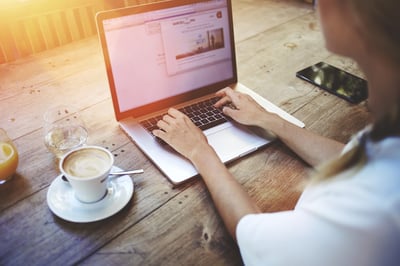 As a successful copywriter you have an opportunity to tap into a 2.6 trillion dollar industry that is thriving worldwide. But if you want to ensure that you get your fair share of the profits pie, you'll need to set your copywriting services apart from the competition and build a continuously growing client base. It's really all about getting your services noticed and establishing consumer recognition as an authority within your industry. Here are five awesome techniques you can implement to help make your copywriting services shine:
Create a Catchy Online Portfolio
One of the most important things you can do for your copywriting career is create an online portfolio that shows off your education, experience, and skills for potential clients to peruse. Never post content directly on your website that has been published elsewhere—instead, post fresh unique content as writing samples, or include links to content that has been published on another website.
Your online portfolio should be colorful to grab the eye's attention upon first glance, yet clean so visitors can maneuver the pages and sections easily. Use the homepage of your portfolio to introduce yourself and outline any specific copywriting services that you offer, and include hyperlinks to those services so clients can skip straight to the order page.
Use Social Media to Show Your Skills Off
Social media is an extremely potent way to connect with potential clients and maintain long term relationships with those who rely on your industrial expertise. Whether through Twitter, Facebook, Google +, YouTube, or a combination of them all, you can make your presence known 24 hours a day by scheduling catchy phrases, slogans, and informational data to be published on a periodic basis.
By offering quick tips, links to in-depth interviews and statistical content, and providing short samples of your copywriting skills, you can expect to grow a database of contacts in the thousands that will help you get the word out about the services you offer. For the best results, keep your door open to communication with your contacts by hosting Q&A sessions and providing customer support through various online programs such as email, newsletters, and copywriting blog posts.
Get Promotional with the Process
Another effective way to set yourself apart from the competition and to gain free word-of-mouth advertising is to implement promotional events into your overall advertising campaign. In addition to applying for work, networking on forums, making use of social media, and investing in various online advertising options, create some promotional items to give away.
You can host a contest on your website or a social media account, or offer free promotional products with every order for a specific period of time. The idea is to get a pen, mug, t-shirt, hat, or keychain with your logo, name, or website address printed on it in order to generate ongoing sales and encourage word-of-mouth advertising.
Cooperate with Your Colleagues
Cooperating with colleagues in the writing industry can result in increased business, improved consumer recognition, and business opportunities that you may not otherwise have an opportunity to tap into. Get together with other writers who specialize in areas other than copywriting services (such as blog writing and product description creation) and put together a promotional plan that enables you to pool your leads and distribute the work amongst each other based on each writers' specific experience and skills.
But you don't have to get so involved in order to get results if you're not so inclined—consider exchanging links on each other's websites, including the services of one another in your newsletters, or simply promoting each other's services on social media. It's always a good idea to start slow and ensure that a collaborative working relationship is effective before agreeing to any long term or in depth plans.
With the help of these tips and tricks, you should find that you'll be able to spend more time actually working with clients rather than trying to obtain them.