eBook: Writer Hiring Checklist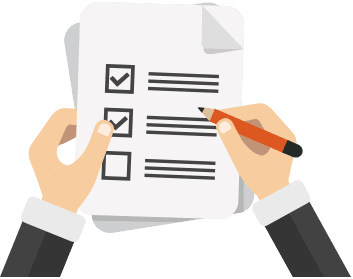 In this practical, informative white paper, you'll learn:
How to recognize the writers who know and have what it takes to turn out great content
How to hire the writers who have the skills required to help your marketing campaigns succeed
Opening:
When you're looking for writers to create the content you and your clients need, how do you tell the bona fide ones from the neophytes or wanna-be's? This eBook will show you how to recognize and hire the writers who know and have what it takes to turn out great content that drives inbound marketing campaigns. Includes a checklist you should use when interviewing and hiring writers.
Points to Hit
Questions to ask
Answers you want to hear
Red flags to look for
Checklist Points (will expand)
Why do you need a writer; what do you want him or her to accomplish?
What skills must the writer possess?
Should the writer have specific industry or format experience? How familiar are you with the subject yourself?
Are you looking for an in-house or freelance writer?
How do you decide which writer is the best for your needs?
Develop a plan that fosters collaboration between you and the writer.
Closing:
Think about how a team of writers who possess different skills may be the best way to go. The value you receive from your writers is reflected by the time you're willing to put into finding and hiring them.
Would you like an actual "writer hiring checklist" included (single lines with check boxes, etc.)?
Hiring one or more good freelancer writers is a tough task made even more difficult by the sheer number of writers available to choose from. How do you hone in on the ones who will not only be a terrific asset to your business, but who also have what it takes to consistently produce great content that attracts, engages, and converts? This eBook will show you how to recognize and hire the writers who have the skills required to boost business and help your marketing campaigns succeed.
We've put together a writer hiring checklist of essentials you should refer to whenever you're interviewing, auditioning, and hiring writers.
The First Four Steps of the Writer Hiring Checklist
The process of hiring great freelance writers requires asking a lot of questions. Before you start interviewing the writers themselves, though, you should answer these questions yourself:
Why do you need to hire a writer?
Where does the writer fit into your overall content marketing goals? Do you lack internal expertise, or will a freelancer be working with your in-house team? Knowing why you need a writer helps you know what type of writer to look for.
What do you expect from your writer?
Are you looking for someone who can pitch ideas, source images, and handle your social media campaigns in addition to content writing? Or are you looking for someone who writes content according to your instructions?
Who are you looking for?
There are any number of attributes you might need a writer to possess, but the ones every writer should have include good communication skills, a proven track record, the ability to research, and reliability.
Where will you look for a writer?
From social media to professional networking or asking friends and family, there are plenty of ways to look for writers. The downside is that approach can take up a lot of time that could be better spent on growing your business. That's when it's worth considering using a content creation service for your freelance writing needs.

Need Help Finding Great Writers?
Need to Discuss Your Content Strategy?
OR, Call us at
888-864-8398

Freelance Writer Hiring Checklist
The Basics
Time to get the ball rolling on hiring a top freelance writer for your brand? These basic traits are must-haves.
Abilities:

Ask for a breakdown of the writer's skills. What do they have to offer that will specifically help your company?

Technical Expertise:

Will you need the writer to be familiar with or use any special software?

Portfolio:

Writing samples are a must. Even better is an audition on a topic specific to your industry.

Chemistry:

While not always easy to tell before working together, look for signs like enthusiasm, interest in what your company does, and good communication skills.

Creativity:

Use the writer's audition or sample works to look for signs of originality. Do they use the same tired phrases you see on other sites? Does their writing show special insight into the topic they're covering? Look for indications that their past experience is adding value to your project.

Process:

Did the writer follow your instructions in the audition? If they weren't clear on what you wanted, did they ask before starting? Paying attention to how a writer works before hiring them can save you a lot of time and frustration down the road.

Pay Rate:

While everything is negotiable, you should be clear on what you're willing to pay before falling in love with any one writer. Great writers are always in demand and can command higher rates. Know what your budget it, but understand you'll most likely have to pay a higher rate for quality.
The Specifics of the Writer Hiring Checklist
Your must-have basics are now covered, so what's the next step? Determining which specific skills and characteristics a writer must bring to the table to ensure they're the right fit for your organization or agency.
Subject Matter Expertise.

It can be difficult to find writers who specialize in a specific industry or who have a substantial background in niche subjects. You may find talented "generalists" who are very good at research and can deliver well-written pieces, but is that enough for you? Readers can be keen authenticity detectors, so writers who have a deeper understanding of what a company offers bring more to the inbound or content marketing arena.

Voice.

All great writers have their own unique voice. Content writers, though, must use that voice to align with a brand's message. It means thinking about the audience they are writing for and the desired goal of your marketing campaign. One great way to "test drive" a writer is to ask them to familiarize themselves with existing content on a website and then write a piece that reflects its tone. Of course, if you're looking for a writer to establish that tone, you'll want to find a writer who's up to that task.

Style.

Inbound marketing depends on clear and digestible content. Readers want to know a brand is an industry leader, but they want the information delivered in plain language that's easy to understand. Good writers understand the rules of writing and are familiar with major style guides like the AP Stylebook or Chicago Manual of Style. Much more than grammar and punctuation guides, they also address issues like layout, formatting, or citations.

Communication.

Even if you use a go-between like a content creation service, it's important to have a good line of communication with the writers who work for you. A writer should feel comfortable asking questions that can help them write better, more relevant content. Most writers do not do their best work in a vacuum, and the best ones will look to the client as a partner who shares the goal of creating valuable content. Make sure the communication process with a writer is easy and open, and that he or she understands what's expected.

Revisions.

Revisions are an important part of the writing process and it's important to establish expectations and timelines for them. Revisions and writing fees often go together, and it's a part of the process you'll need to keep in mind when formulating your content production budget. In other words, if you hire writers at the lower end of a rate scale, you may find you will be doing some of the revisions yourself. In fact, many companies use freelance writing services to generate first drafts that are then revised in-house to match a brand's style and tone. Decide ahead of time what you want from the writers you hire.

SEO.

Writing for SEO purposes is about creating great content that is valuable and enjoyable for audiences to read while also attracting the search engines like Google who are responsible for ranking a site. Writers who understand how SEO works are worth their weight in gold. Search queries – the words potential leads type into a search box – are extremely valuable, providing publicity, revenue, and exposure far beyond other channels such as social media.

While no writer must understand SEO, for the purposes of content marketing, it's in your best interest to find one who does. At a minimum, a content writer should understand the basics like writing unique, non-plagiarized content, keywords for ranking well on SERPs, and hyperlinking and backlinks, which search engines put a huge emphasis on.

Rates.

Last, but certainly not least, how much do you pay a freelance content writer? The question lacks a simple answer, as fees can vary based on expertise and the work involved. Factors that affect pay rates include type of assignment (website copy, blog posts, eBooks, etc.) and the amount of research required. It can be tempting to go with writers who are willing to work for the lowest rates, but that can end up being a costly mistake. Here's why.

You're hiring a content writer to tell your brand's story. Big or small, every business in today's user-driven world needs to establish its brand as an industry leader offering the most valuable solution to a customer's problem. Great content is integral to a brand's success because it builds audience trust and wins business. Paying for qualified freelance writers, then, is necessary to boosting a brand's bottom line. Always think in terms of quality first, as today's search engine algorithms continue to be tweaked to seek out relevant content, not keyword-stuffed web pages or blog posts.

The two most common ways freelance writers get paid is word count and an hourly rate. It is possible to find great content writers to work within your budget, especially if you're in a position to offer steady work to a writer with expertise in your subject.

Need Help Finding Great Writers?
Need to Discuss Your Content Strategy?
OR, Call us at
888-864-8398

The Ultimate Writer Hiring Checklist
The writer you're looking for is out there, and you now have all the information you need to build a checklist you can refer to whenever you're getting ready to hire a content writer. Tick each one off as you read resumes and writing samples to ensure the writer you hire is the one who will deliver on any topic.
Ability – examine their skills
Budget – can you afford to pay the writer's rate?
Chemistry – is the writer professional?
Citations – should know the difference between and value of hyperlinks and backlinks
Content vs. copy – knows the difference
Expertise – do they know the subject matter?
Grammar and Spelling – knowing the difference between their, there, and they're really does matter.
Innovative – does the writer possess a unique voice?
Interest – does writer ask questions about the subject?
Portfolio – ask for samples
Research – avoid ending up with fluff
Voice and Style – does the writer's voice match a brand's style and needs?
Ready to Hire
It's easy to see how finding one writer to fulfill all your content needs can be a challenge. You may be best served, then, by creating a team of writers who possess different skills and areas of expertise. The value you receive from your writers is reflected by the time you're willing to put in to finding and hiring them. Content creation services provide you with a community of freelance writers who have already been vetted and rated, meaning you stand a good chance of finding the writers you need in a much shorter timeframe.
Get Top Rated Content Marketing Posts Delivered Right to Your Inbox.
Join Over
200,000

Subscribers