How do you hire a content marketing agency to help your company reach more potential customers? What are the most important considerations when you hire a content marketing agency? Sure, you might be impressed by an initial presentation or a few case studies, but is that enough?
We teamed up with the research team at Databox to ask 30 marketers for their advice on the issue. 66% of respondents said they provide content marketing services and gave their inside perspective. The remaining 34% have hired agencies themselves and speak from experience about the hiring and evaluation process.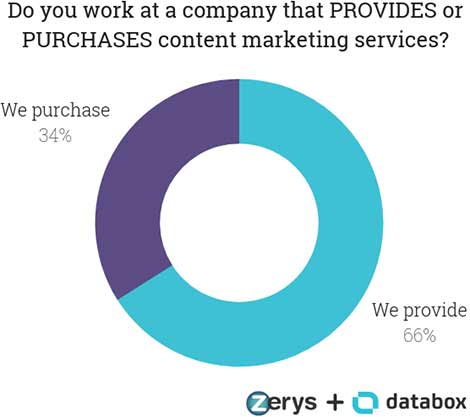 There was pretty strong consensus between both sides on some of the criteria you should evaluate when you hire a content marketing agency. But, not complete consensus.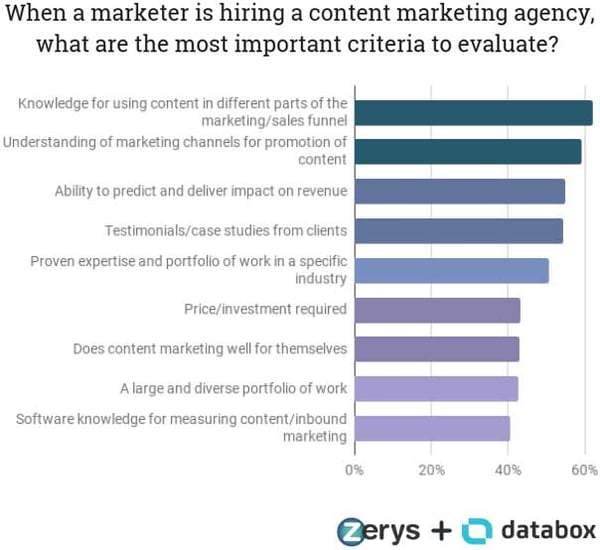 The majority agree that it is critical for your content marketing agency to know how to leverage content at different stages of the marketing and sales process, and to be able to predict content's impact on sales. Most agreed that agencies should know how to effectively promote content.
But, there is not agreement on how important it is for your agency to have experience in your specific industry. And only about 40% recommended requiring a large, diverse portfolio of work. However, the people who do think these things are important were pretty passionate about it, as evidenced by the advice we solicited from them...
So what did they recommend looking for when you hire a content marketing agency? Let's find out how to choose a digital marketing agency.
Check Their Past Work
"Always check out an agency's past experience—that means examining their previous projects and clients, and seeing if their style is right for your business," says LeaseFetcher's Will Craig.
"Content marketers are experts at crafting the right set of words to sell things, so it only makes sense that they'd do the same when it comes to selling their own writing services. Immersing yourself in their client feedback and testimonials is one good way to do this."
Jenna Erickson of Codal goes one step further than testimonials with her advice on what to do when you hire a content marketing agency:
"I would recommend speaking with the content marketing [agency's] previous clients to understand their working style and the ROI and results that companies have received from working with that specific marketing agency. I would also ask for case studies and examples of their content that [have] gained the highest ROI."
"The only downside about doing this is that agencies will always give their best clients as references, those who have nothing bad to say about them. To avoid this happening and to hear more authentic feedback, look for public reviews of each agency on marketing agency directories."
Look for Industry-Specific Knowledge
"Make sure the content agency has experience in your space," says Shannon Johlic of Blueshift. "Having industry expertise is vital to producing quality content (be they blogs or white papers or videos) that actually gets consumed, otherwise, there will be far more misses than hits."
"They should understand key personas and the terms/trends that would resonate with the audience you are trying to reach. Ask for samples in your space. Always."
Ask for a case study in your industry or with a similar target audience. Have them explain what types of content were used, how they distributed it, what the results were, and how they tracked those results. Do that, and you'll easily be able to make an informed hiring decision.

Ken Marshall
Founder & Chief Strategist , Doorbell Digital Marketing
While agencies with experience in your field are valuable for any industry, says Stone Junction's Thomas Roden, "specialist agencies are particularly valuable for B2B companies, especially in sectors such as engineering, IT or utilities."
Richard George of Print4Hospitality recommends suspicion during the hiring process of a content marketing agency: "If an agency claims they know all about your product or service don't take them at their word; check them out, you can test them out using some industry jargon or asking them questions about certain aspects."
Text Request's Kenneth Burke looks at not only the agency's previous projects but the writers' backgrounds as well. "No one is going to understand your industry as well as people who've actually worked in the industry, and readers can tell the difference between someone who's writing from experience and someone who's just listing facts they read off a few other websites."
Ask about Real Results
"If you are going to hire a content marketing agency, don't just look at their portfolio and examples of work," says Blogging.org's Zac Johnson. "Make sure you can see actual results from how they have helped a company grow and can see a real increase in their social or search rankings."
"When looking over the reports, make sure the keyword value and targets are there. The last thing you want to find out is that you were looking at search reports showing massive growth, but they were for non-relevant keywords."
Content is great, but it needs to produce results. Agencies should be able to provide you with stats related to SEO, newsletter signups, social shares, and other key metrics that their content produced for previous clientele.

Carmine Mastropierro
President & CMO, Mastro Commerce
"Similarly, read case studies they've created to get an idea of what performance increases to expect, and if that's worth the investment for you."
Dustyn from Nuance Nelly also recommends getting case studies when your hire a content marketing agency. "Make sure the agency has a relevant work history, with plenty of case studies. Case studies are a great way to pick the minds of the people working at the agency and break down their thought process of their content marketing strategies. If their case studies align with your vision and goals, it's a good sign they will be a good company to work with."
"The one tip I'd recommend for hiring a content marketing agency is this?", says Brian Lenney of Copy Vikings: "Prove it! Prove to me that you can do and HAVE DONE what you claim you can and will do for me."
"Who have you already done it for? Is there a case study? Can I talk to a past or current client? Is there a referral? You need to have the agency contact back up what they're saying with objective proof. Otherwise, you could be hiring them to solve something they've never solved before. And you DO NOT want to be their guinea pig."
Related: 3 Things to Look For When Hiring a Content Marketing Agency
Emphasize Your Goals
"There's so much content being made today," says Matt Zajechowski of Digital Third Coast, "with a majority of agencies choosing quantity over quality. Look for an agency that's making content that will help to achieve your content goals."
Ask the agency to show you a sample of their work that meets all or at least the majority of your requirements.

Anastasia Sviridenko
Content Marketing Manager, TextMagic
"For example, we ordered a blog post from an agency and asked them to use lots of statistics, examples and case studies. What we got in the end was a vague post with lots of beautiful metaphors but little meat. So my point is, check if the agency CAN actually meet your requirements (by asking for a sample) and only then, hire them."
Or Be More Flexible
Not every marketer recommended sticking only with writers that have specific experience in your niche.
"Don't be discouraged if the agency you're looking at doesn't have a case study in your specific field," says Peacock Alley's Ryne Higgins. "If they are capable of producing high-quality content for similar niches, then chances are they are more than capable of working with you to do the same."
Read Their Blog to See if They Do What They Say
"Look at their content," says Oliver Roddy of Catalyst. "Their own content should be a good indicator of whether or not you'll want to work with that agency. Their content on their blog and across their social feeds should give you a great idea not just of the quality of their work, but of the people behind it."
"If you love reading their content, odds are you'll love working with the people in the business on your own content strategy and love the output even more. It's important not to judge their tone too much as this will more than likely change for your own articles and copy, but generally speaking if you like their sense of humor, the way they make their points and reading their articles, you'll be happy with the work they do for you, too."
Clutch's Kristen Herhold recommends checking "the agency's own content marketing. If its blogs are compelling and engaging, they will write compelling and engaging blogs for you. If its blogs are poorly written or, worst of all, you can't find any content marketing the agency has done for itself, move on and find someone new. If an agency doesn't care enough to create a successful content marketing strategy for itself, how can you trust it to do so for you?"
Related: Questions to Ask When You Hire a Content Marketing Agency
Make Sure They Understand Content & Business Strategy
"The most important thing we considered when looking for a content marketing agency is their understanding of strategy," says Paperlust's James Boston.
"This means that not only does the content need to be of high quality and valuable for our brand, but also how it is structured seeded and positioned whether on our site or externally and how that will drive time on site, conversion and acquisition. If an agency can't provide a strategic plan about where their content will be used to greatest effect then they should not be hired."
Hussein Ebied of PACIFIC gives similar advice when hiring a content marketing agency:
"The one thing that separates the wheat from the chaff is the presence and input from a solid strategy & insights practice. Launching into content production without a clear strategy can lead to misalignment with your overarching business goals."
"Early in my career, for example, my idea of content marketing strategy was exclusively based on the acquisition of organic web traffic and links. I simply researched new opportunities based on search or social engagement trends and developed content that was related to those topics."
"Beyond the tangential relationship to my client's industry, there wasn't much that connected one piece of content to the next. Furthermore, there was minimal consideration for people who were seeing this content. Demographics, interests, propensity to buy, none of that mattered. If people were reading it or linking to it, then I was happy."
"With strategy & insights," Ebied continues, "your business can overcome this narrower view of content marketing. A good agency won't just develop an editorial calendar based on short-term engagement metrics. Based on extensive research for your brand and audience, they should be able to develop a much more effective content strategy that can achieve all your desired KPIs while also driving awareness, consideration, and loyalty with target segments of your audience or even your current customers."
"It can't only be about 'Likes,' 'Shares,' and back-links. Don't get me wrong, those things are important. But it also has to be about growing customers and their lifetime value."
At the end of the day, if your content marketing strategy does not support your primary business goals, then your return on investment will likely suffer. Tying your content marketing efforts to one cohesive strategy will give it the best chances for success.

Hussein Ebied
Senior Director of Strategy, PACIFIC
Dennis Sievers of Webiteers emphasizes the importance of content's role in a larger framework: "look for an agency that focuses on ROI and strategy around content marketing."
"No piece of content should ever stand on [its] own: it's part of a journey. Work with both marketers AND storytellers to create compelling content based on a solid strategy, centered around your client[']s needs and therefore aimed to sell in the end."
Dana Kachan of Rioks notes that being strategy-focused "doesn't mean only having a head strategist, but also a strong methodology and a good track record."
Related: How to Create A Killer Content Marketing Agency
Look for Goal Orientation
"In my opinion, an agency with a goal-oriented mindset always stands apart from its competitors," says Vivek Patel of E2M Solutions. "The ultimate goal of any content marketing campaign is to meet the goals set by the client. An agency with a goal-oriented mindset knows how to create genuine and engaging content that revolves around your specific business goals."
"Usually, such an agency understands how to change its content marketing approach as your business goals evolve. In short, you don't have to ask 'Are we doing what is necessary to achieve our goals?' at every meeting. You get a no-nonsense and comprehensive monthly report. You can readily see whether or not you are observing the expected sales growth and ROI."
Seek Out Business Alignment
"To make sure you are not hiring yet another run of mill agency, you have to deep-dive into the fact that how their approach is attuned to your business objectives," says Mettl's Shakun Bansal. "Every business has different objectives and expectations from content marketing initiatives and therefore, a template-based or one-size-fits-all approach is out of [the] question."
If an agency provides a standard plan as they do for all their clients, it's a complete No-No. Rather, you must check how flexible and agile they are in their content strategy and what degree of customization can they offer for your business. The agency must understand where your business stands from a content standpoint and what all needs to be done to move the needle.

Shakun Bansal
Head of Marketing, Mettl
"Is it blogs? White Papers? Reports or In-depth Thought Leadership? Once you narrow down the type of content, try to understand their approach behind dissemination and what all channels they propose to distribute the content and get the maximum output of the initiatives."
Fundera's Nicolas Straut gives similar advice when you hire a content marketing agency: "require a concrete deliverable with specific parameters before you sign a contract. For example, if you're hiring a link[-]building agency, ensure that they agree in writing to acquire a specific number of links with a desired domain authority range. If you're hiring an agency to optimize content, agree on desired search rankings for optimized pages."
"Businesses too often agree to vague terms or are unspecific in the content marketing outcomes they desire from agencies. Find the right agency with a track record of success that will deliver on the outcomes you need for your content to succeed."
Natalie Athanasiadis of Ormi Media also discusses specific metrics.
"What metrics will your content marketing partner use to evaluate success? Their [KPIs] need to align with you and your business goals otherwise you could be investing in working towards the metrics that don't generate any benefits to your overall business and bottom line."
"Often when the [KPIs] involve securing guaranteed rankings or cheap link services you are not going to find long term value, in fact, it would be to the detriment of your online presence. Content marketing is a long term game with positive gains when done correctly, always ask what you will be working towards and if it sounds too good to be true. Run."
Come Prepared
"Know what you want your agency to accomplish," says SoFly's JT Street. It's hard to look for business alignment when you don't know what the agency should be aligning with.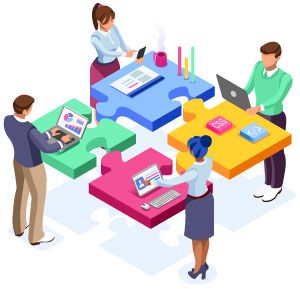 "Sometimes clients will try and hire me to write them a press release when what they want would be better served by having me make a social media ad for an event page. Let your agency know the actual goal you're trying to achieve, and then let them worry about how to manage it. That's what they do. If they're good, they may surprise you."
Michael Hammond of Storyboard Media Group agrees: "You want a team that has the experience to scale their services and capabilities...and tailor them exactly to your project and your growth goals."
"If you're a startup, an agency should help you amplify fast. If you're established, your agency should help you micro target while avoiding jargon so you can stay human. This goes beyond simple content creation and delivery to seeing a project through from ideation and messaging to measurement, optimization & reuse."
"A good way to think about this is to consider the difference between renting a car vs. hiring a white glove car service."
"[In one] scenario, you're navigating traffic, obstacles, and schedules. You may have a co-pilot and you may make it to your destination; while in the other, you're trusting your capable driver to anticipate challenges, take the unnecessary burdens off your plate, and ensure that everything is buttoned up flawlessly and on-time so you can use all of that drive time to strategize your next big move."
Related: Do You Have What It Takes To Be A Successful Content Marketing Agency?
Ensure You Will Be Able to Work with Them
"[O]ne critical thing that is often overlooked by companies looking to hire a content marketing agency is the nature of the relationship they want to have," says IMPACT's Kathleen Booth. "Most agency-client relationships fall into one of two buckets: vendor or partner."
"A vendor relationship is one in which you hire an agency to do what you tell them to do. They deliver the service you have asked for, no more and no less. A partner relationship is one in which you tell the agency what your goals are and they work hand[-]in[-]hand with you to achieve them."
In my experience as an agency owner, partner relationships produce better outcomes because they are built on mutual accountability. The agency only succeeds if you as the client do, and vice versa.

Kathleen Booth
VP of Marketing, IMPACT
Booth continues: "How does this play out in the hiring process? Look for agencies that push back and question you, not for agencies that are going to bend over backward to please you. This is the kind of healthy tension that makes for the most successful outcomes further down the road as your agency-client relationship matures, and it should exist in the sales process just as it does in the account management process."
"Does the agency sales rep challenge your assumptions? Are they willing to say no when something doesn't make sense? While these kinds of interactions can be frustrating, they are a strong signal that the agency is approaching you as a true partner rather than a vendor."
Karen Chalco of Advisify comes right out and asks the tough questions during hiring: "make them talk about how hiring them will directly benefit you over hiring other agencies."
"The problem with most agencies is that they talk about their services, their menu of offerings, and their track record, without learning enough about your business....and without making it CLEAR how you'll directly benefit from hiring them to produce content for you."
Find a Good Cultural Fit
"It is essential to find a team that inspires trust and confidence in their ability to achieve strong results with strong ROI," says ClearPivot's Chris Strom. "But it is equally essential to find a team of people you like—people who make you feel comfortable as well as inspired—because successful marketing is a partnership."
You will be spending a lot of time with each other, so it's important that your company beliefs and values align. You don't have to be best friends, but a sense of humor goes a long way to making the process a lot more enjoyable for everyone.

Sarah McIntyre
Founder & Chief Strategist, Bright Inbound
Maybe Hire Writers Instead
"For most companies, hiring an agency makes sense. Agencies usually understand your market, your strategy and know how to deploy content for maximum ROI. But, if you have enough experience with those things yourself, I recommend hiring freelance writers instead of an agency. Just make sure you have either a really strong project management system in place or use content marketing software like Zerys to manage your writers " added Peter Caputa IV, current Databox CEO and founder of HubSpot's agency partner program.
Related: How to Know When You Need a Content Marketing Agency
Put in the Work to Find and Hire the Right Content Marketing Agency
If you've read all the great advice above, you might be thinking that this is a lot of information to keep in mind when you hire a content marketing agency. But it all comes down to one point: put in the work when you're hiring a content marketing agency.
Hiring an agency means you have less marketing work to do. But you'll need to identify your needs, research agencies, and vet the candidates thoroughly. It might seem like a lot of time and effort when you're trying to save both. But it pays off in the end.

Dann is a freelance writer who helps B2B companies reach their audiences more effectively. With an emphasis on organic traffic and conversion, he takes big ideas and turns them into highly practical content that keeps readers hooked.