MakeFloridaYourHome.com is a Florida-based mortgage company that specializes in helping people find and finance their dream homes in the Sunshine State.
The company wanted to generate leads and grow its business through organic search, but traffic to its website averaged just 2,000 visitors per month.
In an effort to boost its online presence and drive more traffic to the site, MakeFloridaYourHome.com turned to Zerys, a content marketing platform that helps businesses create and distribute high-quality content to attract and engage with their target audience.
Working with the Zerys team, MakeFloridaYourHome.com implemented a comprehensive content marketing strategy that focused on
creating valuable and informative content that was optimized for search engines, as well as securing inbound links to increase the site's domain authority.
The results were impressive. Within just four months, MakeFloridaYourHome.com's organic search traffic had skyrocketed to 60,000 visitors per month, an increase of 2,900%.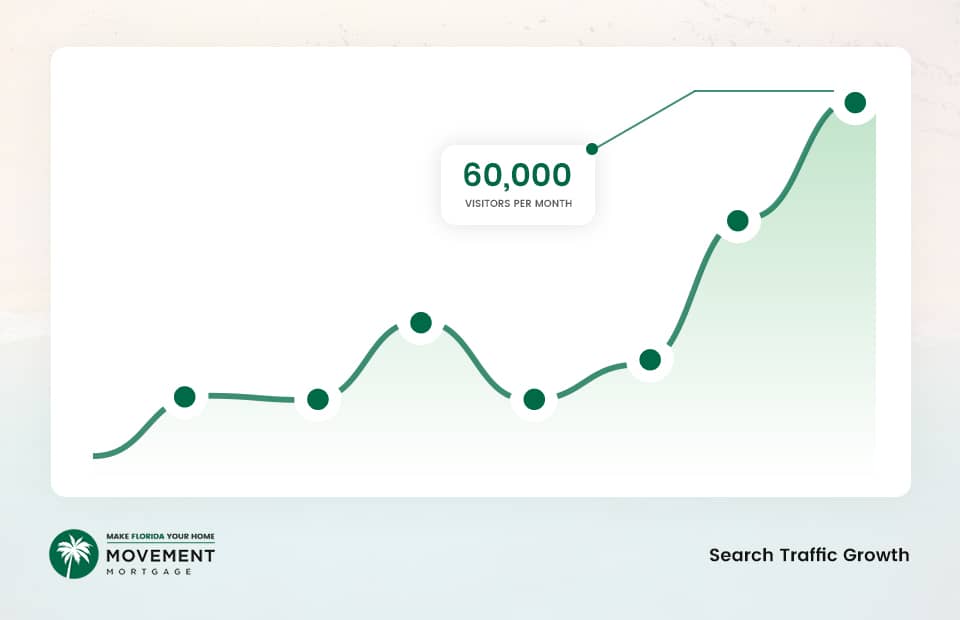 This traffic has led the company to 300 high-quality leads per month and dramatically increased brand awareness. The website now ranks high for thousands of relevant keywords.
In addition to the increase in traffic and leads, MakeFloridaYourHome.com also saw a significant improvement in its form conversion rates.
By working with Zerys to create more effective and engaging content, the company was able to increase its form conversion rates from 4% to 10%.
Zerys went above and beyond and exceeded all our wildest expectations.

Phil Ganz
President, Make Florida Your Home
FHA, VA Loans, Real Estate, and Homes for Sale
Let's get into the techniques MakeFloridaYourHome used to get the most out of Zerys.
Optimize for Location
One key aspect of MakeFloridaYourHome.com's content strategy was optimizing all of their content for location. By including specific keywords and phrases related to Florida and the different cities and regions within the state, the company was able to improve its search engine rankings for those locations.
The team also used blog posts that highlight the most popular areas for residents, real estate trends, and also about the best neighborhoods for families, retirees, and first-time buyers.
This helped to establish MakeFloridaYourHome.com as a trusted and authoritative source of information for anyone looking to buy or finance a home in Florida.
Additionally, the team also made sure to include location-specific calls to action throughout the site, encouraging visitors to contact the company for more information or to schedule a consultation. Consider how your business can use local keywords to be more competitive in search rankings.
Pick the Right Keywords
Another important element of MakeFloridaYourHome.com's content strategy was choosing the right keywords to target. The Zerys team worked with the company to identify the most relevant and valuable keywords for their business, including phrases related to mortgages, home buying, and Florida real estate.
They also made use of long-tail keywords, which are more specific and targeted phrases, such as "mortgage rates for first-time home buyers in Miami" or "best neighborhoods for retirees in Tampa". These keywords were then incorporated into the company's content, including blog posts, infographics, and videos, to make them more search engine friendly.
This helped to improve the company's visibility in search engine results pages (SERP) for these keywords, which in turn led to more organic traffic to the site.
Additionally, the team also monitored the website's analytics to track which keywords were driving the most traffic and made adjustments to the content strategy accordingly.
Zero In on What Works
A key factor in MakeFloridaYourHome.com's success with their content marketing strategy was the ability to zero in on what was working and what wasn't.
The team closely monitored the company's website analytics, tracking data such as traffic, leads, and conversion rates, and used this information to make data-driven decisions about the content strategy.
For example, if a particular blog post was generating a lot of traffic and leads, the team would create similar content in the future.
On the other hand, if a certain type of content wasn't performing well, the team would adjust the strategy accordingly. By focusing on what was working, the team was able to optimize the content for maximum results.
Additionally, the team also closely monitored the website's search engine rankings for different keywords and made adjustments to the content accordingly.
For example, if a certain keyword wasn't ranking well, the team would optimize the content for that keyword and track the progress.
This helped to ensure that MakeFloridaYourHome.com's content was always aligned with the company's goals and was targeting the right audience.
Furthermore, the team also used the data to identify the most popular areas and neighborhoods, which helped the company to create location-specific content and drive more local leads.
Bottom Line
Overall, MakeFloridaYourHome.com's partnership with Zerys was a huge success, helping the company to grow its business and attract more customers through organic search.
The company highly recommends Zerys as a valuable partner for any business looking to boost their online presence and drive more traffic and leads to their website.