When the time comes to produce new content, should you be hiring freelance writers or hiring in-house writers?
It's a loaded question, and one that doesn't have a cut-and-dry answer. The best option for you varies widely based on things like your budget, the scale of your content operation, the technicality of your industry, and more.
To make it easier to choose between hiring freelance writers and in-house writers, we teamed up with the Databox Research Team and talked to over 100 marketers (and a few writers) to hear their thoughts on the advantages of both freelance and in-house writers. Among those we heard from were 46.7% in-house marketers, 45.7% agency marketers, and 7.6% freelance writers.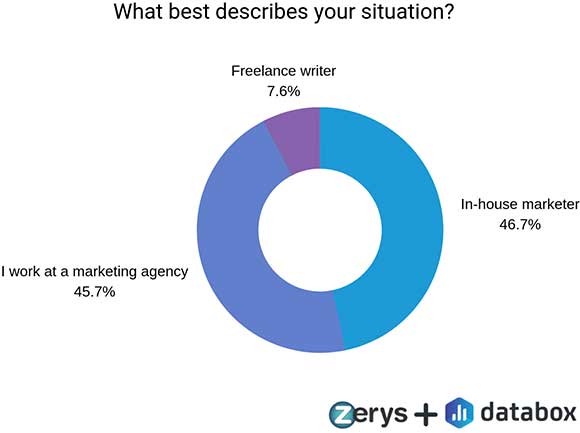 First, Let's Get to Know Our Marketers
More than hearing about the benefits they saw with each type of writer, we also wanted to understand a little bit about their content efforts—and how those might affect which type of writer they preferred.
To get a feel for the scale of our experts content operations, we asked how many pieces of unique content each respondent published per month: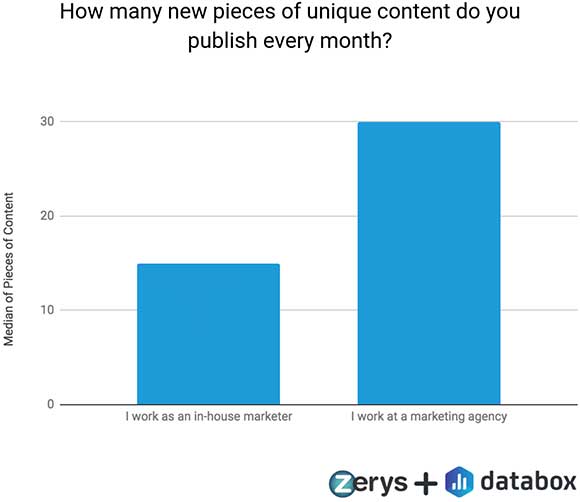 Agency marketers published a median of 30 pieces per month while in-house marketers published a median of 15.
We also asked how many different websites they publish content to.
As expected, in-house marketers publish to a smaller number of websites, with a median of 2 websites. Agency marketers published to a median of 8 websites, while freelancers published to a median of 4.5.
Related Resource: How the Right Blog Content Strategy Can POWER and SIMPLIFY All Your Online Marketing
Lastly, we wanted to get a more rounded picture of their content machines, so we asked about volume of content and spend.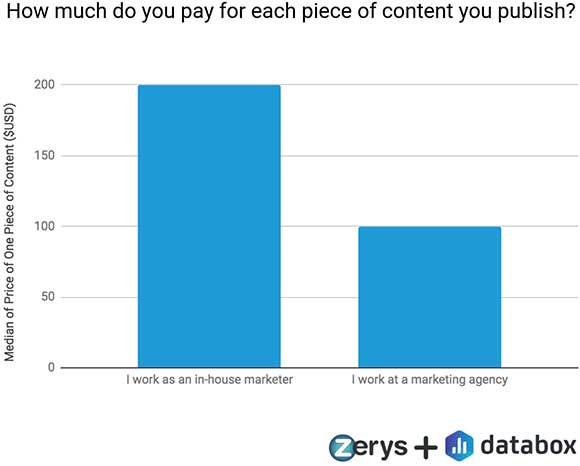 Agency marketers said their median cost per piece of content is $100, while in-house marketers' median is double at $200.
The Benefits of Hiring Freelance Writers
Let's start by sharing the benefits our marketers see from hiring freelance writers to produce content. Among the groups we spoke with, agency marketers indicated a higher percentage of their content is produced by freelancers.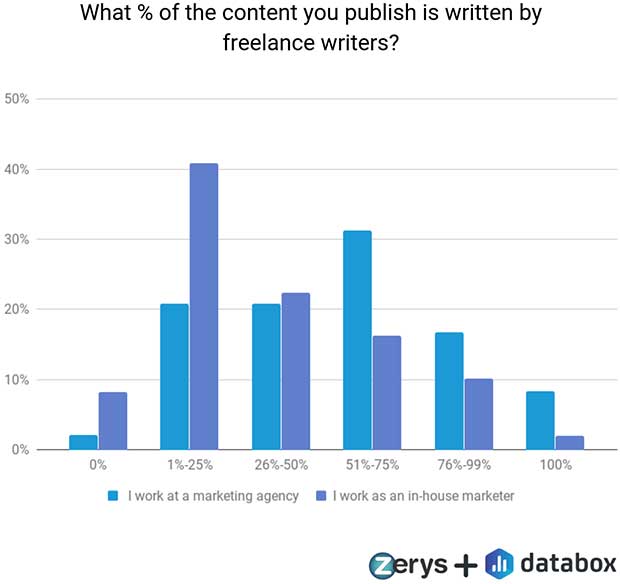 Here's What Freelance Writers Had to Say
It wouldn't be right to talk about the advantages of freelance writers without giving them a say. While we spoke to a smaller percentage of freelancers, they shared several key benefits their clients enjoy working with them.
Jeff Rohde of J Scott Digital noted 3 main reasons clients look for freelance content creation:
Their in-house marketing staff is overworked and they need an experienced source for overflow
They require material written that is outside of the expertise of their in-house staff
They require an outsider's perspective
Many of the responses we heard—from marketers and writers alike—fell in line with those three needs.
Hiring Freelance Writers Brings a Fresh, Outside Perspective
People who work inside a company become too familiar with the products, services, and jargon. This can quickly turn into a disadvantage when you're looking to communicate outside your bubble.

Teodora Pirciu
Content Kingpin, Impressa Solutions
Gordon Benzie of GB Marketing & Communications shared that observation, adding, "Those who write content internally typically have their own perspective already in mind that is likely closely aligned to the company story. But over time that doesn't yield fresh new ideas, which often come better from an outside perspective."
Rob Swystun expanded on that, noting how in-house team members can often be too close to a subject.
"One of the biggest advantages of hiring a freelance writer is the fresh ideas and mindset they bring to a project. Business owners and employees are often too close to the projects they are hiring for, and they can't see it from an unbiased perspective. When they bring in someone from outside their organization," Swystun added, "we can take a look at the project with fresh eyes and provide new ideas."
You Have More Flexibility to Scale Up or Down
Another advantage we heard from the freelancers themselves has to do with flexibility. When companies work with freelancers, they're free to scale up, down, or sideways as business needs and priorities change. That's a big benefit over hiring in-house.
As Lydia Noyes of HighYa explained, "Freelance writers offer flexibility that can be mutually beneficial for the freelancer and the client. For example, clients don't need to pay their freelancers on the weeks they don't have work for them, and freelancers have the flexibility to turn down or take on more jobs as their schedule allows."
Symbiosis!

Need Help Finding Great Writers?
Zerys has over 85,000 freelance writers, categorized by industry expertise!
Here's What In-House Marketers Had to Say
You may remember that our in-house marketers reported spending quite a bit more on each piece of content than their agency counterparts. So it was to be expected that they had a lot of, ahem, opinions on this topic.
Here are the top benefits they outlined about hiring freelance writers.
Freelance Writers Can Provide Subject Matter Expertise
"I love being able to select writers with very specific skills and experiences, depending on the content I want to publish," said Kristen Craft of Tettra.
This was one of the most common advantages we heard about from the in-house marketers.
"The biggest advantage in my mind," said Eric Hoppe of Crowd Content, "is that you can usually find a freelance writer with virtually any expertise. If you're working on a variety of projects for multiple clients, you're unlikely to hire one in-house writer who can write authoritatively for each of your client's unique needs."
Miva's Luke Wester added, "This is where freelancers shine. They provide value by fully understanding a specific niche or industry."
"In-house writers tend to specialise in one or two fields of expertise, while freelance writers are less one-dimensional," explained Gregory Golinski of YourParkingSpace. "They can easily adapt their writing to different subject matters, because they're used to working for clients in many different fields."
"Freelance writers allow companies to access and incorporate subject matter expertise they otherwise would not have access to," said Kurt Uhlir of Showcase IDX. Uhlir's comments illustrate a common thread: that subject matter expertise opens up both the depth and breadth of content you can produce.
One advantage of hiring freelance writers is that you can have a portfolio of content specialist freelancers at your disposal depending on the topics you need covered.

Nicolas Straut
Senior SEO Associate, Fundera
"Some of our part-time writers specialize in housing market analysis, while others excel in writing guides for beginner investors," Daniela Andreevska of Mashvisor explained. "This diversity in talent and knowledge is not something we'd be able to achieve if all our content was created in-house."
You Can Scale Your Content Operation More Quickly
The in-house marketers we heard from emphatically echoed this benefit highlighted by the freelance writers themselves.
"Freelance content teams are extremely scalable. As your needs grow, you can intro more writers and supercharge your content marketing efforts," said Max Woolf of Zety.
"For us," added Matthew Ross of The Slumber Yard, "the biggest advantage to hiring freelance writers is the flexibility in regards to payroll. The volume of our content ebbs and flows quite a bit. Some months we need a lot of writing and some months we only need a few articles. The nice thing about contracting out to freelancers is that you only pay for what you need.
Simply put, "it is the quickest and the most cost-efficient way to scale content creation and marketing," said Sadi Khan of Run Repeat. "Sometimes there are so many ideas, opportunities, trends, and topics that you cannot target them all with in-house writers. This is where freelance writers can come in handy."
Related Resource: Using Auditions to Find the Best Freelance Content Writers
Hiring Freelance Writers Can Be More Cost Effective
While freelance writing rates can vary widely based on niche, expertise, and more, freelance writers are generally most cost effective than hiring a full-time writer if you don't need that much content. If you don't need 40 hours worth of content each week, it's better to just pay for what you need.
Hiring freelance writers makes it easier to incrementally scale content production. Adding even one extra writer in-house requires a significant budget allocation, plus the added production to justify the hire. Going the freelance route, the cost to publish additional content is limited to the content produced.

Stephen Jeske
Senior Content Strategist, MarketMuse
That was a key point for our in-house marketers: keeping costs closely tied to actual content output.
Alex Robinson of Team Building Hero explained, "For example, we recently hired a freelance writer to produce 4 long-form articles for $125 each. I'd estimate each article took around 5 to 10 hours to research and write. In-house, that would've cost us between $90 and $180 each, plus taxes and overhead."
Melissa Zehner of Lendio says they use freelance writers to help test out new content efforts, before a full-time team is needed. "We leveraged a team of freelancers to cautiously test and prove out our content marketing efforts before bringing on a full-time team. By the time we brought in our new hires, we had a wealth of data and strategies for them to work from."
Hiring In-house writer: An in-house writer typically has a much better understanding of your business and can offer deeper insight than a freelancer can. If you have ongoing content needs that involve detailed explanations or complicated topics, opt for an in-house writer.
Related Post: How to Find Freelance Writers for Hire with Tips from 30+ Marketers
It Can Be Easier to Find the Right Content Partner
One of the big benefits we heard a lot about was flexibility—but that comes down to more than just scaling up or down.
Marc Andre of Vital Dollar also highlighted the flexibility to let go of business relationships that aren't working: "Hiring freelance writers gives you a lot of flexibility. If one writer isn't working out, you can easily and quickly end the relationship. There are a lot of freelance writers out there, so you can always find someone new."
Related Resource: Top 10 Reasons Blog Writing Services Can Help You Succeed
Freelancers Free Up Your Time to Focus on the Big Picture
Whether they're also leading content and editorial strategy, promoting content on social media, monitoring content analytics, or something else entirely, the reality of marketing is that you won't find a lot of in-house writers who only write.
The advantage, then, of hiring freelance writers (people who only write) is that they can free up those marketing minds to focus on bigger picture things.
"One of the biggest advantages of using a freelance writer is that it saves us a lot of time," said Kate Wheeler of iPromo. "We're able to focus on higher priority items while the writer is focused on producing content."
Freelance Writers Can Be a New Set of Eyes and Ears
Many of the in-house marketers we heard from spoke to the value of simply adding an unbiased, new perspective to the mix.
"Groupthink is a great way to describe what can happen when in-house marketers spend too much time working with each other," explained Alan Santillan of G2. "Freelancers come in with limited knowledge and try to build around whatever guidelines are provided. Their ideas and methods to building content come with a unique look at how writing can be approached."
John Donnachie of ClydeBank Media said, "Our team is small and it's very hard to get a second look when there are only a few of us producing content. Like it or not, we fall into content production patterns that reflect our thinking and our experience. When we work with freelancers, we are flexibly bringing people into the process that have experiences and perspectives that are (sometimes radically) different from our own."
Anastasia Iliou of Medicare Plan Finder shared this example: "We gave a freelance writer a blog on preventative health benefits for Medicare. Considering we're Medicare professionals and our freelance writer was not, he answered questions for our readers that we didn't even consider asking—because the answers are obvious to us and we know that we've answered them in other areas."
There are benefits of working with writers who also work on a variety of things. We get to work with writers who are being inspired by other projects, industries, and environments. We find that this makes their insights fresher and more exciting to our readers.
Jessica Day
VP of Marketing and Communications, IdeaScale
Here's What Agency Marketers Had to Say
While the agency marketers we spoke with noted spending less on each piece of content, they also publish a lot more of it.
Here are the top advantages they identified of hiring freelance writers.
Related Post: Tips for Hiring the Best Blog Writers for Your Business
You Can Find Freelance Writers Who Specialize in Niche Markets
"Since our agency has a diverse roster of clients, it would be nearly impossible to find a single writer to cover all the industries we serve," said Unincorporated's Robert Johns.
Whereas in-house writers have the opportunity to develop subject matter expertise, it isn't always viable for agencies to hire in-house for every niche or technical client.
"We work with a huge variety of companies in the B2B tech sphere and there's no way that any single writer could effectively produce content for all our clients," said Nili Zaharony of Penguin Strategies. "Some need a more technical background, or more experience in cybersecurity or telco solutions. Using freelancers allows us a greater breadth of experience and expertise that just isn't possible with an in-house writer."
Karim Bouras of NILE agreed, adding, "Hiring freelance writers give you the ability to find the best writer for the subject. If you need content for niche or technical markets, you need writers that not only have strong writing skills but are experts on the subject.
The variety of niche experts out there in the freelance world enables us to say yes to more clients. Working with freelance writers gives our team more agility and helps our agency close new customers in markets we may not have in-house experience with.

Karim Bouras
Founder, NILE
They're Pay-As-You-Need
Another key benefit is the scalability of costs marketers enjoy when working with freelancers.
"Company strategies and budgets change all the time, so you may or may not need a lot of content written at any given time," noted Mike Schiemer of Bootstrap Business. "If you don't need their services, you aren't committed to paying them a guaranteed salary. And you don't have to pay them costly benefits like an in-house employee would require."
Related Resource: Hiring Freelance Writers: How Much Should You Pay?
You Can Work With Freelance Subject Matter Experts for Each Client
With the flexibility and lower costs of freelance writing, agencies can even assign separate freelance subject matter experts to each client.
As Brian Serocke of Beacons Point put it, "Working across different complex B2B industry verticals can be challenging for one individual writer. You can't expect a writer to be an expert in artificial intelligence, then turn around and write in-depth about supply chain logistics, for example. Using freelance or outsourced writing talent allows you to find individuals who are experts in their particular field to produce content that hits the mark for each client."
Related Resource: Writer Hiring Checklist (eBook)
Hiring Freelance Writers Can Help You Be More Flexible With Clients
Working with freelance writers helps our agency handle more content when our clients demand it.

Amber Callan
Inbound Marketing Strategist, Leap Clixx
In addition to varying client needs from one to another, agencies also have to manage content production needs and changes within each client.
"Sometimes our clients want more blog content than our in-house staff can handle," Callan explained. "So instead of turning away the business or redirecting our clients to service they don't want, we have a team of freelancers who are excited and willing to handle extra content for us."
Freelance Writers are Experts in More Than Just Writing
Here's a secret marketers who haven't outsourced writing may not know: freelance writers are a whole lot more than writers. They're marketers. They're SEOs. They're salespeople. They're conversion optimizers—and more.
"You benefit from the experience freelancers bring from other organizations and client accounts alike, offering insight on processes and best practices across the industry," said Sally Wills of Isoline Communications.
"More often than not," Zamir Javer of Jumpfactor added, "it pays to outsource to the experts who know what to do and what to avoid to maximize your results from an online perspective."
"If your goal is to drive and convert," Javer explained, "there are many skill sets that come into play. Most often these are not in-house and are best suited to specialized writers who constantly evolve their skills with the ever changing landscape of search and inbound methodology."
Top freelance writers often have their own following within their niche. That means they can bring a new audience to your content.

Shreyash Mishra
Chief Executive Officer, Shrex Design
The Benefits of Hiring In-House Writers
Now that we've raved all about hiring freelance writers, let's talk about some of the advantages that come with hiring writers to work in-house with your team.
Here's What In-House Marketers Had to Say
The in-house marketers we heard from were less likely than their agency counterparts to work with freelance writers on a majority of their content production. So it's clear they see some key benefits to bringing content in-house.
In-House Writers Get to Know Your Audience and Strategy in More Depth
This was far-and-away the most common advantage we heard from in-house marketers. While a good freelance writer can understand your audience and emulate your brand, in-house writers and marketers are immersed in it every day. They have more visibility into the high-level strategy guiding content production.
"In-house writers naturally learn your company, your target audience, your value proposition, and even brand voice at a level that really only comes with time and exposure. The ability to inculcate writers in a company culture + brand can be invaluable," said Eric Quanstrom of CIENCE.
"In-house writers just know the brand better," said Lauren Pope of G2. "A great writer can write anything, but it takes a certain expertise that in-house writers have about the audience, the data, and the brand to make content compelling."
In-house writers are at the core of your communication strategy—they understand your product intimately—and thus can create high-intent content where your offering is shown in a genuine, non-obtrusive way.

Anna Rubkiewicz
Content Specialist, Survicate
"In-house writers can map out, dive into, and take ownership over a topic and process," noted G2's Derek Doeing. "For example, in my role, I own the persona of recruiters and HR professionals. I'm able to completely understand what types of content work best for them and how I can best provide value."
Since many marketers prefer to test content campaigns before diving in, Yaniv Masjedi of Nextiva recommends bringing on an in-house writer for campaigns you expect to run for 6 months or longer.
They're More Invested in Your Company's Success
"One big advantage to hiring in-house writers is the fact that you have someone wholly committed to your brand—and no one else's. The reliability and consistency that comes with having an in-house writer is valuable," said Jeff Proctor of DollarSprout.
"Writers who work in-house typically have a higher level of buy-in than freelancers and are more invested in both the company and the work they produce," echoed Sarah Hancock of Best Company.
Freelance writers often work for a handful (or more) of clients at any given time. That means their attention and commitment are naturally divided. You won't have that problem with an in-house writer.
"We've noticed that in-house writers more often think ahead and help optimize in areas outside their responsibility," said Raul Tiru of GlobalOwls. "For example, they may also look at web design because they want their content to bring in leads—and web design is also a crucial part of that."
You Get More Return on Your Investment in Their Skills
Michael Alexis of Library.Jobs highlighted the investments companies make in their marketers and writers. While freelance writers are probably investing in their own skills, you can afford to invest in in-house writers.
You can be more selective about the skills you want to cultivate, and you'll get more in return when a writer stays with you in-house.
"I love working with in-house writers because I can help develop their skills over the months and years that we work together," Alexis said. "The time, money, energy and other resources we invest in each team member's growth accrues to the benefit of their career and to the benefit of our company."
In-House Writers Require Less Back and Forth
Good freelance writers will make a point to get to know your brand's style and voice—but in-house writers live and breathe that style day in and day out. Their writing just emerges more in line with the brand's voice—meaning there's less back and forth and editing involved.
"Our in-house writers understand our company backward and forward, so they're able to create content that's more fitting for our brand, brings in more visitors, and creates more conversions," explained McCall Robison of Best Company.
Referral Rock's Megan Mosley agreed, saying, "The biggest advantage is that in-house writers are groomed to know the tone and style of your existing content. Meaning it might not require as much back and forth editing as concepts and formats are pretty ingrained in. We know what we want to say and how we want to say it, and a freelance writer just might not get it."
Here's What Agency Marketers Had to Say
When you move from a one-brand marketing team to an agency serving multiple clients, the economics of just about everything change. So it wasn't a surprise that our agency marketers had a unique perspective on the benefits of hiring in-house writers.
In-House Writers Know Your Brand
In-house writers have more in-depth knowledge of your company and its goals. Often this means that they can produce more nuanced, expert, and ultimately valuable content to your efforts.

Kim Kohatsu
Founder & Chief Creative Officer, Charles Ave Marketing
Whether that's your own agency brand or the brand of particular clients, in-house writers are simply more immersed in things, so they pick it up more quickly and understand style and voice on a deeper level.
Dan Thornton of TheWayoftheWeb says working in-house can also "enable writers to be more integrated into the company processes, and potentially pick up on more ideas from everyday conversations."
In-House Writers Get to Know Long-Term Clients Better
Even the best freelancer-agency relationships naturally shift over time. That can cause fluctuations in the quality and style of your clients' content. In-house writers add stability—plus, they're able to better serve clients over time as they get to know long-term clients better.
"Having a writer work closely with a client to get to know how they want to speak and gain trust over time is a key component of high volume content creation," said Bryan Coles of RKD.
"I was working with a prominent home builder who was quite specific about the way they crafted their brand messaging. Having a dedicated in-house copywriter was a great value to them as our in-house writer was able to work very closely with the client to learn their business and messaging," Coles explained.
Andrew McLoughlin of Colibri Digital Marketing shared that sentiment, saying, "Our in-house writers develop a familiarity with our clients' distinct writing styles, subject matter, and audience."
Even without a marketing background, they're better able to write with a marketer's voice, helping us to generate leads, sales, traffic, awareness, and anything else. Their familiarity with the needs of our agency, and the exact needs of our regular clients, is their biggest strength.
Andrew McLoughlin
Content Marketing Manager, Colibri Digital Marketing
For High-Quality Content, In-House Writers Can Be More Cost Effective
When you're talking about generating high-quality content on the kind of scale agencies require, cost effectiveness becomes a more relative term. At scale, it's often more affordable to hire a full-time writer than to outsource each individual piece.
"In-house writers live with the product and industry more than freelancers do, and it often shows in content creation," said Tim Stobierski of Pepperland Marketing.
"That isn't to say you can't hire freelance writers who are skilled at writing about specific industries. You can. They just tend to be more expensive to hire," Stobierski reflected.
In-House Writers Are Often Easier to Communicate With
Whether they're working in the same office as the rest of the team or remotely, in-house and full-time writers are often easier to communicate with either way. Since they work for you full-time they're always focused on your brand. Plus, they're more likely to be available for "quick chats."
Neil Sheth of Your Brand Found explained, "Communication speed is one of the biggest benefits to having an in-house writer. We can just roll our chair over and talk through the content project, as opposed to having a number of calls and emails."

Need Help Hiring Great Freelance Writers?
Zerys has over 85,000 freelance writers, categorized by industry expertise!
Should You Be Hiring Freelance Writers or In-House Writers?
Whatever your brand or business, the decision to hire freelance writers or hire in-house writers is a deeply varied one. As you can tell from the marketers we talked to, there are tons of benefits regardless of which option you choose—it just comes down to what works best for your team, your content operation, and your budget.