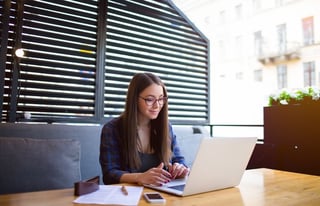 Writing content for your business blog takes time. Time that you need to be spending doing things like running your business, creating your products, or helping clients/customers. So what's the solution when you know you need to be creating blog content for your digital marketing?
Hiring blog writers is one of the best ways to ensure you're getting quality content created for your business blog while still dedicating your time where it needs to be. But hiring blog writers can also be kind of intimidating. What if you hire someone who just can't get your business voice? Or what if you're simply not a fan of their work?
There are ways you can outsource your blog writing while still ensuring you're getting a quality writer who knows your industry and understands your brand voice. Follow these tips for hiring the best blog writers for your business.
1. Understand what you're looking for.
Come prepared with exactly what you're looking for in a writer, what types of content they need to cover, how many blog posts you want written per month, and anything else the writer would need to know about your business. Know what length you want, how much research you would like them to put into each post (understand that will take extra time/cost on the writer's part), your calendar, and your budget.
2. Look at their portfolio.
The biggest mistake a lot of business owners make is hiring a writer without knowing what their past work even looks like. Always be sure to take a look at their writing portfolio or writing samples, or have them create an audition piece for your business.
Taking a look at their work is one of the best ways to know if they're a good fit or not. Do you like their voice? Their style of writing? Is it comprehensive and does it flow well? In addition, have they written about your business or industry before, and are they already well-versed in the content?
3. Establish communication.
One of the most difficult things about working with a freelancer or a contractor can be not knowing their work schedule, or knowing when you're going to hear back from them. It's a great idea to establish your plan for communication at the beginning. Are you going to reach out via email? What is their ETA for responding? Are you going to create a communication channel for your writing team via Slack or add them to a project management tool like Trello or Asana?
Determine the best ways for you to communicate with each other and make sure you have clear deadlines set so you both are on the same page.
4. Use a reputable content marketing agency.
Hiring blog writers doesn't have to be a difficult process. Using a source like Zerys to help match you to writers that fit your style and your topic is a great way to quickly and easily find the best blog writers for your business. We can walk you through using our platform to post content and hire new writers, or we can do it for you.
Hiring blog writers for your business blog has never been so easy. Use these tips to ensure you're finding the best blog writers possible.