Whether you're an in-house marketer trying to plan content for your company's blog, an agency trying to plan content for multiple clients, or a freelancer trying to balance marketing your own business alongside assignments from clients, you need a content calendar. A content marketing calendar lets you plan ahead, keep track of what's in the works and what's coming up, align all of your contributors, and keep all of your details and assignments organized.
But building a content calendar from scratch can be a daunting experience. To be frank, it's a ton of work. You have to build the right process and find the right content marketing tools, train everyone on your new system, and to top it all off, come up with several weeks or months of content ideas.
To make the process less daunting to those creating content marketing calendars for the first time, we partnered with the research team at Databox to ask 97 marketers to share their top tips for building and managing a content calendar.
Our content calendar responses came from a mix of respondents in a variety of roles: a little over half work for marketing agencies, 43.2% are in house marketers, and 5.4% are freelancers.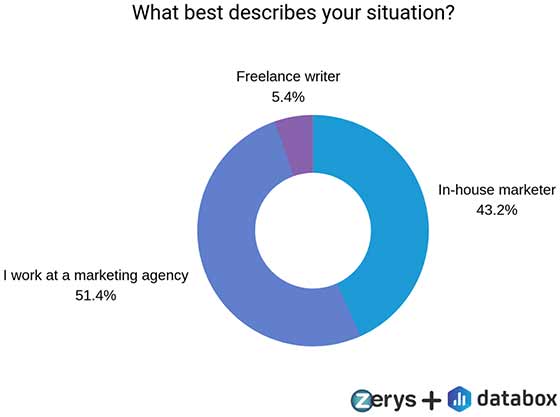 They responded with tips on nearly every single aspect of building and managing a content calendar—from philosophical approaches to content planning to the best tools for planning and managing your blog and social media posts.
If you're building a content calendar for the first time, here's everything you need to know.
Why Do You Need a Content Calendar?
A content calendar, naturally, helps you plan ahead, but our respondents say it helps with a lot more than just content planning.
"A content marketing calendar doesn't just assist with planning, it is also very effective at tracking backend data like content ROI," says ExpertSure's Ollie Smith.
"Setting up a weekly schedule to analyze engagement with my published content assists me with overall planning, enabling me to divert valuable resources away from content initiatives that are not adding value," Smith says.
"A content calendar also acts as a medium to keep your team organized and on top of things," says Rahul Singh of HubsAdda. "I don't have to come up with ideas at the last minute, and I have everything I need to know about my blogging schedule at hand. Plus, it helps me stay consistent and post new content regularly."
Having a content calendar in place makes the scheduling and content creation process a whole lot easier.

Srish Agrawal
Founder & CEO, A1 Future Technologies
"It allows you to look down the road and see what type of content is being created and promoted around your site. It can also help with the recycling of already-published content—and helping others find your latest content," Agrawal says.
And according to Social Gold Group's Maria Kiagias, a content calendar is a necessity if you're running content marketing for your agency's clients:
"Clients hire marketing professionals to sift through all the content noise, and it's my job to provide clarity and structure. A content calendar relieves clients of the day-to-day outbound messaging and reminds them that we're prepared and ready to execute."
"The plan doesn't have to be laid out visually, but the skeleton keeps us married to our business goals and puts the client's mind at ease," Kiagias says.
Consider These Tips Before You Create Your Content Calendar
Once you've decided it's time for a content calendar, you might be tempted to jump right in and start planning your content for the next several months. But before you start ideating and scheduling, consider these tips to have more long-term success in your planning efforts.
Define Your Strategy and Goals Before You Start Planning Your Content Calendar
"A content marketing plan is something that should fall out of an overarching business marketing plan," says Blue Bamboo's Liz Hughes. "So if you don't have one of those (as is the case with many smaller businesses), that's where the process should start."
"The first thing you need to do is create a strategy," says Michelle Ngome of Sutliff & Stout, Injury & Accident Law Firm.
Janice Dombrowski of Stream Creative agrees about how to write a content strategy is key: "We always think through our strategy before crafting a content calendar. For many of our clients, a balance of updating website content and creating relevant, timely, and keyword-focused blogs is required."
"You need to understand the purpose of the content you're creating and who you're creating it for," says Challenger School's Joe Sloan. "Always start by setting a goal."
Determine Who Should Have Access to Your Calendar
Another decision you'll need to make: who will have access to your content calendar?
LeadCrunch's Emma Valentiner recommends "making your content marketing calendar visible to the entire company, including the C-suite. Providing clarity on topics, deliverables, and timelines helps hold contributors accountable for content and deadlines and provides insight into exactly what your team is working on."
Making the calendar visible also gives shy team members an opportunity to raise their hands and contribute if they see we're going to be focusing on their particular area of expertise.

Emma Valentiner
SEO Manager, LeadCrunch
But Andrew Holland of Zoogly Media says it's also good to exercise some caution before sharing your content plans with everyone: "As a freelancer, I've often been added to content calendars and other platforms, and I've seen a lot of valuable information and internal conversations without being asked to sign anything."
"Trust takes time to develop, so my view is that freelancers should only be added to a content calendar after they've proven themselves to be valuable enough to hire for repeated work," Holland says.
Related Resource: How the Right Blog Content Strategy Can POWER and SIMPLIFY All Your Online Marketing
Put One Person in Charge of Updating the Calendar
"We found that the content calendar is best utilized when one person is in charge of updating and managing it," says Audi Bellevue's Katie White.
"When everyone is working on it at once, the format becomes inconsistent, things get moved or forgotten, and the overall organization goes downhill. When one person manages the calendar, it stays nice and organized with minimal errors," White says.
Keep ownership to one or two people at most. It can be viewable by others but only edited and managed by few.

Lauren Kirmil
Digital Marketing Specialist, Silvr Social
"The reason for this is that some individuals enjoy being hyper-organized more than others, and we've all seen what happens when we get too many cooks in the kitchen. To keep things clean and simple, give the responsibility of your content marketing calendar to a person who has the unique ability to be hyper-organized," Kirmil says.
And Michael Caroff of Caroff Communications recommends "getting a project manager who is a taskmaster. When I had the job of getting the material from people responsible for content, I used to describe myself as a 'professional nag.'"
"The fact is, you really do have to get tough when it comes to getting people to complete their assignments on time. Our project manager is definitely up to the task," Caroff says.
Create a Process
"It's crucial to break down your content process into its component parts and track the progress of each part through a calendar," says Clutch's Grayson Kemper. "This lets you understand the exact progress of each one of your content efforts and address any issues or concerns before they disrupt your calendar."
Emily Wilson of Bulldog Digital Media agrees: "It's important to create categories that clearly define what stage each piece of content is at. For example, I typically have 'Keyword Research,' 'Topic Ideas,' 'Written Topics,' and 'Published Topics' in different columns."
These categories make it easy to understand where I'm at with various bits of content, and if anyone else gets involved with the project, they'll be able to understand too.

Emily Wilson
Content and Marketing Executive, Bulldog Digital Media
And according to Claire Rhodes of Isoline Communications, having a process also makes collaboration easier. "Marketers often work in silos, but if you can create a working, collaborative process with key teams such as sales, product development, and corporate communications, content calendars often fall smoothly into place."
"Syncing your content calendar with the products and services that sales are pushing out will help you create a well-aligned content strategy," Rhodes says.
Related Resource: Outsourcing Freelance Writers vs. Hiring In-House Writers?
Make Sure You Have Enough People
"The first step to creating a content marketing calendar is hiring enough writers to produce the content you plan to publish," says Mashvisor's Daniela Andreevska.
"No matter how carefully and thoroughly you plan, you cannot succeed with your calendar unless you have enough freelance or in-house writers to write the content you need by the date you need it," Andreevska says.
Samuel David of Smart Home Vault agrees: "I try to never overwhelm my writers or proofreaders with huge content volumes. This helps me avoid getting low-quality content."
Related Resource: Top 10 Ways Blog Writing Services Can Help You Succeed
How Far in Advance Should You Plan Your Blog Content Calendar?
After you've formalized your strategy, developed your process, and made all of the important upfront decisions, it's time to start adding content ideas to your calendar.
But how far ahead should you plan?
To find out, we asked our respondents. Around half said you should plan for at least one month of content. Another third said to plan at least three months of content: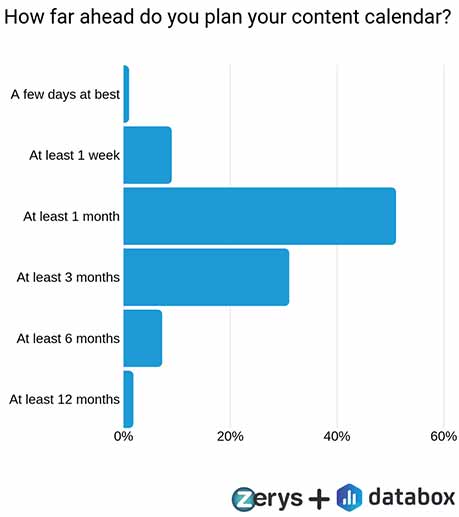 "Always plan your content calendar as far in advance as possible," says Megan Meade of Software Path. "Planning in advance takes the stress out of creating content on the fly. It means you always know what content is needed and when it should be published."
Atilla Vekony of Icon Digital Solutions recommends "outlining your content calendar for a full year. Having a well-thought-out content calendar for the year can do wonders: you won't have to grasp for last-minute content ideas if you've mapped it out ahead of time."
ContentBacon's Sarah Doyle suggests a shorter time frame: "We plan a quarter's worth of content at a time and backward-plan the production of each piece at about six weeks before the target publication date. Six weeks gives us enough wiggle room to shift pieces around if conditions change."
"Remember to give padding to your team in case deadlines are missed, and leave extra padding for the feedback and revision process if you're trying something new or working with a new business."
"Finally, leave some room for real-time content and engagement. Don't account for 100% of your team's content creation capacity in your calendar. Leave 15-20% open to address hot topics and to dedicate resources to respond to engagement with the content," Doyle says.
And Brandon Fargo of Brahvia Consulting says monthly planning works well for his agency. "We plan out each month for our clients what the schedule of content should be. At the beginning of the month, we plan out each week, starting with a theme for the month and then creating a category of that theme for each week."
How to Fill Your Editorial Calendar with Ideas
Planning for a month, quarter, or even a year's worth of content requires a lot of ideas, particularly if you're planning to publish a lot of content.
And while more than half of our respondents publish fewer than five pieces of content each month, about a fourth of them are sending 50+ pieces out of the door every month.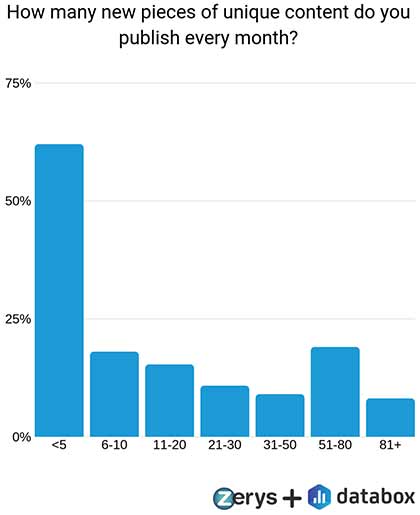 If you're wondering how anyone could come up with enough ideas to publish dozens of pieces of new content every month, consider these tips.
Create Content Themes
"We use specific themes to regularly create content for clients," says Andrew Schutt of Schutt Media. "For example, one thing we do with many of our clients is #MeetTheStaffMonday where we highlight the client's employees and tell a little more about who they are as a person."
"Having regular themes makes it easier to come up with content ideas, and it provides regularity for viewers; they get used to seeing the themes and come to expect it month after month or week after week," Schutt says.
Allison Schmidt of Get Online NOLA also recommends this approach: "We find it much easier to come up with ideas for content when there's an overarching theme for the month. The theme doesn't need to be super obvious to users, but it helps you generate ideas and keeps the content from feeling unpredictable or confusing."
"If you want to take it further, you can create themes for each week that are related to the overall theme of the month. Having this may sound restrictive, but it helps you generate more ideas instead of getting stuck thinking about all the great, many, different topics you'd like to cover," Schmidt says.
Talk to People in Other Departments
"Managing the content for an agency blog is an opportunity to cover not only different topics but also to share perspectives from different team members in a host of roles," says Adam Rowan of Page 1 Solutions. "These range from the various questions account managers receive to the ins-and-outs of social media marketing and SEO."
With thought leadership, I push for quality more than quantity. Over-scheduling leads to diminishing returns.

Adam Rowan
Content Specialist, Page 1 Solutions
Smartbug Media's Christopher Hutchens agrees: "Getting sales reps involved early can easily fuel brainstorming sessions where you can quickly identify the kinds of questions customers ask on a regular basis, allowing you to create content that assists the sales process."
And BigTeam's Trevor Wolfe offers a simple approach to soliciting content ideas from other departments/teams—and even your customers:
"We have an established email address (e.g. content@company.com) where any employees, customers, or friends can send relevant thoughts, ideas, and suggestions. Those are then added to an idea list in our editorial calendar."
"The people in your business are often voracious readers and consumers of content, and they often have great ideas for content. Giving them a seamless way to submit those ideas makes it easier to capture their creativity," Wolfe says.
Create Content Categories
"Categorizing your content can not only make it easier for you to organize material associated with your target market or serviced industries, but it also helps in detailing a content inventory to help structure a resource library on your website or blog," says Ben Borden of LePoidevin Marketing.
"For instance, our knowledge base is categorized into three tiers: Industry, Topic, and Content Type—all of which can be easily filtered on our website."
Breaking down the focus of our content in this manner helps us not only build a robust and easy-to-find library of educational resources for website visitors and prospective clients alike, but it also helps us identify needs for future content planning and creation as time goes on.

Ben Borden
Digital Content Manager, LePoidevin Marketing
Conduct Keyword Research
"Content marketers should conduct keyword research to see what terms people are searching for related to their products, and then generate blog content for those keywords," says Ken Newman of DMA | Digital Marketing Agency.
"Google Trends is an excellent, free source of keyword data that marketers can use to inform their content strategies. It shows the relative popularity of a term and can be filtered by demographics like location."
"It also generates related topics to the search term, and you may find new keywords or terms that you hadn't previously considered. This strategy helps marketers generate new content ideas that are highly relevant to their audience," Newman says.
VisualFizz's Marissa Ryan offers another approach: "Google is a great place to generate topically related content ideas. Simply begin to type in a phrase into the Google search bar, and Google will suggest popular searches in the dropdown below. Boom: these are your content ideas."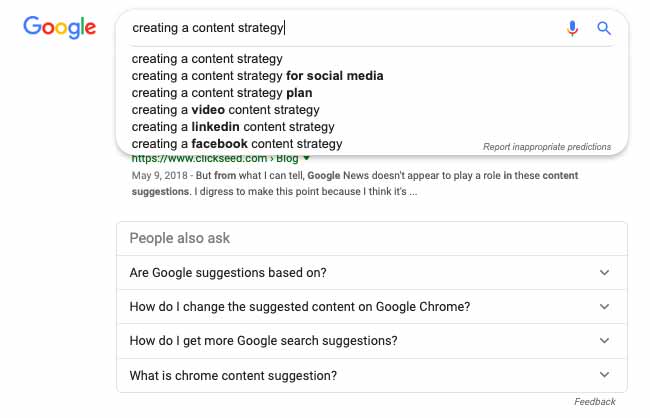 "These aren't just suggestions, they're high-volume searches for the types of content people want to read. Obviously, not all will apply, but the majority will. Rinse and repeat this process with more specific, long-tail queries, and you can easily come up with a full content calendar for the year in just a few minutes," Ryan says.
And Raul Tiru of GlobalOwls says you can also find keywords to use as content ideas in Google Search Console:
"Google Search Console shows you topics that your existing content isn't ranking highly for. For example, we wrote an article about free stock photo websites for nonprofits. By viewing the keyword data for that post in Google Search Console, we identified six new, related topics to write about."
Related Resource: What is the Future of SEO?
Spy on Your Competitors
"Start out by researching what competitors in your industry are posting," says thumbprint's Morgan Lathaen. "This gives you an idea of what your target audience wants to see."
Marty Rogers of Lead Peep says a good way to do this is to "power your content calendar with data from SEMrush. Look at the keywords and pieces of content that your competitors are ranking for, and stick them in your content calendar."
"Once you've filled up a week, go back over them day-by-day and dig further into each opportunity before brainstorming potential content ideas and titles. And don't always focus on broad keywords; long-tail opportunities rock too," Rogers says.
Start with Pillar Content
We create three to four pillars for the companies we write for, and then we create the content to support those pillars so that there's a breadth and depth of content on key subject matter that the company wants to build expertise in.

Wendy Lieber
Founder, ContentBacon
Ampmycontent's Daniel Daines-Hutt says that this method builds your authority and makes it easier to come up with content ideas.
"So many people make the mistake of bouncing between topics, and this makes it hard for the audience to know what you're about as a business. But when you write a series of content around the topic, it helps the reader think 'these are the guys for X topic.' That's how you get referrals, leads, links, and sales."
"Let's say you write about paid ads. You can write a how-to guide, and then you can supplement that with other pieces of content on the same topic—other how-tos, ultimate guides, white papers, case studies, etc.—all on that one topic."
"When you understand this, not only does it make creating content and getting results easier, but it means you can plan your content out for months in advance," Daines-Hutt says.
Related Resource: 4 Keys to Understanding and Creating a Pillar Page
Have an Idea Jail
"For our content marketing calendar, it's been especially useful to have an 'idea jail,'" says Team Building Hero's Alex Robinson. "There are dozens, maybe hundreds of posts that we want to write, and for a long time, these just floated around as ideas in our heads or on random notepads."
"Now, we have a specific column/folder for ideas that we may write someday. Having this resource is helpful because we often find details or resources that we would like to add to the individual ideas, and now those details/resources are easy to find."
"The end result is that when we are ready to write these posts, we can do so quickly and effectively, spending our time on writing instead of searching for our notes," Robinson says.
Tips for Scheduling Content on Your Calendar
After you've developed lots of ideas for things you want to write, it's time to get your ideas scheduled on your content calendar.
Our respondents offered these tips for scheduling your content in a way that makes your job easier, leads to a great user experience, and ensures you're creating content that guides prospects through the buying journey.
Consider the Different Stages of the Buyer's Journey
Planning your content calendar isn't just about making sure you have topics planned out. It should also be about making sure that you're planning topics that address the questions your customers have at every stage of the buyer's journey.

Maddy Osman
SEO Content Strategist, The Blogsmith
"If all of your topics are top-of-funnel, you will struggle to convert visitors into leads and customers," says Tony Mastri of MARION Digital Marketing. "You need to publish content that targets the awareness, consideration, and decision stages of the customer journey."
Junto's Darin Evangelista agrees: "Fill your calendar with a variety of topics that target different audiences at different stages of the sales funnel. This creates a healthy mix of sales and educational content for your readers."
As far as how to allocate space for content targeting different stages of the buyer's journey, Tamas Torok of Coding Sans recommends the following proportions: "50% top-of-funnel content, 40% middle-of-funnel content, and 10% bottom-of-funnel content."
Related Resource: What Are Buyer Personas and How to Use Them
Plan Content Around Holidays, National Days, and Events
"When managing my content marketing calendar, I always look for time-specific opportunities first, like any upcoming events or seasonal material," says Online Optimism's Lauren Walter. "Then, I think about innovations, trends, or any news that would need to be shared in a timely manner."
"Finally, I try to plan evergreen content in between more timely content. That way, if things need to be shifted around, I can always take the work done on the evergreen content and move it to a different month," Walter says.
Starting your plan by scheduling timely content is an approach several of our respondents recommend.
"Create your content calendar after looking at target trade conferences," says Becky Boyd of MediaFirst. "For example, for the Assembly Show—which takes place in October—we'll start creating blogs around manufacturing topics about four months ahead of the show."
Keep an eye on important dates that can be relevant to your audience and business. If there's a public holiday, national day, historic event, international day, or any other important thing that you think your audience will love to see and engage with, plan content for it.

Muhammad Roohan
Growth Marketer, Archideators
Jim Milan of Auto Accessories Garage shared a story of how building content around a national day helped his business: "Auto Accessories Garage sells auto accessories and parts. When you Google 'national car days,' you see that there is a national 'Name Your Car Day.'"
"Based on this, we created a 'Car Name Generator' content piece that we promoted on this day and used for outreach to other automotive sites to build links to our site and grow our domain authority. We also serve up our email signup pop-up on this page to grow our email contacts."
And keeping an eye on important dates and holidays can also help you determine when you shouldn't plan content, as The Slumber Yard's Matthew Ross explains. "Days like Super Bowl Sunday, the day after elections, and the day after the State of the Union Address all hog consumer attention."
"A lot of times, these days go overlooked in the calendar because they're not technically federal holidays. However, with all the buildup and media attention surrounding these days and events, they're not the most optimal time for marketing campaigns," Ross says.
Identify When Your Topics Trend in Search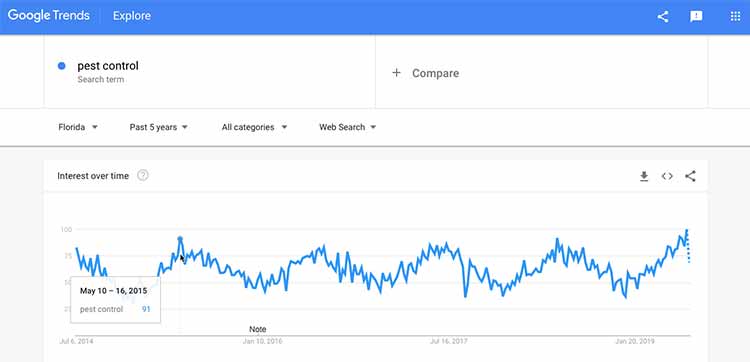 "A few years back, one of our clients in the pest control space wanted to target more homeowners to push preventative termite control," says Tom Jelneck of On Target Digital Marketing. "We used Google Trends to isolate exactly when and where termite season starts in Florida."
"The knowledge we obtained from this was perfect for informing our editorial calendar planning in terms of when we should start crafting content to educate their consumers," Jelneck says.
MediaSesh's Christina Brodzky also recommends using Google Trends: "Knowing the best time of the year to publish specific content topics allows content marketers to be more strategic and highlights when content should go live in order to have the biggest impact."
"When using Google Trends, I'll type a topic of interest in the search box—such as cold brew coffee—then update the timeframe to the past five years to see if it will highlight seasonality."
"An example of this would be a search trends analysis we're working on for a local coffee company that suggests they promote content related to cold and frozen coffee during the summer. This example may seem obvious, but that's not always the case," Brodzky says.
Leave Space on Your Content Calendar for Spontaneity
"Always capitalize on the latest trends to ensure that your content gets the most visibility," says Slisha Kankariya of With Clarity.
But how can you capitalize on trends if you have a content plan you're following? Author Nita Sweeney says to "leave plenty of space on your calendar for spontaneity."
Content agility is an elusive combination of spontaneity and careful planning. Incorporate placeholders regularly on your content calendar for news or topical/trending topics.

Christina Fornaciari
Inbound Marketing Consultant, Delta Marketing Group
"This is helpful for taking advantage of hot and/or timely updates, and it alleviates the pressure of coming up with unique content ideas. Shift these placeholders around as it makes sense, but including them on your calendar keeps agility top-of-mind so you're always ready to jump on the next ripe content opportunity," Fornaciari says.
"We leave one blog post spot, two Twitter posts, one LinkedIn post, and one Facebook post open each week so we can be flexible," says Jen Lombardi of Kiwi Creative. "We brainstorm what to include in those spots the week before so we can fill them with new ideas."
"Covering trends and timely topics is a great way to leverage that exposure to build more shareable content," VYPER's Jack Paxton says.
"There are thousands of blogs all on the same subject, and it's difficult to come up with engaging topics that already aren't old news," says Flow SEO's Angela Ash. "This is why you have to stay focused on what's currently trending, and why you have to get out in front of it."
Plan for Updating Old Content, Not Just Creating New Content
"When creating a content calendar for the first time, focus on adding existing assets as much as new assets," says Brian Schofield of Zakeke. "Whether it's repurposing, repromoting, or rewriting, there are a million ways you can reuse the content you already have."
"This is the simplest way to get your content calendar off the ground, and for many companies, it provides a better return than starting from scratch," Schofield says.
"Look for blog posts from around 18 months ago that could be refreshed for a new audience," says Elizabeth Harrin of Totally Organised Blogging. "Add new images, the latest statistics, make sure references and links are up to date, and give the article an overhaul to check if it's still in line with your brand guidelines."
This is a really easy way to fill up your content calendar, and it's a good reminder to regularly refresh your old articles, especially those that are seasonal. Depending on your old article base, you could have at least one of your content spots a month being filled by updating and refreshing older content.

Elizabeth Harrin
Project Manager, Totally Organised Blogging
"After any piece of content is created, it should be reviewed for dates, statistics, laws, regulations, and any other information that can go stale and become irrelevant for the reader if it's not updated on a timely basis," says Paycor's Leslie Handmaker. "These pieces of content should be flagged for proactive updates before the information becomes outdated."
What Details Should You Include on Scheduled Content?
Once you have lots of content ideas and a schedule for when you plan to publish each piece of content, it's time to start adding details to each entry on your calendar.
To find out what details you need to include, we asked our respondents to share what details they include before assigning content ideas to their teams. More than three-fourths of our respondents include the type of content, title of the content, publication date, a description of the content, and target keywords.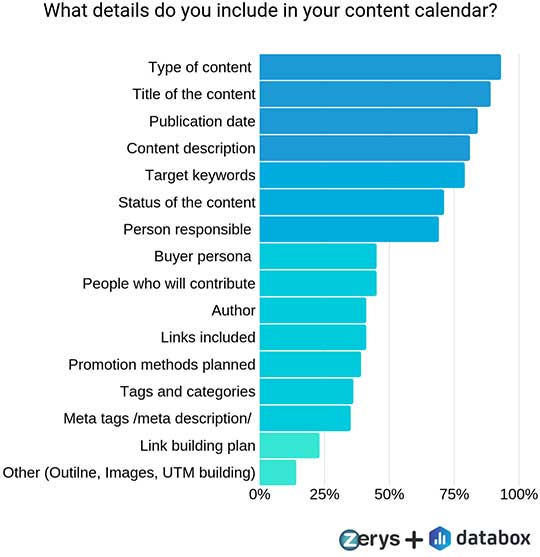 "Your content calendar needs to be readable at a glance so you can get a quick overview of what's being published, but also something you can delve deep into quickly and easily," says Software Path's Megan Meade.
"Calendars without the functionality to click into a piece of content to view the status and notes aren't much more useful than a written schedule. By having all the details immediately accessible, you can follow up on any issues when looking at the content calendar and adjust the calendar based on any of these."
"Plus, this also provides great visibility for anyone on your team. You don't need to send an email to check the status of a blog; you can just glance at the content calendar, check the due date, and see who is responsible for that piece of content."
"People can filter by the metrics important to their teams, too—whether that's by channel, content type, or even status—so the team can see whatever part of the content calendar is important to them," Meade says.
So what details should you include? Here are several details our respondents recommend including for each of your content ideas, as well as why it's important to include these details.
Relevant Dates
Important dates and deadlines are crucial details to include in a content calendar. These dates include first draft due dates, deadlines for designing content-related graphics, final draft due dates, publishing deadlines, and dates for distributing content across various channels.
Aaina Bajaj
Digital Marketing Specialist, Signity Solutions
HQdigital's Meghan Hultquist says to "manage dates mindfully. We include two columns for dates—one for the date that kicks off the project and another for the actual publication or blast date."
"Additionally, give yourself a little bit of wiggle room when establishing dates—i.e. 'week of May 1' rather than '5/1'—that way you don't have to constantly update your calendar when something ends up being off by a day," Hultquist says.
And Paperlust's James Boston recommends adding review dates: post-publication dates where you review a piece of content's performance: "Make sure you set review dates for content once it 1) has gone live and 2) you've completed your amplification and link-building efforts."
"If you've covered the topic well, there may not be a lot of amplification work to undertake. However, if that content doesn't have the required authority to rank, then you need to review not only the distribution strategy you used but also the content itself to see why it isn't performing as well as you'd hoped," Boston says.
A Content Brief
"We like to add as much information about the article as possible," says Referral Rock's Megan Mosley. "In some cases, each topic will include enough information to be just shy of an outline."
By adding key components to the topics on your content calendar, you can create content even easier. This is especially true when topics have to travel from person to person on your team.

Megan Mosley
Marketing Coordinator, Referral Rock
Hi BMI's Jimmy McMillan actually recommends including "a link to a screencast recording, especially if you're outsourcing the content. We use Screencast-O-Matic, but any tool will work for this."
"In our content calendar, I have the specific post requirements: the draft date, publish date, outline, links, keywords to target, where to find the right research, and example articles we want to outrank. But I also record a screencast of the above information so that the author can hear what I really want in my own voice."
"This allows me to provide some background on why we are writing this article, explain the emotions we want readers to feel, and relay why this article will be important to the audience."
"Does it require more work on my part? Yes. However, by using a recorded screencast to further communicate goals clearly in the content calendar, I save a bunch of time editing on the backend," McMillan says.
Design Assets
Allegro's Ashley Lomelin recommends including design assets in your content calendar: "Include photos, graphics, videos, or anything else you will need to create your visual content."
Target Keywords
I've seen time and time again where marketers will develop content that they think is interesting and then ask an SEO specialist to optimize the content for search. The problem is that content can't just be optimized for search after it's been written.

Caleb Malik
Sales Executive, SmartBug Media
"If the content is not about a topic that gets search volume, it won't rank effectively. Sure, you'll get lucky here and there, but that's not how you systematically rank content and drive organic traffic."
"A good content calendar says: 'this is the article we're writing, here are the keywords we expect this article to rank for, and here is how this article will be structured around these keywords/topics to ensure they're covered effectively,'" Malik says.
A Distribution Checklist
"When creating a content calendar, you need to ensure that distribution is a part of the mix," says Ross Simmonds of Foundation Marketing.
"Whenever we develop a piece of content and have it uploaded to our calendar, we associate a distribution checklist to that asset to ensure it gets the distribution push it needs to succeed. A lot of people make the mistake of thinking the work ends after pressing publish, but in reality, it just begins," Simmonds says.
CIENCE's Eric Quanstrom agrees: "Any content calendar that is not married with content sharing, distribution, and a promotion schedule is incomplete."
Performance Metrics
One thing that people often miss in their content marketing calendars is keeping a record of performance metrics for each piece of content. You should allocate a separate spot in your calendar for measuring the engagement of your published content.

Hamna Amjad
Content Marketer, Gigworker
"You should set up a schedule to measure the results of each published piece of content weekly. Then, review these results monthly to keep your content calendar updated. Some of the metrics we measure include the number of shares and the amount of traffic received," Amjad says.
The Best Tools for Creating a Content Calendar
"Integrating a project management tool in your content marketing planning will revolutionize your organizational processes and help you ensure deadlines are met," says WealthFit's Nathan Wade.
"These tools create a birds-eye view of content planning that's easy for all team members to digest and understand. They also empower team members to take extreme ownership of their assignments and create an extra sense of accountability."
"Before we adopted a project management tool, there were way too many moving pieces and not enough communication on how, when, and who was to complete the work," Wade says.
So what's the best tool for creating a content calendar? We asked our respondents to weigh in, and content marketing tool examples like Google Sheets, Trello, HubSpot, Basecamp, and CoSchedule received the most votes: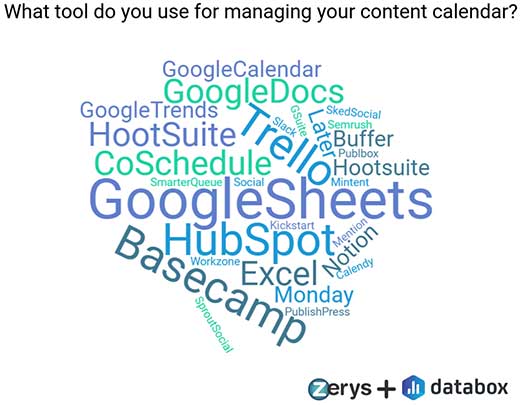 "Whatever tool you choose, be consistent across the board," says Best Company's McCall Robison.
"We began our content marketing calendar with two different tools: Basecamp and Brandpoint. At one point, half of our team was using Basecamp and the other half Brandpoint. This created issues because our process wasn't consistent, and because of that, it wasn't as effective as it could've been."
"For example, because the team members using Basecamp could not see what the team members using Brandpoint were doing, we were overbooking our editorial staff, which resulted in deadlines being missed."
"Ultimately, our blog suffered until we got rid of one of our content calendar tools and made our team use only one tool to ensure consistency. Since then, our content marketing calendar and content creating processes have run smoothly without any hitches," Robison says.
"There are many tools available," says COFORGE's Eric Melillo. "The important thing is that it's centrally located, accessible by your content team, calendar-based, and agile enough to handle many workflows/contributors at once."
Here are some of the ways our respondents use their preferred content calendar tools.
Google Sheets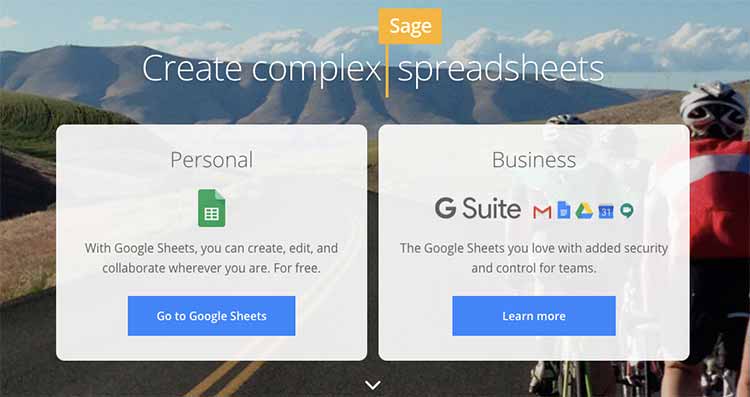 "As someone who is responsible for writing, optimizing, publishing, and sharing all of the content—which is translated into 10 different languages—for our website, I've found that the only way to keep everything organized is by using a simple spreadsheet," says Audrey Strasenburgh of FreeLogoServices.
Lots of respondents agree. In fact, more respondents reported using Google Sheets for their content calendars than any other tool. Here's how our respondents use Google Sheets:
"The first tab on the sheet houses all of our blog posts (both published and queued up). Publish dates are listed in one column, the blog title in another column, the URL in another, and target keywords in another. Whenever a blog goes live, I strike through that line and ensure that the link to the live page is placed in the URL column."
"We also translate our blogs into Portuguese, French, Spanish, and German, so there are tabs with the same layout for each of those non-English languages."
"The next tab on the Google sheet is for landing pages. This tab also includes columns with publishing dates, page titles, URLs, target keywords, meta titles, and meta descriptions."
"Each of these pages is translated into 10 languages thanks to our freelance translators. There is yet another column that keeps track of which pages have already been translated, which are currently being translated, and which are done."
"Just as with the blog content, once one of our landing pages goes live, I immediately include the live URL and strike through the row to ensure others know that the project is complete."
There are other tertiary tabs within this master spreadsheet that house all of our backlinks. The backlink tab has columns listing the site from which we received the backlink, the date when it was created, the landing page on our site, whether or not the link was dofollow, and the domain authority of the site that linked to us.
"There's also a tab that keeps track of all of our social media ads or boosted posts across all languages. The columns keep track of the dates the ads ran, the amount spent, the content of the post, the URL for the landing page that we included, and the language we targeted."
"Google Sheets is the most straightforward content marketing calendar tool for us; everyone has access to it and everything is laid out in an organized manner."
"One of the keys to a successful content calendar is access. There may be a lot of players all contributing to the content process, and it's critical that the pertinent information is condensed into one easy-to-find location."
"We typically use Google Sheets for a content calendar and then link the blog titles or content pieces out to the working Google doc for the actual copy."
"Important components to include in this spreadsheet would be targeted persona, keywords, and what calls-to-action to include. But you can get as granular as you like."
"For instance, if you want to ensure that your content is hitting all areas of the buyer's journey, you can include a column that covers these stages as well. Or if a link-building strategy is a focus, including a column for what content a specific piece will link to is also important."
"We save our calendars in Google Sheets so that people can access the content wherever they are, from whatever device."
Our content calendars consist of several tabs in the Google sheet: the current calendar, the month ahead, A/B tests, categories, website, found recently, and all posts (containing literally every post that has ever been posted).
"The 'Categories' tab contains posts divided into topics. For example, we have one of the world's best kitchen designers as a client. Her categories are 'Appliances,' 'Tiles,' 'Custom Millwork,' 'Interior Design,' 'Cabinets,' 'Partners,' and 'Knick Knacks.'"
"The 'Found Recently' tab has posts that we find on other social media accounts or the internet. We use IFTTT to gather images using an Instagram scraper bot that looks for hashtags and saves the photos so we can look at them later."
"We get a huge benefit from using the threaded comments functionality within Google Sheets. The ability to insert a comment in a particular cell and tag people allows me to provide feedback on a specific area of the content plan and have multiple conversations going on for each piece of content or question."
"The nature of content creation requires focused time for deep work, and I do not want to disturb that focus by pinging other members of the team on Slack. These comments allow me to review the content calendar when batching work—and for the team to respond in a similar matter."
Map your ideas out on a physical calendar first, then go into the Google Sheets calendar template and start color-coding what is going to be a blog post, social post, campaign, etc. This will let you see what all still needs to be created, and you can start putting together a plan.
"From the calendar, we typically break it out into another sheet that goes into more detail on who is responsible, the due date, a description, keywords, backlinks, etc."
"By housing our content calendar in Google Sheets, we can tag (both figuratively and literally) internal and external resources to drive next steps, while also avoiding any issues of version confusion. It lets us store links for reference documents and research, links to drafts, and links to published content all in one place."
Trello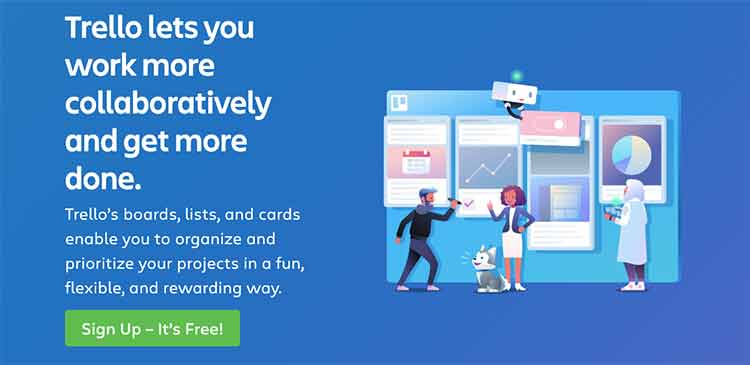 "Trello is amazing at keeping my team organized," says The Manifest's Kristen Herhold. "There are six of us who edit articles, and Trello keeps everything in one place. I love being able to assign due dates/publishing dates and label each slide based on its editor. It helps keep everything on track and on time."
"Without Trello, I'm not sure our content planning would go over as smoothly. It's important for everyone to be on the same page with content marketing, and Trello helps us do that," Herhold says.
Lots of respondents agreed that Trello is an idea content calendar tool. Here's how several respondents use the Trello editorial calendar to manage their content plans and workflows:
"I like to set up a content calendar Trello board that contains our content tasks for the entire quarter. Each Trello card then contains a blogging checklist to ensure we're creating great search-optimized content, along with an SEO brief if our content is being outsourced."
Our cards also contain labels to identify the types of content that should be created related to that specific topic. They also contain due dates and who's responsible for creating the content.
"I then create columns to allow transparency into the content creation process. Our columns look something like this: Researching, Writing, Ready for Review, Published, and Scheduled."
"This Trello board has also been integrated into our internal Slack channel to provide even more insight into these tasks and to make sure no deadlines are missed."
"We use our Trello cards as our main form of task communication. If there's a question around the topic—or when it's up for review—you need to make sure you tag the relevant team on the card. This gives me transparency into the progress being made."
"We've tried a variety of formats before this, but this makes the most sense to our team. It keeps us on track, no deadlines are missed, and task transparency is a useful element for the efficiency of our team."
"We have a lot of content types that come in: case studies, product announcements, SEO refreshes, customer-requested topics, and more. My client was struggling to put a system in place where everyone from design to management to community teams could keep track of things."
Trello keeps everyone informed and updated across the content team. We max out tags so anyone can come in and see what's up. If an article is in progress, it gets a green tag. In client review? Orange. If something gets blocked, this allows us to see who's responsible and easily fix it.
"My favorite list is 'Icebox.' After a meeting, or if you come across a good content idea, you create a card and tag it for approval."
Kristen Craft, Tettra
"I use Trello's color-coding system to make sure that there's a good variety of content types when someone visits our blog. It's an easy way to keep a finger on the pulse of our publishing and content mix."
"Trello is a great project management tool. We use it for different aspects of our business: web/app development, testing new growth strategies, creating content, etc."
"Our content marketing calendar looks like this:"
"

Content ideas:

This column contains content ideas and topics for ourselves or our clients."
"

Title suggestions:

The best ideas and topics from the 'Content ideas' column are transformed into titles (video titles, blog post titles, etc.)."
"

Content overview:

We take the top, most relevant, and most engaging and compelling titles and create a content plan for these (i.e. what the different sections of this content will be)."
"After that, we have a column for content creation, review, published, promotion/distribution, and, finally, analysis."
"I use Trello and activate the Calendar Power-Up. You'll now have a content calendar right there that you can use with your team."
"Trello is a great tool with free account options. Set-up a board for each client. Then, you can create cards for each social post, attach images, and organize posts based on statuses. Also, you can have team members (or clients) on each board and assign and tag people in comments."
If you're looping in your clients, consider setting up a separate board for internal communication.
Ciara Hautau, Fueled
"We use Google Sheets and Trello to keep ourselves organized. Google Sheets is great because you can easily access and share the document with many team members (especially when new team members are onboarded)."
"We set up an 'onboarding' column to detail all instructions and how to use the board. Then we create a column for topic idea proposals, active writing, QA, SEO QA, and publishing."
"The greatest thing about Trello is you can easily add attachments and assets, and you can tag relevant team members when a question or new progress update comes up."
HubSpot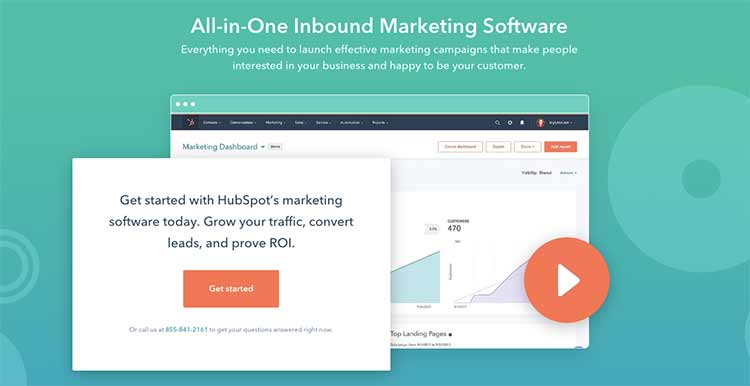 "I like utilizing the marketing calendar in HubSpot as my content calendar," says Nicole Turner of Chief Martech Officer.
"It gives you the ability to create a task for people involved in content—like the copywriter, editor, and manager—and to view all scheduled and published content so you and your team can easily see in a visual format what's happening that month."
"You can create custom tasks—or tasks specific to blogs, emails, landing pages, and social. The task then gets a title, day, and time its due. You add the person who's assigned the task, add the campaign it's associated with, and include any additional notes about the task."
"And depending on the type of task you select (custom, blog, email, landing page, or social), you have the option to check a box that will create a draft piece of content to get the assignee ready. How cool is that?!"
Asana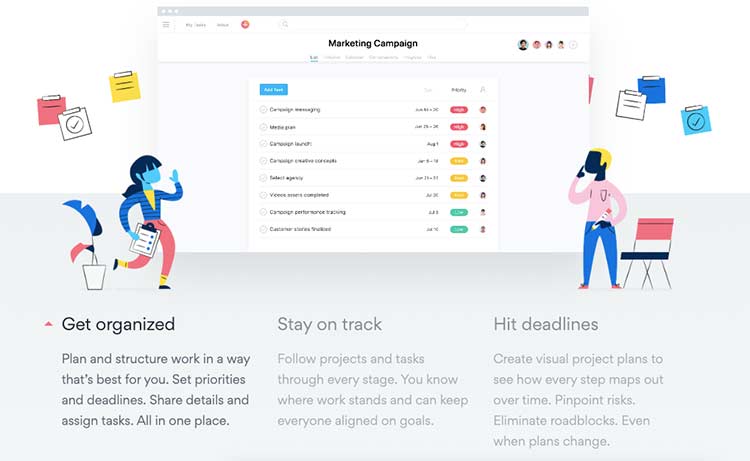 "We use Asana to assign and review tasks we've created per individual on our team," says Referral Rock's Jay Kang. "Using its board, we can also work horizontally and vertically."
Several other respondents also highly recommended the Asana editorial calendar:
"We use Asana—the same tool we use for project management for the rest of our team members (most of whom work abroad)—to coordinate our content marketing calendar."
The trick is to keep all the information in one central place, like a particular task or document, so that everyone is aware of everyone else's needs and responsibilities. It cuts down on revisions and helps to ensure that client-facing deadlines are always met.
"We use Asana to keep track of to-do items, assign topics, assign research, share files and documents, and add deadlines to everything, and then we have all of that sync up to a shared Google Calendar that everyone has visibility into."
"We create Asana tasks for each individual piece of content we're writing and then assign them to the appropriate writer. Within each task, we create subtasks for the outline, the SEO keywords, the review process, etc. so that we have to check everything off and never miss any steps."
"When we want to manage the actual calendar, we go into Asana's calendar view, and we can see when everything is scheduled to be published. We can drag things around as we see fit. We can also set special fields that allow us to color-code the calendar based on author, subject matter, etc."
Notion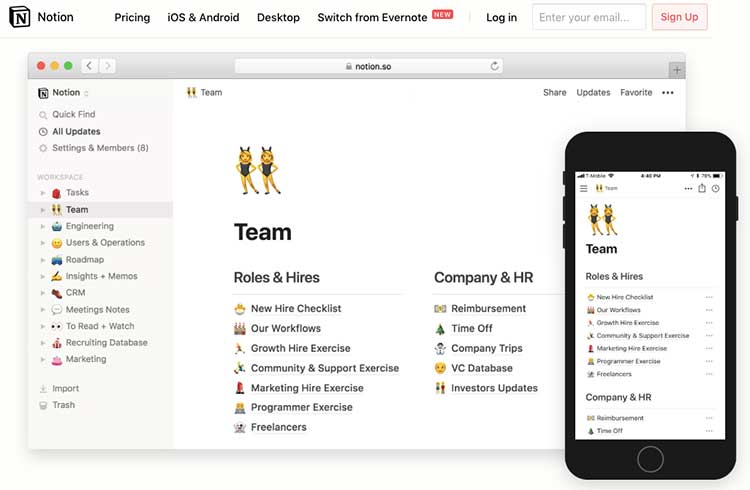 "I use Notion to organize my content marketing calendar because I can attach multiple dates to each content piece and note the different types," says Corey Haines of Hey Marketers. "This gives me a crystal clear understanding of what I should be working on—and when—in order to hit the goal publish date."
Striqo's James McKinven also recommends Notion: "We have all of our upcoming content in a Notion document so everyone can have a full overview of all our upcoming content in both a database view and a calendar view. Contributors can then add ideas with an 'idea' tag and add relevant keywords where needed."
"When it comes to writing the content, we can do that directly within the calendar, and it will keep it updated. Notion is especially handy in the editing process where multiple editors can go into the article at the same time and make notes and edits—all while it stays in the content calendar."
Monday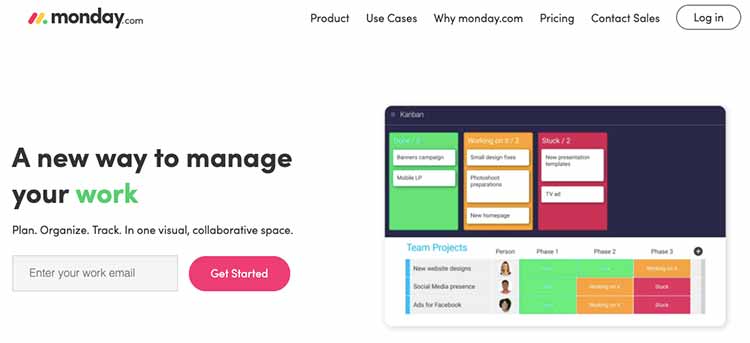 "In Monday, we created two separate boards: one for content creation and one for publishing," says Nextiny's Bryan Gorman. "There's a group on these boards for us to share ideas and move those ideas into the in-progress writing phase."
"From the writing phase, we assign a writer based on the content category and a publish date. The writer works on the first draft, marks it as complete, and copies in the editors to come in and make suggested edits in the Google doc. Once revisions are made, the writer then sends it back out for final approval."
"Once content is approved, it moves from the creation board to the publishing board. Publishing is responsible for moving the content into the editor, adding appropriate graphics/images/videos, optimizing it for search, and publishing it."
"Once the content is live on the site, it's the responsibility of the publisher to then draft and schedule social posts to promote the new blog on its appropriate channels."
Mintent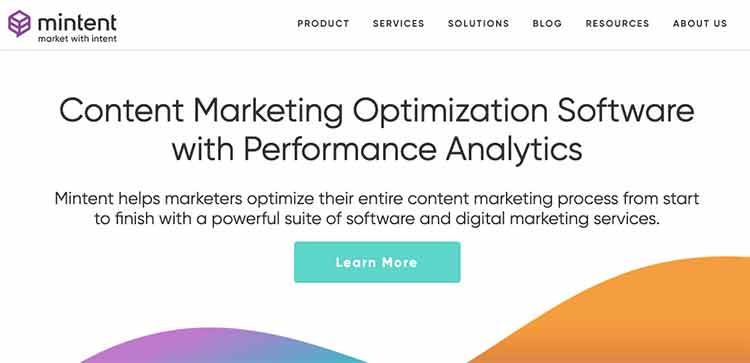 "We use Mintent because it keeps everything centralized," says WPBeginner's Faizan Ali. "We fill out important details for every topic. For example, its keywords, intent, the audience it's targeting, and the expectation. This helps the writer plan out how they are going to go about it."
"Any comments and suggestions are also updated in the same place."
Later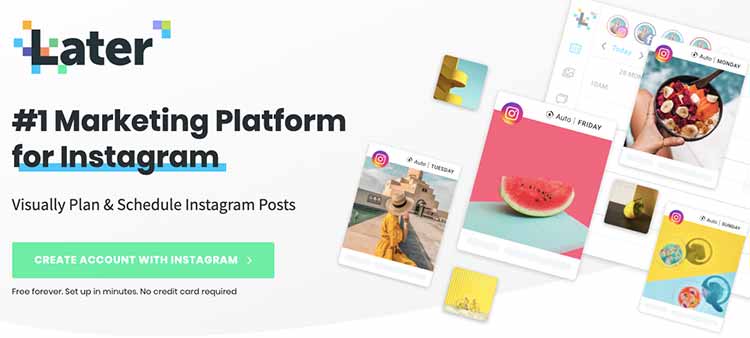 Later is a great content calendar and social media editorial calendar. "I'm all about visual quality when it comes to content," says Anna Lysova of Sensei Marketing. "I believe the best thing you can do here is to find the right tool to plan and visualize your scheduled content."
"I prefer Later because of the preview feature on Instagram. You can drag and drop content pieces to see your feed's aesthetic before you post."
"It's just as important for other social channels and blogs: scheduling tools help you plan ahead and make sure you deliver the best mix of topics, types of content, and visuals that all work together."
Your Content Marketing Calendar Doesn't Have to Be Perfect
"Focus on evaluating the functionality of your content marketing calendar regularly," says DDI Development's Alexandra Zelenko. "Consider checking in with your team to see what is and isn't working for your business."
When it comes to content calendars, don't overthink it. A lot of time the results come from the execution—not the planning.

Chris Hanson
Marketing Strategy/Branding Expert, You Don't Need A CMO
In the end, even if you build the perfect system, it may not always be perfect. As GrowthMentor's Foti Panagio explains, "even after I've done everything by the books, things still find a way of falling apart. Maybe six months later; maybe six days later. My Google Drive is a graveyard of sheets and docs."
"But over the years, I've realized that rigid documentation and processes never last. What worked last year won't necessarily work this year. And sometimes that means that all those hours you spent building the perfect system are now simply unsalvageable. And that's ok!"
"We shouldn't beat ourselves up over the sunk costs of process creation," Panagio says. "Just the fact that you're out there trying to organize your content team and establish order is amazing enough."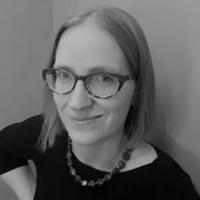 Jessica Greene writes about marketing, business, and technology for B2B SaaS companies. A former writing instructor and corporate marketer, she uses her subject-matter expertise and desire to educate others as motivation for developing actionable, in-depth, user-focused content.