What are the Top Best Practices & Tips for Search Engine Optimization? Making sure your content is search-engine optimized is a crucial task for modern marketers. Which is one reason why 65% of surveyed marketers bring in an SEO specialist to handle it: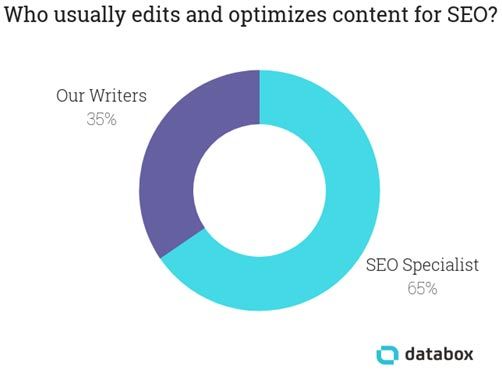 And those specialists have a lot to think about. Just take a look at how many different things marketers ask writers to think about when it comes to SEO: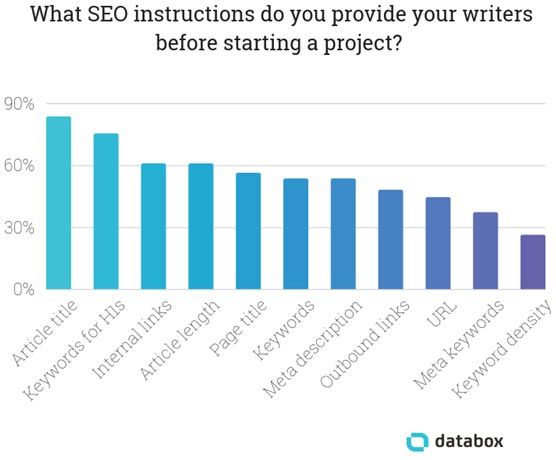 Whether you're a writer or an SEO specialist, you need a solid grasp of how to optimize your content.
To help you, we asked over 100 marketers for their best advice, SEO tips, and best practices on writing well-optimized copy.
Before we get into the best SEO tips and tricks, though, it's worth pointing out one SEO practice in particular:
"Never let writing for SEO compromise the quality of your writing," says James Nuttall of Cuuver.com. "Too many writers become too wrapped up in trying to write copy that will work for SEO that they will sacrifice writing quality for the sake of quantity."
If you can keep that in mind, you're ready to start improving your content SEO techniques and skills.
Start With Keywords
"The problem with most writers nowadays," says SEO Hacker's Sean Si, "is that they publish more and more blog posts with the hope of a higher number of people reading their posts, but this won't happen if they're not targeting a particular set of keywords."
Mae Cromwell from PACIFIC shares SEO writing tips and strategies for solving this problem:
"When developing new content, make SEO part of your planning and ideation process; don't just add it on at the end like an afterthought."
"At PACIFIC, we've seen first-hand that including SEO in the ideation phase can yield huge results in our content marketing efforts. A blog article that was rooted in answering SEO-sourced consumer questions naturally incorporated and ranked for a number of keywords while also yielding links and mentions."
"It wound up ranking for keywords that weren't intended because they were inherent to the way we spoke to the topic at hand."
Here's how Digital Uncut goes about building keywords into their content from the beginning, according to Sam Martin-Ross:
Brainstorming keywords/phrases people will search when looking for a product or service you are selling, and building a long list. For example, a shoe retailer might want to appear for "mens shoes" but they might also want to appear for variations such as "mens sneakers" or "mens sandals" or even information terms such as "what are the most fashionable mens shoes".
Checking the monthly search volume for each keyword on that list using a tool such as Google Ads keyword planner, SEMRush, or Ahrefs and prioritizing by highest search volume first.
Ensuring relevance by seeing who ranks highly for those keywords already. If your competitors (or similar businesses) appear for it then you know it's a good keyword to go after. On the other if websites that have nothing to do with yours appear, the keyword can't be very relevant.
"Hopefully after following that you'll know what search term you want to target with your content, and this is crucial to get your content writing going in the right direction SEO-wise," says Martin-Ross.
So where should you go to find these keywords? We received several suggestions for SEO tips and best practices to answer this question:
Jessica Nelson with Vigor Visuals suggests: "Use the keyword research tool within Zerys to find out what topics your readers are actually interested in. This ensures your content will always be relevant and engaging, and Zerys ensures the writers properly keyword-optimize each post."
Those tools should give you plenty of ideas for the 150–200 keywords that HEXONET's Ana Milosavic recommends the SEO practice of compiling before you start writing.
Focus on Long-Tail Keywords
"A good option is to utilize longer phrases that include multiple competitive keywords," says Devon Higgins of FolioWebsites. "In SEO terminology, these phrases are called long-tail keywords."
"They include three or four keywords that are very specific to what you are selling or offering. [Long-tail] keywords are a good option since specific multi-word phrases have the tendency to rank well and more easily than generic single- or double-word keywords."
"For example, rather than use 'Be an Effective Photographer,' consider 'Tips in Becoming an Effective Real Estate Photographer.'"
Ben Johnston from Sagefrog Marketing gave a similar example:
"When a user searches for ways to fix a leak, they aren't simply typing 'fix a leak,' they're searching something more along the lines of 'fix a leak in my bathroom sink where the pipe is exposed.'"
"When you get more specific with keywords, e.g., 'fix a leak in my bathroom sink where the pipe is exposed,' that's called a long-tail keyword."
"Long-tail keywords are useful for allowing small blogs and sites to compete for keywords that are dominated by huge sites with paid ads and thousands of pages."
BrandLoom's Avinash Chandra agrees: "I have seen that long phrase keywords are easier to rank for and it also helps you ultimately rank for your desired keyword."
Keep It Local (When You Can)
"If you include local modifiers like city names, it will help bring local readers to your page. Plus, if you include a section about why your information or product is ideal for people living in that area, it will help with conversions!"
GreenPal has put this plan into action already, says Gene Caballero:
"For example, [in] addition to creating landing pages for large metros like Atlanta, GA, we also create them for Marietta, Alpharetta, Decatur, etc. This will ensure that the Google algorithm can detect the key words and our business in that specific location."
"This helps expand our business to a new city by ranking for search. We have grown our business by 10% since launching this practice."
Use Keywords Judiciously in Content
"Many new marketers and writers believe that in order get results with content marketing, they need to insert a keyword in their content as many times as humanly possible," says Aerin Ogden of Big Leap.
"If you think that including a keyword many times in a piece of content will get you ranking results, you are wrong."
"Nowadays, if Google looks at a piece of content and a keyword is overused, Google will see it as spammy and will drop its rankings. In other words, you can be penalized if you insert a keyword multiple times in every sentence of your content."
"Instead of 'keyword stuffing' content, use this rule: Use keywords often when it makes sense. I like to go by the general rule of including a keyword every 100 words or so."
"Bottom line? Use keywords when you can in a way that is natural and makes sense. If your article sounds more like a robot instead of a person, your keyword usage might be off."
Chetna from Grazitti Interactive had some specific SEO tips and best practices on this topic:
Add the keyword in the title
Add it in first 300 words
Always use H1 (Title) or H2 (300 words) for keywords
Try to find and use variations for keywords
Make sure your keywords feel natural in the content
"Try to use variations," says Mashvisor's Daniela Andreevska.
"For example, I work in content marketing in the real estate industry, so if my focus keyword is 'investment property,' in my blog I will try to also use other related keywords such as 'investment properties,' 'buying an investment property,' 'analyzing an investment property,' 'making money with investment properties,' etc."
"I will also use other keywords related to the industry such as 'rental property,' 'real estate investor,' 'making money with real estate,' etc."
But Always Emphasize Quality
"Back in the day, exact keywords—"car rental new york"—were required and you could write multiple pages of content on keyword variations, but Google's algorithm is so advanced that the search engine can pick through your copy and piece together many different keywords based on that."
"The keys, then, are to write pages with a lot of copy for Google to draw from, and to ensure that it's high-quality, authoritative copy that provides useful information. Google values good writing more than anything."
Ketan Kapoor from Mettl also shared some knowledge about Google's changes:
"In my experience, Google algorithms have become smarter over time and if you can take care of publishing valuable content, the SEO needle will certainly move over time."
"As Google gives more weight to user gratification, your writing style and content experience is going to be the deal breaker."
"First and foremost, you must learn to write like a human that radiates plenty of personality, uses a lot of real-world examples to encourage the user to consume content in the first go without going back to Google quickly."
"Your content should have the punch that users crave and to do that, you can sprinkle power words in your content that invoke emotions such as fear, curiosity, humor, urgency and even the Fear of Missing Out."
"Steer clear of boring and bland writing style that will make readers yawn. Instead, try to make your content more skimmable and scannable with bullets, headers, subheads, and plenty of white space in the background. Try to send the user on an emotional roller coaster and try to paint a picture with your words only."
Similarly, Rafi Arbel with Market JD says: "All else being equal, substantive content that captures user intent gets rewarded with more traffic. Find skilled Zerys writers and give them the freedom to use the suggested keyword semantically."
"Quality is much more important to SEO today than it was 10 years ago," says JW Digital's Josh Williams.
"Two acronyms that writers new to SEO should become familiar with are E-A-T and YMYL. These acronyms are explicitly called out in Google's search quality evaluator guidelines."
"EAT refers to Expertise, Authoritativeness, and Trustworthiness, three qualities that good content will have in spades. Whatever you're writing about needs to contain enough content to satisfy a searcher's needs."
"If the content is too short or just a cursory overview it might not do as well. E-A-T not only takes the current page into account, but the website as a whole and it's reputation online."
"YMYL stands for Your Money, Your Life. Content that falls under this umbrella relates to things like personal finance or medical information."
"If this content is not written by someone that knows what they're talking about, there could be negative ramifications for searchers. Google wants to prevent anything bad from happening by holding any content deemed YMYL to a higher standard."
Keep The Focus Topical
"My biggest SEO tip for writers and new marketers is to concentrate less on keywords and more on topics," says Matt Press from Splash Copywriters.
Why?
"Google's technology now embraces latent semantic indexing. That's a techie way of saying that Google is now better at interpreting the wider context of articles and it no longer relies on one or two keywords for information."
"If you satisfy the intent of a searcher, it's possible for one piece of content to rank highly for 100s of terms."
And that has another benefit, says Press: "For business owners in particular, this is great news, since it means that you can effectively power a website on a handful of articles. There's no need to be constantly creating content."
Dylan Brooks from Insurance Technologies Corporation reiterates the importance of topics:
"Search engines are focusing on topics, not keywords—as that's the way consumers use their services. The best way to get on the same page with this search engine mantra is to write in the language of consumers by finding these questions and answering them through your content and website features."
Brooks also recommends four strategies and SEO best practices for finding the topics your audience is interested in:
Typing in some keywords and seeing which questions related to the keywords that Google or Bing autosuggest (before you hit Enter on the search).
Entering a search and seeing which questions exists in the Related Questions section at the bottom of the results page
Looking at the types of questions related to your keywords are trending in Google Trends
Using Answer The Public to surface questions surrounding your keyword that people are searching for on Google.
Research Your Competition
"Firstly, we want to understand what our prospects are searching for," says Bowler Hat's Marcus Miller.
"What is the language that is used when researching by our target audience? And what is the volume of these search queries? This research should arm us with a list of keywords to target."
"We can search these keywords ourselves, review the content already ranking and look for opportunities where we know we can create something unique, better or add more value. This is how we take SEO intelligence to help in the research and planning of our article."
Review Search Results
"Look for patterns. If you want to rank for 'Seattle SEO Company,' for example, look at the titles (blue underlined links) for Google's top 10 search results for that term. Titles typically reflect what you're going to learn by clicking on those links."
"Do the titles suggest you're going to see a list of SEO companies? Directory listings? Seattle SEO company reviews or ratings? Or do you see individual SEO company websites? Eyeballing the top 10 search results will tell you what Google thinks people are looking for, what Google considers the 'search intent' of that keyword phrase."
"If you see a bunch of lists, then your content would be best served in a list format. If you see a few SEO company websites, then you probably have a 2–3 in 10 chance of ranking on the first page of search results with your SEO company home or service page. Then you need to make your page better than any of the current top-ranking search results—10 times better."
Several other marketers' SEO tips and best practices recommended reading search results for your keywords, too:
Chris Hornak from Blog Hands says, "If I were to give only one SEO tip to new writers who want their content to perform well in searches, it'd be to review the search results of the topic you plan to write on."
"By doing this, you can see what Google thinks the context of that search is and find gaps that need to be filled. . . . Two great places to start are the 'People also ask' box (if there is one) and the 'searches related to' section at the bottom of the search results."
TorHoerman Law's Lindsay Andrews echoes: "The best thing to do is to read other articles on the subject. . . . But, when I stumble across other blogs similar to the one I'm trying to write for the average person, not a lawyer, my job becomes a whole lot easier."
"The key to success is simply research, research, and more research until you figure out how to write in a simplistic, easy to understand way."
Pay Attention to Content Formats
"Here's one tip that I see glossed over," says Aeroflow Healthcare's Alex Deckard.
"Before you write or film or shoot or create anything to rank, check Google first. Search the keyword you want to rank."
"Google tells you what content they prefer to rank (infographic? long-form content? ebooks? video?). It also gives you an idea how good your content needs to be because you'll have to make something better than what's currently ranking."
Write Something Better Than What You Find
"When writing a new blog post I research the top five articles that are listed in the Google SERPs for that keyword," says business blogger Rob Powell. "I make sure that my article covers more sub topics than any other article that appears on the first page of Google."
"My research technique is quite simple: I use a mind map to record every single heading and sub heading in the top five search results. I then organize that mind map into a hierarchy of topics, sub-topics, and sub-sub-topics."
"That gives me the structure for my article and ensures that my content has more topical authority than any other content on Page #1 of the search results."
Think in Terms of Questions
"This sounds basic, but it's something a lot of marketing teams and writers miss. Search engine queries, even if they're not formulated as a question, are looking for some kind of answer, whether they're trying to navigate to a website or find a specific piece of information."
Here's how Shaheen says to get started:
"If possible, the best way to start building this brainstorm is by speaking directly to your customers or audience. What information are they looking for? What are they curious about?"
"While you might not get the specific details on how many people a month are asking that question, chances are that if you have multiple customers with the same question, there's more people out there who would also benefit from the answer."
"After you know what question you want to answer within your content, do your own Google search of it. Take a look at what kinds of results populate—are most of the results long-form articles? Listicles? Are there a lot of videos, image[s], or news results?"
"This can help you understand what style of content Google currently considers valuable as an answer to your question. While you shouldn't box yourself in to following this exact format, these context clues can help you position your content to rank and receive traffic."
Shaheen also emphasizes avoiding two common mistakes:
Content that poses a question, but provides a confusing or incomplete answer
Content that answers a question that nobody is asking
"One SEO tip we have is to write web content in a question and answer format. With the advent of voice search using Siri and Alexa, people are searching directly with questions, instead of typing in phrases or keywords to Google," says KDG's Keri Lindenmuth.
"Instead of typing in 'dental implants price,' they're asking 'What is the price of dental implants?' As a result, content that is organized in a way that directly answers the questions searchers are asking is better optimized for search."
"This requires new content writers to get into the heads of their audience. What kind of questions will their customers or clients ask? How can answers to those questions be brief, yet informative?"
"If you do a good job of answering the question, Google is more likely to display your content in a 'Direct Answer' box at the top of the search results page, above the top ten results. Utilize bullets and lists to make your answer easy to skim, yet simple to understand."
Victor Bilandzic of Motava recommends SEO tips and best practices for a specific style of question-answering:
"I like to use a question that contains my top keyword followed by a bullet point of answers. These are more likely to get picked up in those neat 'featured snippets' that you sometimes see on Google search result pages."
"As an example, if you want to rank for 'peanut butter and jelly sandwich' you may want to include something like this:"
How do I make a peanut butter and jelly sandwich?
Toast some bread
Take a knife and spread peanut butter on one side of one piece of toast
Spread jelly on the one side of the other piece of toast
Put the spread slices together and eat away!
"Then the rest of the article could be in-depth details about types of bread, crunchy vs. smooth, jelly options and additional toppings."
You can also use Google to help you find questions that people are asking, says The Source of All's Shervin Mohseni.
"For example, [let's] say my niche is CBD Oil. I would search 'CBD questions' in google search, and google will provide me with a list of common questions [asked on sites like quora] about CBD Oil. I would then write a blog post answering 1 of these questions in detail."
"The title of the blog post will be something related to the questions users are asking about CBD Oil. For example, if users are searching, 'how long does it take for CBD Oil to start working?' I could title my blog post, 'CBD Oil benefits & how long it takes to work.'"
Think Like Your Customer
ProductPlan's Heather Jean McCloskey pairs this strategy with long-tail keywords. "Let's say I was running a mail order business for houseplants."
"What are some questions [my customers] may have about houseplants? Perhaps they might wonder:"
Which houseplant to buy
Are houseplants safe for pets?
How to care for houseplants
Where to buy houseplants
Once you've found your keywords, think about what your potential customers might want to know, continues McCloskey. Then split up your article into headings that answer people's questions.
Kendall Brennan from Power Digital Marketing provides SEO tips and best practices for a concise way of measuring your content against your user's needs:
"When writing content for your site, always ask yourself 'does this content answer the user's questions?' If you keep that in mind, your content will always be considered quality in Google's eyes."
Or, put even more simply, from Voices.com's Tanya Chopp, "Remember that on the other side of any search query is a real person."
Use Questions Throughout Your Content
"My SEO tip for beginner writers is to ask and answer questions throughout your content," says Lauren Hilinski from Shred Nations.
Hilinski gives the example of a page on how to tie a slip knot.
"You can boost your article by using several related questions in headings throughout your article, for instance 'When Would You Use a Slip Knot?' or 'Is it Hard To Tie a Slip Knot?' That way you can easily rank highly for a variety of searches on the same topic."
This strategy also helps you answer your readers' questions more completely. And that, says Ceralytics' Brandon Andersen, is important.
"The best tip I can give a non-technical person about SEO is to make sure that your content thoroughly solves the reader's issue without a need for them to visit another website."
"Answering the audience's intent is 100% in the hands of writers and requires very little technical knowledge of SEO. But [its] impact on SEO is HUGE!"
Understand User Intent
"For search, the one tip I would give is to understand user intent," says Analytive's Tyler Brooks.
"Sometimes that's easy. For example, when someone searches for 'plumbers in Phoenix' they have a pretty strong intent to find a plumber now."
"But some terms are softer. If someone searches for 'Apple', are they looking for the brand or for the fruit? If you have an orchard, you don't want to optimize for 'apple', but instead for 'apple orchards,' 'u-pick,' and other such terms. Those have the right intent for your company."
Richard O'Connor from First Mats mentioned Google's Hummingbird update, "which was designed to deliver results based on searcher intent."
"For us, this means that we have to look beyond keywords and think more about what our website visitors actually want. Do they want to buy something? Are they looking for tutorials or do they just want general information about a particular subject?"
Using this information to write content, First Mats has grown their traffic 700% over the course of the past year.
"In the absence of organic keyword data from Google Analytics, you can use Webmaster Tools Search Query data to align your content marketing efforts with the intent of searchers on Google," says Scott Benson of Benson SEO.
"From there, you can use that research to create target audience personas, and use those profiles to build digital advertising campaigns to get your resource content in front of people you know are in need of your services and solutions."
Use Great Titles
"For example, if you are writing about technologies that will make your meetings better, a title like 'Get More Out Of Your Meetings' is too vague. Get more to the point. Make that title say more about the exact type of helpful advice you will be sharing."
"The title could be: 'Five Tech Tools to Help You Get More Out of Your Meetings' or 'Top Technology Hacks that Will Help You Lead Better Meetings.'"
Veronica Raducan from Extend Studio recommends including two things in your titles: information that readers know they want and information that readers don't know they want.
"The headlines of most search results are usually pretty clear about point 1. They tell users what the article is about, and why it will be such an awesome read. That's how you end up with headlines that go something like this: 'Step-by-step guide to [keyword]' or 'The Ultimate list of [Keyword].'"
"To give an example, we recently wrote an article about website monetization, aimed at small sites looking to earn some money on their traffic. We titled it 'How 40+ Big and Small Websites Make Good Money' for the following reasons:
'40+' makes it immediately clear to a searcher that this resource contains a lot of useful information and monetization tactics.
'Big and Small' actually is an indication that the article actually looks at real sites, and how these are capable of monetizing their visitors, instead of just listing abstract information.
'Make Good Money' is a social proof, that these methods work, and are actually viable.
This makes the title actionable, information rich, and solves the searcher's deeper problems: which monetization method actually works, and which sites have had results with it."
Alex Wright, web designer and SEO consultant, emphasizes the SEO practice of writing titles for humans instead of search engines.
"Write headlines that convey a single who, what, where, when or why setup statement for the content that follows. Do not be overly clever, euphemistic or jargony. Your reader—and search engines—aren't in on the joke or allusion or reference."
"Example: When describing a bike race, don't write headlines like 'Only The Best Can Make It To The Top' because that doesn't add who, what, where, when or why information for people or search engines."
"Rather, use a concise informative headline like 'Portland's Toughest 12 Hour Uphill Bike Race' which is clear and helpful. Then use the body content to be more clever."
Related: How to Use Creative Blog Titles to Boost Visibility
Use the Right Keywords in Titles
"A trick I like to use for this is write your search friendly title and if the content is aimed for a social campaign write a social friendly title using Open Graph tags (This changes the content that shows on social shares – this is well worth looking into)."
"Those clever sausages over at Moz have a really good basic structure 'Keyword one - Keyword two | Brand.' Now if you're going to use this I'd suggest a quick alteration—Drop the brand."
"A quick example of this structure could be 'Homemade Sausage Rolls – Learn to Make Great Puff Pastry at Home.' Ideal for a blog post that teaches you to make your own sausage rolls using your own puff pastry."
"Be sure to include emotive language. If you're teaching someone something make sure it's 'Best', 'Perfect' or 'Cute.'"
Stacy Caprio of her.ceo agrees: "Make sure to put your target keyword in your title and h1 or h2 tag at the beginning of your post. This signals to search engines what your content is about, and gives you the chance to rank for it."
Dave Hermansen from Store Coach shares his advice and SEO tips for perfecting your titles:
"Use Google's suggested search function at the top of the page as well as the 'People Also Search For' list at the bottom of a search for your phrase to see what Google might expect to see on the page."
"Then, get as many of those phrases (or variations of them) as you can on the page by tweaking your existing content, substituting a word or phrase here and there for what you originally wrote."
Related: SEO Best Practices & Content Guidelines for Choosing the Right Keywords
Dive in Deep to Create Comprehensive Articles
Says Samantha Russell of Twenty over Ten, "Research shows that content around 2,500 words gets the most attention from Google. Not only do search engines' algorithms love long content, but you'll find additional SEO benefits from writing a couple of thousand words."
"With more content, your page will likely include more keywords that help improve your search engine ranking. Long form has also shown to provide a higher conversion rate so don't sell yourself short!"
Music Studio Marketing's Adam Gingery outlines some of the benefits of in-depth content:
"If you explore every aspect of your topic and truly write a deep, comprehensive article about it, you will naturally include a lot of keywords semantically related to your target keyword."
"Other benefits to writing this kind of article are substantial content length, good user behavior (visitors will probably stay on your site longer), and backlinks—other sites are more likely to view your article as a resource and link to it."
Focus on Quality
But don't just write long articles for the sake of writing long articles, says Miromind's Dmitriy Shelepin.
"Writers tend to add a lot of fluff for various reasons: they need to hit a certain number of words, they don't know the topic well so they start rewriting paragraphs that they vaguely understand, they are thinking someone will enjoy a really long introduction with catchy (overused) phrases."
However, "readers enjoy reading the text that is on-point and delivers VALUE."
Ask yourself these questions, says Shelepin:
What would I be interested to find out if I decided to read the article?
Who is your target audience and what is their expertise level?
What information are these people looking for? Would the people reading the article 'Multithreading in Java' be interested in definition of Java, information about its founders or do they (most likely) know what Java is and are simply researching the multithreading topic particularly with some tips and actionable code examples?
"'[T]alk less and say more'," Shelepin advises, "rather than 'talk a lot saying nothing.'"
"To me, the foundation of great content lies in the commitment to provide massive value to the readers," says marketing consultant Shane Barker.
"I've invested heavily to create well-researched, in-depth, high-value content all these years. And I've seen the kind of impact high-value content has, regardless of the topic or industry."
Barker also gave these SEO tips and best practices:
Create content that people will love to read and share.
Create long-form content with in-depth information about the topic.
Write simplified content that is easy to read and understand.
Update your content frequently.
Include links to valuable statistics, case studies, and examples to provide more authentic information.
Optimize your content for other ranking factors such as search-friendly URLs, meta tags, etc.
Use Related Keywords Throughout Your Content
We've mentioned related keywords in previous sections, but lots of marketers called out this strategy specifically for their SEO tips and best practices.
One good thing that works well when writing for SEO and Humans is to use [what's known] as LSI [latent semantic indexing] keywords," suggests ALT Agency's Craig Murphy.
"Basically type your search phrase into Google and then at the bottom of google you get 8–10 similar keyword suggestions that Google associates with your original search phrase. Sprinkle these into your content so that Google can better understand and associate your website."
"For example, if the article is about Keto Diet," says Trump Excel's Sumit Bansal, "then you can also include synonyms such as Low-[carb] diet, or weight loss diet and related topics such as Keto recipes or keto meal plans."
"I have been improving my articles by adding more related topics and keywords and have seen a 25-30% increase in traffic in the past 6 months," Bansal adds.
Where you can find these LSI keywords? Both Logan Shinholser from Full Sail and Cody Slingerland of Jawfish Digital recommend the "Searches related to" section of Google's search results page. Local Falcon's Yan Gilbert looks higher up the page at the "People also ask" section.
(Author's note: LSIGraph is another great resource for finding related keywords.)
Structure Content for Readability
"Gather & Organize other content related to the topic, create Headlines, target keyword phrases, supporting terms, where to link to / from, Calls-to-action, etc. Once you have an outline in place, the article almost writes itself."
Swapnil Chaurasia from Edupristine recommends beginning "by creating a clear structure of what every post should have: an introduction, a body and a conclusion. Write down what you want to say in all three sections to have a summary of your post."
"A structure comes from headings and paragraphs where headings help Google to grasp the main topics of a long post and therefore can help in your ranking."
Once you've written your article, says Marina Dolcic of Morningscore, go through this process:
"First thing, read through your article and press enter every time you finish an idea or make a point. The shorter your paragraphs, the better. Most writers that like their content optimized for search engines try and stay under 150 words, but I try and keep mine even shorter."
"Next, break up your content even further. Use titles and subtitles, add bulleted lists, images, quotes and text emphasis (bold, italic, underline). All of these elements will make the content easier to skim and offer more points to [pique] the reader's interest and make sure they get all the way to the end of whatever it is you wrote."
"Use the proper styles for your titles and subtitles. This is extremely important. Titles and subtitles should use the Heading styles. More specifically headings 1 to 6."
"There are two main rules you should follow. The first—only use one Heading 1 in your text and use it for your main title. And second—never skip a heading. Headings are used to mark content hierarchy. So do not skip heading 2 and use heading 3 instead because you like the font size and how it looks."
And once you've created those headings, says AppInstitute's Izaak Crook, be sure to add a table of contents so readers can navigate.
Optimize Subheadings
Jonas Sickler of ReputationManagement.com recommends breaking content down with subheadings. "This allows users to quickly scan the page to make sure it's relevant before they spend time reading it."
"You can also use them to add long-tail keywords and synonyms to articles. However, they shouldn't be used as a means of keyword stuffing. Instead, think of them like separate but related topics that all roll up to the higher-level concept of your article."
"I've been slowly updating older posts with this simple step," says Sickler, "and we've seen a noticeable improvement to long-tail keyword rankings on these articles as well as an overall increase in sitewide traffic."
"If there's ONE tip I'd suggest," adds Nordimark's Jonathan Jeffery, " it is making sure the Title and H2's, or the secondary headings in the article, reflect Keyword searches that you want to rank on."
"Headings help 'prioritize' the content and position it to respond directly to search phrases."
Michael Alexis from Life Lessons Advocate recommends adding "literal descriptions of what the section is about."
"For example, if you wrote about your recent trip to Paris you could include subtitles like 'where to eat gluten free in Paris,' 'the best time to visit the Eiffel tower' or 'how to dress for Paris in the winter.'"
"By marking the text as a subtitle h2 or h3 element, you signal to Google and other search engines that the content is important."
Use Bullets and Numbered Lists
"Bullet points and numbered lists are designed to make content easily skimmable for online audiences," says Grayson Kemper of Clutch.
"The SEO benefit of this is actually twofold:"
Numbered and bulleted lists are often pulled for rich snippets because they tend to provide detailed responses to search queries.
The bounce rate on your site lowers when you use these formats—when fewer people that bounce off your site, especially incoming search traffic, it signals to Google that your content is a relevant and authoritative result for a given query.
Make Content Easy to Read
"If you have a WordPress site like my company, installing YoastSEO will help guide you on how to improve your content's readability."
Belitsoft's Alex Krasko gives a simple SEO tip for keeping things easy to read:
"If you want to include a long-tailed keyword in your text, feel free to dilute them for better readability. Google has a smart algorithm that will still understand what you're trying to say."
"For example, your keyword is 'elearning website for nurses.'"
"'According to HBR research, the use of eLearning websites has grown by 13% since 2017. The rise was especially prominent for drivers, teachers, and nurses.'"
"See what I did there?"
Learn From the Best
"Each and every article of backlinko is doing extremely well in search engine," says Sewport's Fahid Hasan. "His content structure is so good that people spend significant time in his website."
Hasan gave the example of Backlinko's "SEO This Year" page.
There's no doubt that Brian Dean is one of the best writers out there when it comes to reader- and search-engine-friendly structuring. Use his knowledge to your advantage.
Include Images and Video
"A low bounce rate can shoot your site to page one on Google," says Evan Roberts from Dependable Homebuyers.
"To keep more visitors on the page longer I recommend using a variety of different media to satisfy the variety of visitor preferences. Videos, infographics, interactive graphs, and images are all great ways to visually appeal to visitors and provide the variety required to maintain a low bounce rate."
AE Home Group's Jeff Miller also adds chat clients to that list, and suggests linking "to other related content on your site so that visitors are encourage to continue exploring all the content that you've published."
Add Image Tags
"The best thing you can do with your images is to uniquely name each image, making sure to include keywords in the title, meta description, and alt text."
"Using unique names allows Google (and other search engines) to get a better feel for what you are writing about," says Jenna Garvin of Virtual Freelance Guide.
"I honestly never paid much attention to this trick until recently. I have seen my traffic creep up in the right direction which is always a good thing! When I would add images before, I would just name them all my main keyword or the title of my post. Totally redundant and not helpful to my SEO."
"Show the search engines how well rounded your article is, and humans how much they need to read your article by including many images that are uniquely named."
"You can find the place where you enter alt text in different places depending on your publishing platform, but in Wordpress there is a box for alt text to the right of the image in the uploader."
Measure and Improve After Publishing
One of the top SEO tips is improving previously published blog posts. Updating previously published posts can have a huge impact on results. As Sumit Bansal reported above, "[I] have seen a 25-30% increase in traffic in the past 6 months by adding more related topics and keywords to my articles."
"Once you publish, the job isn't over." added Kathleen Both, VP Marketing of IMPACT Branding.
Booth's team publishes 14 to 21 blog posts per week. She keeps a close eye on the performance of new posts, as well as the performance of old posts, always looking for opportunities to get more traffic or leads from the work that's already been done.
She relies on a blogging performance dashboard with data from HubSpot to track:
Number of blogs published this month compared to last
Total blog views this month compared to last
Blog email subscriber growth
Top blog posts by page views
Top blog posts by click through rate
She shared, "The blogs that get the most views are not necessarily the ones with the highest click-through rate. In fact, we've used this data to identify blogs that get a lot of views but that don't get many click-throughs and have created offers specifically for these posts in order to capitalize on the traffic they are attracting."
Joseph Jerome, of Brand Builder Solutions, suggested something similar, but using Google Analytics data with either Wordpress or HubSpot for the blogging platform. "We recommend our clients setup dashboards that help them identify which articles and blog posts are no longer performing. Most companies put all their energy into creating new content, but simple updates to existing content can keep traffic coming more easily. We recommend both a 'blog quality metrics' dashboard to track the performance of existing content and a 'new blog post dashboard' to track performance of new blog posts by author, title and publish date."
Conclusion
"I focus on building a tribe of advocates through my work and these folks (actual humans) then help promote the content naturally."
"This isn't to say SEO doesn't matter, but when it comes to content development it certainly doesn't matter as much as people think it does."
Similarly, Peter Caputa IV, CEO at Databox, suggested that, "SEO is much easier if you are working with other companies. One writer only has so much knowledge. Even if you are the expert on a specific topic, getting the perspective of others before you sit down and write something can help you write better content."
"And if you collaborate with others on your content, you'll not only get a better product. You'll also have others who might be willing to link to you and share your content," he added. "That's how we grew our traffic from a few thousand sessions per month to sixty-five thousand sessions per month in eighteen months."
But, no matter how much emphasis you put on SEO or how aggressive your goals may be, hopefully these tools and SEO tips will take the mystery out of SEO for you. If you want to learn more about the best SEO practices, check out our white paper, "What's The Future of SEO?" or contact us for more information.
Did we miss your favorite SEO content writing tips? Share it in the comments below.