Are your social media efforts falling a little flat? Perhaps your attempts to go viral are returning more of a polite, muted cough than a full-scale epidemic? Words have never been more critical: the internet has secured that. And a well-crafted message can exceed the limits of the letters on the page. But powerful as the written word is, there's no denying that you're missing a trick if you rely on words alone.
Video content marketing - quite simply put - is the future of social media. And there's an abundance of overwhelmingly convincing evidence to suggest that video improves engagement.
Video clips on landing pages result in conversions and Click-throughs. Nearly a million seconds of video is played over the internet EVERY SINGLE SECOND.
Stats to follow.
In this article, we're going to explore how to boost your social media engagement and Click-Through-Rate (CTR) by maximizing the potential of your moving images with video marketing tips. So if you want to learn how video can help your business, continue reading below.
Why Film?
Some might say that we're predetermined towards storytelling.
We engage with recognizable structures. We like a beginning, middle, and end.
Ask adults what their favorite story is, and they're likely to revert to fairy tales - or the movies and books they loved as a child.
Because they all have a recognizable structure. They have:
A protagonist (main character)
An antagonist (a baddie)
An objective
A journey
And storytelling in marketing that engages with those essential elements of story, help potential clients hook into your brand.
While words on the page (or on the feed) can win round the haters, video can boost your conversions by 80%!
A well-constructed promotional video is a more instant tool than words alone.
Video catches the eye on social media. Ignore it to your chagrin.
There's a Lot of Jargon, isn't there?
Sometimes we're afraid to ask questions. And you don't know the answer till you've asked.
So, (for those of you wriggling in your seats because you're not sure of the lingo), a Click-Through Rate (CTR) is the volume of clicks a piece of marketing activity generates.
CTR is a percentage of the people who click on your Call-To-Action (CTA) link, against the number of people who viewed the page (Impressions).
For example, you might send an email with a link to a landing page whose Call-To-Action (CTA) is to subscribe to your newsletter.
The Impression rate might be the number of people who opened your email. The CTR might be the number of people who clicked through to your landing page. And the number of people who clicked on your CTA is how you might register a conversion.
An engagement is usually a click, a video hit, or somebody sharing your social media post, commenting on it, or recommending it to specific friends.
Simple, right?
Some Quick Stats About Video Marketing
One of the top video marketing benefits is that it is proven to boost engagement. Even Facebook mogul, Mark Zuckerberg, believes that video is vital to the future of Facebook.
Just check out these stats:
So, lingo and stats out of the way; are you ready to learn how to do video marketing? There are so many types of video marketing, and video marketing strategies, out there for businesses. Here are some video marketing tips for using video to boost your engagements and CTRs through social media.
Video Marketing Tip #1:

You're Never Fully Dressed Without a Smile

Or, at least, your video thumbnail might as well be dead to your audience if it lacks a human being and a smile.

The quality of your video thumbnail can affect view rates.

It seems that we really do judge a book by its cover.



Add an image of a smiling human, making direct eye contact, and your open rate increases.
Wishpond ran a 5-week A/B test for two of their video ads to test the open rates against two different thumbnails: one contained a smiling person, making direct eye-contact; the other, a screenshot of a spreadsheet.
The smiling image boosted company profits by 10.7%.
And the Joy of Spreadsheet?
Failed to impress.
Video Marketing Tip #2:

Run a Give-Away Campaign

Offering something for free or at a significant discount is a great way to drive people to engage with your social post.

Maximize the potential for people to share your post by offering a great deal on your products or services.

And if you enable auto-play for your video content marketing, it immediately springs out of the social feed.

Always remember to include a CTA button that sends the clicker to a landing page or your web page.

Related Resource: What is Content Marketing? And Why Is It So Important?



Video Marketing Tip #3:

Create a Dedicated Landing Page

Just for clarity, a landing page is a single-purpose, stand-alone webpage, set up for a specific marketing campaign.

The sole objective of a landing page is to deliver one single message:
Buy your product
Join your mailing list
Find out more about your service (or product) (directing them to your website)
And while a landing page is a step away from social media, video on your post can deliver your message more quickly than through the written word.
And a video on a landing page increases the duration of the visit, providing a bigger window for your brand message to sink in.
If you feature you or your staff in your video, it builds trust; it reassures the viewer that they're dealing with humans and not a bot.
So, the takeaway so far is "show them humans." And smiling ones at that.
Video Marketing Tip #4:

Experiment Between Autoplay and Press Play

Autoplay can be more eye-catching on social media feeds - but it's no guarantee that your target demographic is going to watch it.

And they might be at work, so they'll probably have the sound switched off.

So get subtitling.



Campaign guidelines on social platforms often advise against autoplay. Because the disruption can just annoy the very people you're trying to entice.
But autoplay is by no means prohibited. And you should experiment.
Try an A/B campaign - half Autoplay, half Press Play.
Find out which is most effective for you and your product or service.
Related Blog Post: Why Video Content Marketing is the Future
Video Marketing Tip #5:

Have a Script for Your Promotional Video

Most of us have seen at least one self-shot influencer video on social media.

They work because they have a dedicated audience who aren't too bothered about production values. It's what's being said that they're more interested in.

But:

You rarely find a social media influencer tongue-tied or rambling off on a tangent.

People watch their videos because they're an expert: they know what they're talking about and they can demonstrate an authoritative voice.

So, have a script.

And if you're no scriptwriter, hire someone to create a convincing piece of prose to help you ram the message home.

When you're developing your script, always:
Include a CTA.

It should be permanently visible throughout the video or shown at strategic points of the clip.

Use directional cues.

Point viewers directly to your CTA, either by verbal instruction or with a person pointing a finger at a superimposed link.

Stay focused.

Video, regardless of production values, needs a clear, verbal and visual message.
You don't need to get Spielberg calling the shots, but have a clear direction for the content of your video. On the fly only works if you're good at it! If in doubt, script it.
Video Marketing Tip #6:

Facilitate Sharing and Embedding

Your video will get much better engagement if you enable sharing.

Whenever you use video on social media, it's almost always sharable (especially if you're using boosted posts to extend your reach).

All good so far.

But if you're using promotional video on your landing page (and we sincerely recommend that you do) is there a "Share" button embedded into your video player?

Better still, does your video player allow others to embed your video into their blogs, emails, and websites?

You might think that giving others the ability to embed your video onto their newsletter or website seems like an odd approach to getting social media engagement.

But the more people who see your video, the more likely they are to re-share it on social media.

So, like a skilfully lobbed boomerang, it comes back to social media by broadening the share capability.

Including the option for a user to copy an HTML embed code can be a valuable way of upping your social media engagements.

Does your video player allow that to happen?

Related Blog Post: SEO Tips & Best Practices From 100+ Experts



Video Marketing Tip #7:

Ask People to Share Your Video

This sounds so obvious that it barely warrants a mention.

Or is it?

Blatantly asking people to share your video is actually a great tactic.

And incentivizing people to share your video is an even better idea: much more likely to boost engagements.

Start by asking friends and family to share your video or your post on their social platforms - the more diverse the demographic, the better.

Know someone who runs a knitting circle or a hiking club?

Ask them to share - even if they're not necessarily your target demographic.




Engagements on social media often work best when they're organic: word of mouth is still one of the most potent ways of boosting engagement.
Video Marketing Tip #8:

Sponsor Your Post

Facebook has an amazing algorithm that detects behaviors and follows engagements. And over the years, they've gathered enough data to literally predict where you're traveling to; based on your current location.

Scary.

But boosting (or sponsoring) a post on Facebook or Instagram helps you get engagements from precisely the right people. And it's suspiciously affordable.

You can make sure that your post reaches thousands of brand new people for the price of a couple of cappuccinos.

You can target your paid post very precisely based on
Location
Interests
Previous interactions (like sharing, commenting, and clicking)
Events attended (check-ins and location tagging)
Check out this page if you're new to Facebook video ads because they work and they help to maximize your marketing reach.
In Summary
So, there you have it. Ways of boosting your social media engagement and CTR with video marketing tips.
Remember, quality is essential - you're representing your brand. Make sure that your promotional video demonstrates excellence and professionalism. And the engagements will start rolling in.
Happy sharing!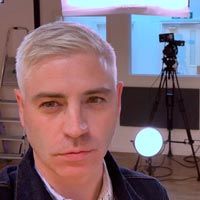 Eoin is a the award-winning Film Maker and Creative Director of Kartoffel Films, a video production Agency based in London. With over 22 years' experience in the sector, Eoin oversees all of Kartoffels' films from concept through to production. Over the past eight years Kartoffel have produced over 1000 films and animations for the UK and international markets.