Are you ready to outsource your content marketing? You're in good company; 62% of companies outsource some form of their content marketing strategy.
...What's not so straightforward is the process of finding a reputable agency to outsource to. Your business information, cash, and access to your audience is on the line. Get it wrong, and you could damage the reputation you've worked so hard to build.
But get it right, and you'll soon have a strategy that brings new visitors to your website; visitors that turn into lifelong customers.
To make the process of finding the right content marketing agency less daunting for you no matter what your industry, we partnered with the research team at Databox to find 48 agencies on-hand to help.
First, though, It's important to check that the agency you're investigating offers the services you're looking for. Our research found the majority of agencies provide blogging, social media content, and email marketing in their offering: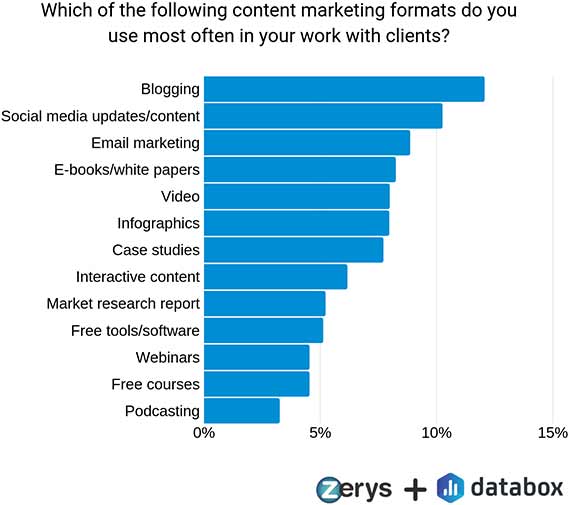 And, with content marketing being an activity that could consume budget quickly (when factoring-in things like paid promotion and freelance writers), you'll need to check whether you've got the cash to hand over to an agency.
How much does content cost? The majority of content marketing agencies we quizzed said their customers typically pay between $1,000 and $5,000 per month for their services.
A small minority have clients paying content marketing agency pricing of over $10,000 per month: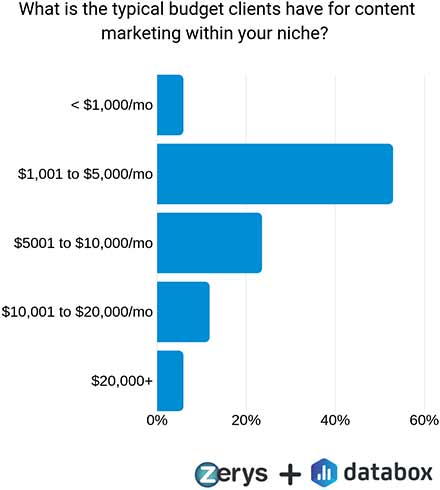 A monthly budget of a few $1,000 is a great starting point.
But can you get a reputable and affordable content marketing agency who specializes in your industry for that cash?
The answer is yes—especially if your business falls within the B2B services, technology and software bucket. An overwhelming majority of content marketing agencies we surveyed said their doors are open for you: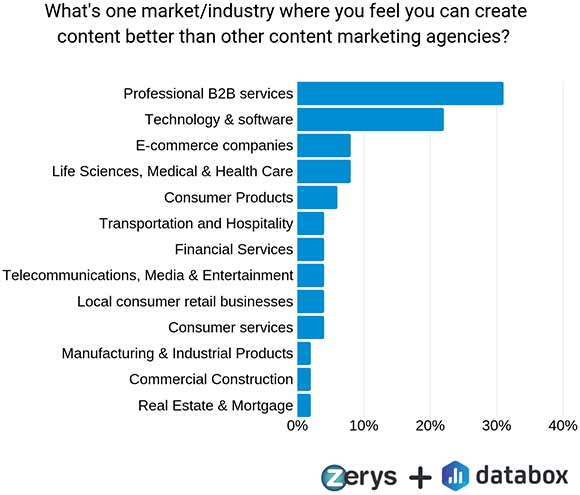 Here, we'll share the details of the agencies we quizzed, broken down by industry to help you find the perfect match.
Click to jump to a list of agencies specializing in each industry Or continue scrolling to browse all.
Content Marketing Agencies for Professional B2B Service Businesses
01. SAGE Marketing
SAGE Marketing provides global marketing and brand management for technology companies looking to rise above the rest. From converting customer needs into business opportunities, to engaging people on-line, off-line and face-to-face, to taking your brand and business to the next level, SAGE helps B2B companies create the right marketing mix.
Our experts work alongside yours to:
Engage customers and influencers at every touchpoint in the purchasing journey
Uncover the underlying needs and motivations of customers
Bridge the gap between strategy and execution
SAGE SERVICES:
Strategy, Messaging and Branding
Marcom and Content
Online Marketing and Lead Generation Campaigns
Events and Trade Shows
Media and PR
INDUSTRIES:
Medical Devices
Cyber Security
Fin-Tech
IoT
SaaS
BI
Semiconductor and Consumer Electronics
Media
Technology
AdTech
AgriTech
AR/VR
For more information about SAGE Marketing visit us at: www.sagemarketing.io
02. The Eisen Agency
Rodger Roeser says The Eisen Agency "are omni-platform experts in professional B2B services, providing content development strategies and execution for video, audio, print and even experiential content.
We work directly with our clients to develop comprehensive strategies that provide easily digestible, shareable and unique content that is of value to our clients' clients."
03. Uku Inbound
According to Nsovo Shimangem Uku Inbound "primarily focus on clients that work within the employee engagement, employee appreciation, employee rewards and recognition space.
We are a full service digital agency so we do everything from the entire onboarding process, researching the ideal buyer personas, content strategy and creation, data analysis and reporting all with the aim of generating more qualified leads for our clients.
We run all the social accounts and websites of all our clients and do regular SEO audits to ensure that they rank highly in Google searches."
04. Digital Brew
Digital Brew specialize in creating animated explainer videos, and have won an Emmy award for their work.
According to Samantha Simon, they "increased customer engagement, demystified the hiring process, and defined the brand of the B2B company Merlin Guides. By providing an explainer video for Merlin Guides, Digital Brew was able to accomplish all of these goals."
Check out the case study on their website for more information on all the results Digital Brew was able to deliver for Merlin Guides.
05. THAT Agency
While they have a number of B2C content marketing clients, Katie Weedman says "THAT Agency currently do more content marketing for B2B clients.
From blogging, eBooks, white papers and infographics to email and social media marketing, we create high-quality content tailored specifically to our clients' target audiences.

Katie Weedman
Content Strategist, THAT Agency
THAT Agency have a range of case studies available on their website—like the work they did for Labovick Law Group, which resulted in a 38% spike in organic traffic, and over 1,100 sales calls.
06. Content Chemistry
Nathan Reiche says the team at Content Chemistry have worked really closely with two B2B businesses. They share case studies for each—Property HQ and Karstens—on their website.
Their website also explains that they work with "start-up, small and medium-sized businesses who are looking to grow website traffic, improve the quality of leads and close more sales, but don't have a marketing team and don't know where to start."
Based in Sydney, they're open to taking on new content marketing agency clients within the B2B sector.
07. Agence Copernic
At Copernic agency, Brice Germain's team "implement content strategies for our clients. Initially specialized in the real estate sector, we have opened up to other niche markets such as the medical or industrial sectors.
We are committed to generating organic traffic through our effective content strategy to acquire qualified lead for our customers. HubSpot partner since several years, we are now the 3rd French agency. We implement Inbound strategies that are accessible to all companies."
08. Dear Content
Ying Lin says "the co-founders of Dear Content met each other at a logistics start-up a few years ago, where they bonded over trying to understand the massive and complex industry that is ocean freight. That's also where they discovered the power of tapping into the subject matter experts of the company to produce highly specific B2B content that converts.
Here's a blog post in which we detail our approach and the results it has brought.
Also, as most of our clients are start-ups looking for rapid growth but with few resources to work with, we developed a framework that fuses content marketing with digital PR. That way, they can use their content marketing resources to produce actions for their digital PR strategy without having to rely on specialized and expensive agencies."
09. Influence & Co.
According to Natalie Slyman, "almost all of Influence & Co.'s clients are professional service providers in the B2B space. While we once prided ourselves on being the leading provider of bylined guest-contributed articles to major online publications, we've since broadened our approach to how we help our clients achieve their goals, and thus added a string of service offerings to our arsenal.
We're able to provide our clients with a complete solution for all their content marketing needs, from strategy to distribution, with the following options:
Guest-contributed articles, to reach new audiences and earn credibility by publishing content in publications their audiences trust
Blog content, to help them build optimized, high-quality on-site content
Public relations, which secure strategic mentions of their company in the press
Technical SEO audits and keyword research, to ensure their content will rank successfully on search engines
Social media, to expand their distribution networks
Email marketing, to further distribute their content and nurture their leads
It is through these deliverables that we're able to help our clients realize and meet their goals, be it thought leadership, SEO, or lead generation. This goal-oriented approach allows us to build effective content strategies that yield more valuable ROI for our clients.

Natalie Slyman
Director of Content & Social Media, Influence & Co.
10. Momentum Digital
Jx Tan explains that the team at Momentum Digital "specialize in content marketing for the creative design industry such as architects and industrial designers, including management of Pinterest and Instagram accounts.
Let's start with the key requirements of such content marketing agency clients:
Images are the anchor to any content marketing piece. It is no exaggeration to say that we spend more time on the images relative to the text, as this embodies the clients' brand and product!
It often goes beyond content marketing - these clients seek to get featured on target publications that their potential customers visit since their own website lacks traffic flow.
For example, we have conducted an interview with an architect showcasing his designs (incorporating home lifts and other features) for older home owners. This piece also answers potential questions that a customer may have such as the benefits versus monetary and time costs.
In terms of social media marketing, let's begin with a few observations about the Pinterest user base: this platform appeals to a visually-oriented target audience such as design professionals, many of whom are visual thinkers with a knack for remembering images as compared to words.
For an example, take a look at this Pinterest account run by JU&KE, an industrial design company who happens to be our client. With 11,000 monthly views, this Pinterest account provides a peek at this company's designs as well as how they draw inspiration to attract eyeballs from clients who may engage their services. This account has various boards to neatly classify their various interests, such as furniture, packaging and design methodology."
11. Content Pilot
Sheila Sheley says "Content Pilot is a leader in law firm marketing across the U.S., and our law firm clients include some of the largest law firms in the world.
We provide content marketing agency services centered around high-quality content that builds thought leadership for our clients. Attorneys generate new business based on their professional reputation, so blogs and articles are a key component of their marketing strategy.
Our "layered content marketing" services include strategy and positioning, content generation, email campaigns, social media presence and PR placements."
12. Everest Legal Marketing
Everest Legal Marketing publishes legal articles, guest blogs and general content for attorney clients throughout the US.
Doug Bradley explains: "We have relationships set up with publishers, and we have developed some of our own assets to assist with content distribution and syndication.
We've found great value in developing our own studies and data. In one study, we looked at the efficacy of legal directory advertising based on visibility of certain directories across multiple cities and multiple search variables."
13. 10x digital
Focusing on the health insurance industry, 10x digital's Holly Rollins says their team "have extensive experience in health/wellness and insurance especially in content and organic backlinks.
We have worked with medium to large insurance companies with results that most in-house marketing efforts can't duplicate"—like the nine backlinks they secured with an average DA of 60 for one of their clients.
14. Ethereal Innovations
We love creating long-form content (e.g. 4,000—10,000 words) and research surveys to create proprietary data for our clients.

Kurt Uhlir
Founder & President, Ethereal Innovations
"We reached out to 25,000+ HR professionals and 17,000+ executives, on behalf of The Made in America Movement, to compile that data for the 2017 HR and Recruiting Survey. This let us find out how much productivity and financial waste was occurring due to traditional interviewing processes and the modern tools and strategies that top organizations are using in their hiring.
From this single piece of content, we created whitepapers, a summary report, two webinars, 75 social media posts, other pieces of content for the 20,000 businesses the organization serves. The summary report can be found here.
We've done similar work for our clients in real estate and SaaS, where we'll create one single long-form piece of content that we're able to put through our workflow to create hundreds of valuable pieces of bite-sized content."
Related Resource: What is Content Marketing? And Why It's So Important!
Content Marketing Agencies for Technology and Software
15. SCORCH
"SCORCH works with some of the most prominent corporations in the world to build engaging content marketing campaigns with measurable return on investment," according to Nathan Doyle.
"Although we specialize in delivering content for B2B technology brands, our method of "Content as a Service" provides custom solutions for clients spanning a diverse range of global industries.
We use a three step process that merges Insight, Creative, and Engagement to ensure our deliverables are relevant, exciting, and seen.
Our capabilities include, but aren't limited to:
eBooks
Infographics
Presentations
Social Content
Landing Pages
Video
Interactive
Blog Posts
Emails
Webinars
Content Marketing Strategy
ABM
Social Media Strategy
Campaign Creation
Brand Development
16. ProleadSoft
Muhammad Roohan says "ProleadSoft are a data driven digital agency focusing on the digital transformation models for our client's businesses.
As a digital agency, we take care of all our client's needs in making a successful online business. This includes the website, the hosting and domains support, outsourcing, digital marketing services and branding.

Muhammad Roohan
Digital Marketing Executive, ProleadSoft
As we are in the software development space, we have strong experience in making powerful business apps, website applications and mobile applications. Therefore we are strong played in the world of software development and technology."
17. Pantheon Digital
Obaid Khan's team at Pantheon Digital "consists of marketers that also have a passion for astronomy. In our almost 2-year span, though, we've only been fortunate enough to work with a space agency.
In that time, we were able to come up with dozens of ideas for different forms of content to help skyrocket their awareness. However, we were restricted to simply blogging for them because the upper-level management wasn't interested in a complete content marketing strategy.
Though we have helped many businesses from many different industries realize their goals, I still believe that the plan we had conceptualized for the space agency was nothing short of marvelous and could have worked wonders for them."
18. Penguin Strategies
"Penguin Strategies specialize in B2B tech and have a team of marketing strategists and consultants and tech veterans that team up with talented writers to produce the highest quality content (both technical and business oriented) for our clients," according to Nili Zaharony.
"Our process includes recorded interviews with subject matter experts and combines with our tech marketing expertise to create the highest quality content for technology and software companies.
Through a variety of content marketing channels, companies we work with have been able to rank for competitive keywords (Automotive Cybersecurity jumped from 33k to 5), build thought leadership that resulted in doubling year-over-year revenue growth, and create campaigns so effective that competitors start to copy."
In this case study, Zaharony highlights how the team leveraged personal social profiles of business leaders to grow their business.
19. eBridge Marketing Solutions Inc.
Hartand Ross says the team at eBridge Marketing Solutions Inc "have specialized in servicing IT Service companies since 2001 as a boutique B2B marketing agency. Specifically this includes companies that provide: web hosting services, infrastructure as a service, data centers, managed service providers and software as a service."
They offer a whole host of marketing services alongside their content offering, including:
Display and media ads
SEO
Social media management
CRO
20. Brandastic
Brandastic have driven new leads to IT managed services website through blog writing, and vlogs on the clients website. According to Justin Nassie, this "has grown their customer engagement and client trust over time.
As well as this, our company is very focused on developing our own content marketing agency strategy and has recently begun including vlog content alongside our weekly written posts. Most of our content focuses on ecommerce, SEO and digital marketing."
21. Monica Mizzi Freelance Writing & Digital Marketing
Monica Mizzi says her "agency specializes in creating engaging, well-researched, and SEO-friendly content for blockchain and cryptocurrency companies. For example, one blockchain client I work with wants to rank for a number of short and long-tail keywords, so I created comprehensive SEO-optimized blog posts detailing everything from what a particular cryptocurrency is to how to store it.
I also have experience creating user and SEO-friendly landing pages, as well as optimizing existing landing pages so they rank on Google. By overhauling my clients' content strategies, many of my clients now rank on the first page for a number of target keywords.

Monica Mizzi
Freelance Writer & Digital Marketing Expert
One unique aspect of my service is that I have previous industry experience working at a cryptocurrency exchange as an online marketing manager. This experience allowed me to develop an intimate understanding of how to run successful end-to-end marketing campaigns that target the particular needs of blockchain companies."
22. Futurity Media
Stewart Baines says that Futurity Media's "work spans tech & telecoms (and vertical industry usage of tech e.g. oil & gas, finance, retail.)
Our clients are typically large B2B tech firms. We work for Orange, Vodafone, NTT Communications, Gemalto, ITU, GSM Association, CommScope, and SITA. We've previously done projects for Cisco, Nokia, Intel, Alcatel-Lucent, HP, Ciena, and Riverbed.
75% of our work is content creation: Blogs, whitepapers, reports, case studies, slide decks, infographics, and animations. We work directly with clients to create compelling content for different stages in the B2B buyer cycle. To support our content creation we also do demand generation campaign planning, graphic and digital design, SEM and SEO.
Our content expertise is in networks (SD-WAN, 5G, MPLS), cloud, IoT, AI, smart cities, cyberdefense and collaboration.
We're a small team of 12. All writers have 15+ years experience in journalism and marketing. Our designers and digital marketers have similar experience - we don't have any juniors. And our team is very international - spread throughout the UK, US, Canada, France and Thailand."
23. Grow Hack Scale
Grow Hack Scale provide content marketing agency services for B2B MarTech SaaS companies worldwide. David Oragui's services include the following:
Content writing
SEO
Landing page creation
Content promotion
Ebooks/white papers
"Essentially everything surrounding the awareness and consideration stages of the Inbound marketing funnel. Here's some examples of work we've done and results attained for some clients in this space:
Increased organic search traffic by 341.45% over six months compared to previous period (145,223 to 648,326)
45% increase in leads from 3,789 to 5,491 from SEO and CRO
$35,158 in MRR generated from SEO
For another client: Organic traffic increased from 150 visits a month to over 10,000 visits in 9 months."
24. ThinkFuel Marketing
Kevin D'Arcy says his agency, ThinkFuel Marketing, "provide document management companies with a full suite of content and inbound marketing strategies, including: SEO, content creation, blogging, conversion rate optimization, marketing automation, email marketing, link building, explainer videos, pay-per-click advertising, and more.
ThinkFuel marketing has over 18 years of experience focused on helping document management and document scanning companies improve lead generation, customer acquisition and competitive advantage."
Content Marketing Agencies for eCommerce
25. Content Harmony
According to Kane Jamison, Content Harmony "specializes in rapid organic traffic growth for soon-to-be-household-name eCommerce brands."
They've worked with companies like Wikibuy, ServerPilot and Vast Conference, and handle various components of content marketing. That includes:
Strategy
Creation
Promotion
Optimization
26. adMixt
adMixt offers free content production services for their ecommerce clients.
Zach Greenberger explains: "We know that having the right creative on Facebook, Instagram, Pinterest, and Snapchat is key to scaling spend and hitting performance goals, so we invest our time and resources to help clients get there."
Their agency is also a marketing partner for Pinterest, Facebook and Instagram, so it's safe to say they know what they're doing.
27. A1 Future Technologies
Srish Agrawal thinks that "reading about data and analytics is boring. A1 Future Technologies make such data come to life and create visual reports and marketing tools through the use of infographics and video."
They have over 150 partners in 50 countries, and over 200 artists that help their agency create awesome creative materials for eCommerce companies.
Related Resource: How the Right Blog Content Strategy Can Power and Simplify All of Your Online Marketing
Content Marketing Agencies for Life Sciences, Medical & Health Care
28. Peare Media
Kristen Hinman "developed a digital content and social media strategy, called Brand Momentum, specifically for celebrity status doctors and surgeons which incrementally builds specific audiences who are curious and interested in you and your services and it converts that interest into engagement with you and your brand."
Hinman has over 8 years experience in the PR industry, and "experienced first-hand what it takes to move a personality or brand from unknown to known. What I realized is that PR is a powerful tool for exposure and recognition, but the journey doesn't end with being known....it's the starting point."
29. Schutt Media
Andrew Schutt says his agency, Schutt Media, specializes "in marketing medical practices with less than 25 employees that want more leads and customers. That includes plastic surgeons, podiatrists, chiropractors, and dentists, to name a few.
Recently, we helped a plastic surgery client book six new appointment requests in less than two weeks - that's potentially over $50k in new revenue. In under a month we brought a chiropractor 51 new leads, which is over $40k in potential revenue.
Working extensively with practices of this type has allowed us to hone in on the core marketing message to best connect with end consumers and get them to take action."
30. Page 1 Solutions
Dan Goldstein says the team at Page 1 Solutions "handle all aspects of content marketing for our cosmetic surgery clients. This includes on page content (writing and revising website pages such as this one, as well as writing and posting blogs), off-page content such as guest blog posts, social media marketing including posting and sharing content on our client's social media profiles, producing and sharing video promoting our clients' cosmetic surgery services.
Hayley Brown, MD - This includes videos of our clients, our clients' staff, our clients' patients providing testimonials and much more.
We offer interactive content such as quizzes as well as infographics and other graphic presentations to promote our clients' practices and services. We also offer inbound marketing services including marketing automation.

Dan Goldstein
President, Page 1 Solutions
31. Bootstrap Business Blogger Outreach
"The health and fitness industry is incredibly competitive," writes Mike Schiemer, "and so is content marketing in this space. It's hard to stand out among millions of blog posts about working out, nutrition, dieting, and supplements.
Luckily my team and I have a combined 30 years of experience in the health and fitness industry, along with years of SEO and content marketing work. That winning combination helps us to create compelling content that is also informative and accurate."
Bootstrap Business Blogger Outreach have worked with "top health and fitness brands for video, blog, and social media content marketing for fitness and food companies like GNC, Reebok, Monsanto, Pizzeria Uno, and PowerBar just to name a few.
We've also built My Frugal Fitness as a platform to publish content for our clients, as well as promote our own content marketing agency services further in this niche."
32. Oppilo
David Hamilton thinks "content marketing in healthcare is a crowded space and it can be difficult to stand out.
Oppilo specializes in capturing local customers that are not only interested in researching a problem, but also interested in a solution. We focus our strategies around procedures that offer cosmetic or a pain management benefit (both literal and figurative).
Over the course of a few months, we can take our clients from the second page to the number one search result without paid media for terms such as "Gastric Band", "Botox Injections", "Veneers", "Sedation Dentistry". By focusing on these high margin procedures, our clients see immediate return on their investment (usually 3-4x) and often gain recurring revenue from acquiring a new long-term client.
We find by focusing Local Search Engine Optimization for specific procedures, the sales prospects we bring in are more motivated to purchase a solution rather than just browsing to learn about a condition.
Our high quality content helps establish our clients as experts in their specialty both with customers and with search engines."
Related Resource: Top 10 Ways Blog Writing Services Can Help You Succeed
Content Marketing Agencies for Consumer Products
33. The CSI Group
Kenny Eicher says the team CSI have "expertise in 2D, 3D and live video production for brands to promote their consumer products.
From 2D animated explainer videos, to 3D product modules, to live action branded content films, we have found video and other forms of motion design to be the most effective way to grab the attention of a specified audience.

Kenny Eicher
EVP Creative, The CSI Group
34. Arcane
"One of Arcane's largest clients in the consumer products space is Old Dutch Chips," explains Dan Towers. "We don't have a case study online, however work can be reviewed through Facebook/Instagram.
We have run national campaigns and contesting, while managing their always on social campaigns. This is one of many we work with (Orangetheory Fitness, Nude by Nature, Firehouse Subs, Lunapads and more).
Arcane manages always on content programs, social advertising efforts, blog writing, website writing/SEO technical content, email, video, etc.)"
35. OverGo Studio
Rick Kranz's team at OverGo Studio "have focused expertise in the music industry. Specifically when it comes to creating content to attract music teachers, professional players, and students of music."
They work with product-based businesses in the music industry to drive qualified leads into their sales pipeline—recently partnering with StringOvation for a series of blog posts on their website.
36. Fueled
Emma Clifford says Fueled "are a content marketing agency focused on building high-quality relevant links to our clients as well as promoting them via social.
Most recently we did this type of work for a (cannot disclose) dating site where we focused on the niche set of keywords we researched around the dating app's value proposition. We reached out to dating sites and forums to pitch original articles that focused on relationship problems and troubleshooting as well as explanatory articles about the relationship type that our clients site supported.
This allowed us to build a link profile around a variety of target keywords while keeping the quality of content high."
Related Resource: Outsourcing Freelance Writers vs. Hiring In-House Writers
Content Marketing Agencies for Transportation and Hospitality
37. Print4Hospitality
Print4Hospitality are a specialist marketing for luxury hotels and restaurants. Richard George says: "We compile content about the local area for hotels."
Their team has more than 30 years experience, wide-ranging knowledge of the print industry, and specialize in providing print and design materials for hospitality businesses throughout the UK.
38. Asiri
David de Ponte Lira says "Asiri Marketing is a digital marketing content agency specialized in the tourism sector. We help our clients to differentiate and improve their online presence through the profitability of honest and responsible projects with the world. We have technological partners that allow us to perform comprehensive strategic advice.
Our philosophy is linked to an inbound marketing tourism methodology. We trust in the satisfaction of the client through the resolution of their concerns and needs through a contribution of value on quality products. We are working on big projects from every corner of the globe. From cruise ships in Spain to camping in USA."
39. Blurban Planner Company
"Blurban Planner Company develop search engine optimized blog and web content for international enterprises," writes Leslie Crews. "Our clients seek to maximize their business relationships with Western and English-speaking business, and we provide the content solutions that make it happen.
Crews says their agency have developed blog and web content for clients like:
Content Marketing Agencies for Financial Services
40. Back Office Basics
Elliott Brown is a "one-man content marketing agency who focuses on fintech (and mostly startups). I've helped companies like Gusto, OnPay, Experian, and Guideline 401(k) get things right on the content side.
Of course, "getting things right" means something very different for different products and customer lifecycles. I partner with internal stakeholders to develop a strategy and content plan, then identify and manage freelancers to help with ongoing execution.
I'm also in the process of building out BackOfficeBasics to create a neutral third party site where fintech companies can get in front of their target market."
41. Aylin Global LLP
Shibam Sarbswa says "Aylin Global LLP have helped our clients in user acquisition & converting free trial users to paid customers with a growth of 25x of its present rate."
They do this through a combination of advertising, branding, research, PR, and technology development, and have helped companies like Dream Cruises with their inbound marketing campaigns.
Related Resource: How to Build A Profitable Content Marketing Agency
Content Marketing Agencies for Telecommunications, Media & Entertainment
42. The Creator Factory
At The Creator Factory, Timothy Bach says "our focus is in promoting our clients through high value entertainment content. With the transition of old to new media streams, we have seen an extreme decrease in consumer attention spans, which has lead to the need for improved content formats. In other words, people are no longer willing to listen to simple informational or advertising videos but instead want information to be paired with other entertainment value.
For us, we believe in infusing content with as many different value streams as possible! Yes, the base expectation is that content is going to be entertaining but we also insist on adding value in other ways; such as informational, relational, engageable, shareable, social values.
Think of it this way, you are a skin care brand trying to sell a newly released product. You have not yet shipped the product so word of mouth is not an option for a couple of weeks or so but you are still looking to generate low cost sales leads. Yes, you could make a video with a dermatologist recommending the product in a detailed and professional way, but the landscape doesn't react well to that type of promotion anymore! Your acquisition costs will be extremely high and you will not see the results you were hoping for.
The alternative is to think social. Many company's, even most marketing firms, forget that social media platforms were designed to be social networking sites and not sales driven outlets. Knowing this can help you reframe how think of social platforms and can allow you to capitalize on its sales potential.
Knowing this, let's reframe the structure of social network advertising. Digital celebrities are not artificially famous actors but rather crowd sourced experts, even more respected by their community than any formal professional. People are online for the main focus of making friends and building relationships and enjoy participating in the community; therefore you never make an ad but rather content that is meant to spur conversation and engagement.
This structure and new way of thinking of social networking digital marketing is what we at 'The Creator Factory' call our "value-based content strategies". Creating content infused with as many types of value with the goal of organic reach. This yields exponentially lower acquisition costs with a higher ROI; and can truly help you build credibility in an industry. It's cheap, effective, and traditionally leaves your brand with its own digital community."
Content Marketing Agencies for Local Consumer Retail Business
43. Blogging.org
Zac Johnson says "one of the best ways to create content and see better results than the competition, is to actually study what is out there and reverse engineering the process. This is something many agencies will say they do, but many will hand your work off to a lower end team member after you sign on the dotted line.
We've seen massive success with helping smaller brands and local businesses reach their traffic and lead gen goals, through the use of data-rich content, making sure it's at least 2,000 words, making follow up reports through social media, visual marketing and also using infographics.

Zac Johnson
Founder, Blogging.org
However, this is only the first half of the process... next we would focus on the content promotion and outreach aspect. Great content means nothing without high quality backlinks and social media mentions. This is the best way to beat out the competition and overdeliver in the process."
44. WorkWave Agency
According to Kyle Menchaca, "WorkWave Agency specialize in content for the home service industry. Think pest control companies, HVAC, plumbers, and even pooper scooper companies (yes, seriously, it's a great business model!).
A recent example is this content created around "Dog Waste Facts" that has attained featured snippets across all major target keywords.
We're really good at this because our agency operates alongside a SaaS business explicitly built to help field service companies. We get amazing insight into how our customers operate, and in turn how their customers consume content and buy services."
Related Resource: What is a Digital Content Strategy? And Why You Need One.
Content Marketing Agencies for Manufacturing & Industrial Products
45. Presult
With manufacturing and industrial product companies, Patrick says "Presult see a huge potential translating their technical and product knowledge to online resources.
This can be blog posts, online tools or lead magnets. What we have done for a flooring and wearing courses company is the following:
Write detailed content on wearing courses, describing things like the application method & surface, colors and price per m2. But also, best practices for building companies to save time and increase quality of their work.
Create an online tool to advice customers on the best product + options for their situation
Results are great:
Position 1-2 in Google in The Netherlands for all relevant keywords
318% traffic increase from Google in 12 months
Most important reasons for this is that we read and watch all relevant product information and additionally interview specialists at the client. We can then translate this to the best online resources (blogs, e-books, online tool, e-mails, video, etc) based on our experience."
46. Out of the Box Innovations Ltd
Jason Lavis says: "Out of the Box Innovations specializes in digital marketing for energy companies. We had a tough time during the recent oil market crash, but focusing has allowed us to write authentically about the topic.
For example, almost every article and blog post that I've personally written in the past three years has been about the oil and gas industry. It feels like I've taken an undergraduate degree. Here's an example.
These related keywords (that we're on page one of Google for) were dominated by affiliate niche sites. It was obvious that many schools were included because they were part of affiliate revenue choices, rather than on pure merit. I was able to reach out to my oil and gas network to get a merited 'top ten' list, with accurate details."
Content Marketing Agencies for Commercial Construction and Upscale Home Improvement
47. WebTek
For a luxury deck contractor that fits our niche, we publish and promote long form pieces of blog content that educate readers about different aspects of outdoor living space design. In addition, we pull images that relate to specific aspects from the vast portfolio of finished projects.

Lee Dussinger
Lead Marketing Strategist, WebTek
In addition having several pieces of content that nationally rank on page 1 of Google, we also share the pieces using targeted social media buys."
Content Marketing Agencies for Real Estate and Mortgage
48. Elephant Skin
"Elephant Skin is specialized in real estate marketing," explains Michael Pang. "We create 3D renders so realistic that our clients think they were photographs.
Ocean Terrace Film - Miami - FL
In this project, a developer was facing pushback from the local community in Miami over a development project. We helped our client by creating a documentary style video that interviewed the developers and showed the human side to them.
The video also included the 3D renders so that locals could see what the proposed building would look like and how it could benefit the community. After making this video, the developer was able to get approval from the community and the local government to go ahead with the project.
Downtown Film | Miami DDA
In this project, we helped the city of Miami pitch itself to Amazon for Amazon's second HQ competition. Due to its tremendous growth, Amazon is on the search for it's next location for a HQ and Miami wanted to throw its hat in the ring. We created this video to help Miami sell itself on why it would make a great location for Amazon."
Ready to Hire a Content Marketing Agency?
Are you ready to outsource your content marketing strategy to a team of experts in your industry? It's a great way to scale your business, but check your prospective agency fits this criteria before putting pen to paper on a contract.
Do you run a content marketing agency that specializes in a niche? Fill this form out and we'll update our list.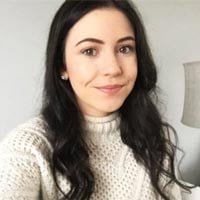 Elise Dopson is a freelance B2B writer for SaaS and marketing companies. With a focus on data-driven ideas that truly provide value, she helps brands to get noticed online and drive targeted website visitors that transform into raving fans.