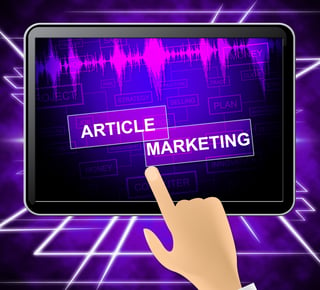 Article marketing is a useful tool for building high-quality links to your website that drive traffic and turn prospects into loyal customers. It's also a great way to establish credibility and improve your website's search ranking. Well-written long-form articles that provide useful information and are published across relevant channels boost social engagement, create brand awareness and help you gain your readers' confidence.
Article Marketing Services
No matter what size your business, article marketing works to validate your brand's online reputation. It's also one of the best ways to position yourself as an expert in your industry. Many companies, already stretched to their content marketing limit, put off article marketing until they have more time.
That extra time, of course, rarely appears. An outside article marketing services provider can be the help you need because its writers have the experience necessary to:
Understand your target audience.
Conduct thorough research on a wide range of topics.
Create high-quality content specific to pertinent keywords and phrases.
Here are the top three ways article marketing can propel your online business.
1. Domain Authority
Created by Moz for the purpose of rating a website on a scale of 1-100, domain authority predicts how well your website will rank on search engine result pages. It is a competitive metric against other websites (as opposed to a measure of your SEO efforts). Domain authority is made up of 40 ranking signals like the number of links pointing to your site and the quality of those linking pages.
A key factor of domain authority is that the quality of your articles is much more important than the quantity. Three to five quality articles per month is far better than publishing seven to 10 mediocre ones. Partnering with an article marketing services provider gives you access to writers who consistently produce quality articles that are well-researched and written.
2. Website Traffic
Every article you publish creates someone's first impression of your brand. Providing readers with quality content encourages them to delve deeper into what your products and/or services can do for them.
Longer articles also get more shares and influence search engine rankings, with longer content ranking higher than shorter posts. Hiring writers from an article marketing services provider gets you well-researched articles that build authority and are highly share worthy. The more people see your brand name across different channels, the more likely they are to recall it when going online for solutions. Done correctly, article marketing pushes your brand higher in search engine results and literally places you above the competition.
3. SEO
How do established brands leverage great content? By optimizing their websites for search engines. The number of times your site is accessed through external links, also known as backlinks, is one of the basic factors to search engine optimization. The more distinct, high-quality backlinks your site has, the higher it ranks.
Even when your website offers more relevant information, overcoming the domain authority of your direct competitors can be difficult. Targeted keywords and phrases are what earn your website higher rankings and drive traffic to your site. An experienced SEO writer can "speak the same language" as your targeted audience, writing articles that use SEO keywords that are highly relevant to them and organized for action.
The Bottom Line
Article marketing is about producing quality long-form content that engages and converts. An article marketing services provider has experience in helping businesses of all sizes and shapes implement content marketing campaigns using optimized articles. You get timely delivery of professional level articles in a variety of topics from an extensive pool of talented writers. There's no better way to give your audience the information they need while building your brand's reputation.