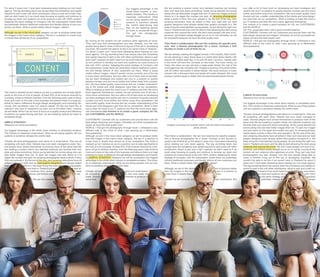 Every SMB should have a digital marketing strategy to promote its business; without one, you're placing your brand at a serious disadvantage. One of the most overlooked marketing tools is becoming known as an article marketing expert. Article marketing takes time to succeed, but once mastered, it can play an important role in increasing a brand's reach.
Why Become an Article Marketing Expert?
From increased traffic to building an online reputation, there are many good reasons to use article marketing as part of your digital strategy.
Article writing breeds authority, authority breeds trust, and trust breeds sales and loyal customers. To differentiate yourself from every other article marketing expert out there, make sure your articles are based on your personal and professional experience and are written in your unique voice.
Articles are more in-depth than blog posts, meaning your audience is better informed and comes to view your brand as an expert in your industry. That keeps them coming back to you every time they need information.
Articles help build backlinks to your website. A major piece of Google's search algorithm, backlinks give you better brand name exposure and help you create new relationships.
5 Ways to Become an Article Marketing Expert
Want to become known as an authority in your industry? Here are five types of articles you can write to jumpstart your reputation as a thought leader.
Case study articles prove to your readers that you're already someone who has gotten results and garnered praise from satisfied customers. This type of article should follow a set formula: explain the problem, give a step-by-step explanation of how you solved it, and then make the final reveal. Be sure to include links to relevant pages on your website.
Top blunder articles are great for explaining where and why you think others in your industry are taking the wrong approach. But these articles should not be competitor-bashing ones. Instead, use them to showcase how your methods are the best solution.
Controversy articles are a terrific way to achieve thought leadership, but don't use them just to garner attention by expressing opinions you don't really believe in. Pick an industry issue that is usually perceived as "grey" and take a black and white stance on it. Have facts and examples to back it up.
Differentiation articles are meant to explain how your brand is different and why that distinction should matter to your audience. If you want people to invest in your product or service, you need to show them you're not just one of the crowd.
FAQ articles provide unique and useful information to your readers. It's important to answer the standard questions common to your product or service, but take it one step further and include non-FAQs as well. When you offer information that can't be found anywhere else, you increase your reputation as a thought leader and expert in your field.
Some brands choose to produce their articles in-house. Others purchase pre-written articles from an SEO article writing service. If you lack the resources to write your own articles, but want input and control over how they are written, it's worth considering working with a content marketing provider. They not only have access to thousands of writers, but can help you develop a content marketing strategy that uses article writing to its full potential and advantage.