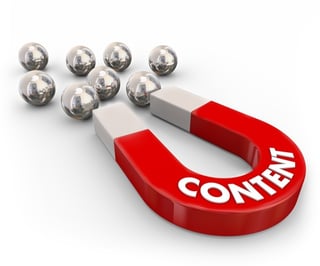 Curation has a serious role in any professional content marketing plan. And despite "curate" recently topping a CNBC list of overused words, content curation remains a great tool for educating your audience. It's used to build brand awareness, establish credibility, and offer valuable information and solutions, helping your brand achieve greater user engagement and improved site traffic.
Content curation is often easier to produce than original content, which explains its growth in popularity. A majority of marketers say it helps them increase their publishing frequency and achieve better engagement, making it an extremely effective tool, albeit one that should be used judiciously. There are a couple of good reasons to keep curation to a minimum:
Poorly curated content can result in a negative user experience.
Overdoing it can have an adverse effect on your brand's image because, without an original voice, your audience has no idea who you are or what your brand stands for.
To curate well, you need to do it carefully, making sure your audience stays engaged versus tuning you out. Here's how.
7 Steps to Killer Curation
From initial plan to final impact, these seven steps are everything you need to find and deliver meaningful and useful content to your audience.
1. As always, start with a plan. Set objectives and define the results you hope to achieve with curated content. Are you looking for more traffic? Trying to establish authority? To avoid falling into the trap of "content purge," focus on topics that will keep your readers coming back time and again.
2. Curation should not be theft. No ifs, ands, or buts, all curated content should be properly credited and linked.
3. Look to your content marketing strategy plan to determine which topics to include in your curation efforts. Curated content should be closely tied to your brand's overall message so that readers think of you when searching for information.
4. To increase reach and spur growth, use content curation to get on the radar of influencers in your niche. Use a content curation tool to find influential and highly-followed authors of articles with views that best support your post's or article's point. And don't hesitate to let the influencer know you cited their work. It can payoff big time if down the road they decide to share some of your content with their audience.
5. Curated content is perfect for sharing on social media. Most experts agree that social media should not be used for simply posting content that can be found on your website. Instead, use it to share curated content that is relevant to your followers. When you "get" what your audience is interested in, they in turn "get" that you have their best interests at heart.
6. Where do you begin to find killer content? There are dozens, if not hundreds of tools available to help you curate content that's worth sharing. Third-party sources like news feeds, archive databases, forums like Quora, and Google Alerts are also great starting points.
7. You've finally curated a boatload of great content, so now what? How do you separate the wheat from the chaff and use all this valuable information to your advantage? You need to distill your curated content and keep only the bits that are useful to your audience. Each audience is different, so no two brands will distill identical content the same way. Look to your buyer personas for inspiration on what might engage your readers most.
The Bottom Line
When you first start out, content curation can be a time-consuming task, but over time (and through measuring results) you'll develop an eye for what your audience wants to see. Just keep in mind that your customers want to stay informed but don't want to spend a lot of time doing it. Help them by providing curated content – it's a huge opportunity for you to build relationships and get on the road to building customer trust and loyalty.