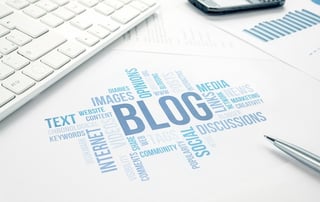 One of the greatest strengths of a business blog is in establishing a dialogue with readers. If that dialogue is to be a successful one, the writing style and tone, along with the writer's in-depth knowledge of the topic, must meet the needs of the audience.
Business Blog Writing
Blogging for business is now a staple of all successful online marketing strategies and is as essential to your business as all other forms of advertising. It's a practice that has quickly evolved over the last five to six years. Earlier published information on just how business blog writing works is no longer relevant, yet it remains part of the accepted lore. For example, the truth today is that:
Blogging is not difficult. It takes time to see results, but the actual practice is easier than ever.
Blogging may not be a brand's main source of income, but it's invaluable to driving traffic to a website.
Blogging doesn't have to be a massive effort; less frequently posted content that is well-written and relevant will win every time.
Writing quality content for a business blog does not have to be a dreaded task or huge hassle. Yes, it's hard work, but the effort is well worth it.
5 Tips for Writing an Engaging Business Blog
Want to generate more leads and win more business for a brand through blogging? Follow these simple rules and you can easily create blog posts that audiences look forward to reading and sharing.
Write for the Reader, Not the Brand
The objective may be to generate leads, increase traffic, and raise an organization's profile, but if blog posts are used just to spread sales messages, the business will find itself struggling to attract and retain a loyal following. People read blogs to discover solutions to their problems. In other words, what's in it for them? So, stop thinking like a salesperson and become the reader's problem solver. Use your business blog writing to build authority and trust and sales will follow.
Find the Right Tone
Nobody wants to talk to a corporation; they want to have a conversation with real people. Write in a conversational tone that draws the reader in. Ask questions, invite comments, and suggest readers send you an email. Inspire and encourage the reader to act. The bottom line: talk with the reader, not at him or her.
Build an Email List
No blog, business or otherwise, can succeed without an email list. Of course, people will discover a business blog by other means, such as a Google search or link, but the only way to get them coming back time and again is by letting them know you have something to share. To encourage people to join an email list:
List the benefits they'll enjoy by signing up.
Reward them with a premium offer, such as an eBook, guide, or free e-course.
Make sure they can easily join the list. Place sign-up forms in strategic locations like at the bottom of blog posts and on your home and about pages.
Make Content Stand Out
Today, even for business blogs, it's much more acceptable to use bolding, italics, and colored text to grab a reader's attention. It's especially helpful for those readers using a mobile device. They are more much likely to scan your content, so italicize important but not critical points, use bold text to draw the eye to takeaways, and color to highlight crucial information. For the best results, use the same colors in a brand's color scheme.
Shake Things Up
Use both original and curated content. Try including your own commentary before or after curated posts. Readers will appreciate that you've done their research for them. Think about adding videos, infographics, slides, and other digital images to make posts more visually interesting. Post interviews with industry experts. Cover industry conferences, seminars, and expos. Create a handy "ultimate guide" to a brand's niche. Case studies and tip lists are easy to read and appeal to a wide audience.
Wrap Up
Business blog writing holds many benefits: a brand can develop its goals, build an audience, and increase revenue. These suggestions are just the "tip" of the iceberg, but applied purposefully, they will help any business begin to generate quality leads that eventually turn into loyal customers.