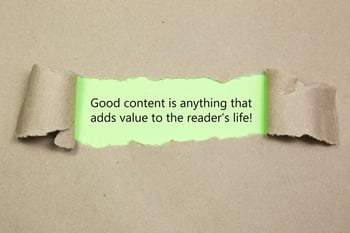 Have you ever written a blog post for your business blog that you thought really hit the nail on the head, only to find out that it didn't seem to resonate with your audience? Perhaps traffic to that blog post wasn't as high, or you couldn't seem to get much interaction with the social posts that shared it. Sometimes, as a business owner, what you think your audience will like isn't exactly what they're looking for.
If you're struggling to figure out exactly what your readers really want from your business blog, we've got a few go-to strategies.
1. Ask them.
Well that seems too good to be true, right? Actually, it's not! One of the most surefire ways to find out what your audience is interested in reading from you is by getting them to tell you.
This does require a little bit more work from you than simply saying, "Hey, what do you want to read on my blog?" Because a lot of times, they're not really sure what they're looking for until they need it.
Instead, you want to create and send out a reader survey. There are several different survey tools online, but the one I recommend is Typeform because it's the most visually appealing online survey creator I've ever seen.
When you create the survey, you'll want to make it as easy for your reader to fill out as possible. Don't give them homework--they're doing you a favor. Determine the categories that you have written about so far, or plan to write about. Include a few multiple choice questions with those categories to find out which one(s) your audience cares about most and least. This way, you're able to cater your blog topics to exactly what your readers have told you they want.
You can send your reader survey out to your email list, share it on social media, and talk about it on your blog in order to reach the maximum number of people possible.
2. Answer FAQs.
One of the best ways to use your business blog is to answer questions that your customers often have. So where do you find these FAQs?
First, scroll back through emails you've received that have to do with customer issues or support. Do you see any common trends in any questions that are asked? Look through your social media notifications to see if multiple customers have asked the same questions repeatedly. Check Quora, an online collection of questions, to see if anyone has asked a question that pertains to your business or industry. Start googling the beginnings of common questions in your industry, and see what Google's autofill feature says are other popular searches.
If people are asking these questions online, you want them to get the answers from your blog. Once you've come up with a good collection of questions to answer, use a different blog post to answer each one.
3. Check your blog traffic.
Take a look at Google Analytics or your website's built-in analytics and see which blog posts and blog post categories are the most popular. They're popular for a reason: your audience is interested in those topics.
Learn from your analytics, and focus your energy on creating blog posts in the most popular categories. If you've had a couple of particularly popular blog posts, consider creating a part two blog post that offers even more information than the first.
Don't waste your time creating content that your audience doesn't want to read. Instead, focus your energy on finding exactly what they do want to read, and giving it to them.