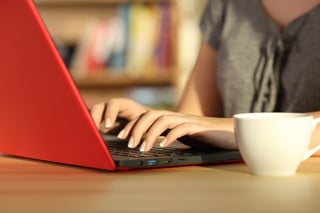 Custom content that is specific to your individual brand is a must if you want your SEO strategy to succeed. No matter what size your business, consumers look for brands that are consistent and trustworthy, and custom content is the way to attract new business and retain loyal customers.
Why Custom Content is Critical for Your Business
Strengthening your brand's reputation takes hard work, time, and maybe most importantly, great custom content development. Your product or service may offer the best solution, but it doesn't matter if the people who need it are not aware it exists, or don't know what it can do for them. Customized content that focuses on the benefits of your distinct brand is important if you want to establish a positive connection with your audience.
In-depth, informative content that is, above all else, useful to your customers, makes them feel you want to build a trusting relationship with them. Studies show 60% of online consumers feel more positive towards a brand after they read content that was customized for its specific offerings. Custom content development is the quickest and most effective way for your company to create confidence and credibility in your brand.
How Custom Content is Different
Custom content is meant to build a closeness with your existing audience. It reinforces your brand, communicates the value of your product or service, and creates new opportunities. While there's definitely overlap, content marketing is more about attracting new customers. In fact, today, white papers, company blogs, and social media campaigns have successfully replaced many traditional online advertising campaigns in engaging customers.
Competition amongst brands is fierce. Custom content is what makes your brand stand out and is essential to its success. Killer custom content speaks directly to a niche and differentiates your brand from your competitors. So, how do you create custom content that prevents your brand from getting buried? You hire talent that understands your niche and knows how to position your brand as the authority in your industry.
The Custom Content Talent Search
The better your content, the better results you'll yield. Most content writing focuses on the end goal: more customers. When searching for someone to create great custom content, though, it pays to concentrate on the actual craft of creation. In other words, find someone who can really write about (as opposed to market) a product or service.
If you want to be known as your industry's go-to expert, strong writing skills should be your top priority when hiring a custom content writer. There are thousands of people offering their services as content writers or marketers. Many, if not most, of them are quite good at what they do. They have SEO down pat and understand the importance of strong calls to action. But can they tell a story?
There is a big difference between good ideas and good writing. Well-written custom content that tells a compelling story is what reflects positively on your brand. The content marketing world is filled with less-than-stellar writing that lacks distinction. A good writer can learn to write for your specific niche, but if the talent isn't there from the start, you'll end up with mediocre content that doesn't wow your audience.
The Bottom Line
Quality custom content development shapes your brand's online presence and reputation, and smart businesses know that hiring talented content creators is an important part of their overall marketing strategy.
Modern marketing is about more than creating brand awareness – it requires a custom content development strategy that combines engaging storytelling with valuable information. Find someone with superior writing skills who knows how to connect the dots for readers and you'll be rewarded with higher-quality leads, increased reach and name recognition, and a more robust bottom line.