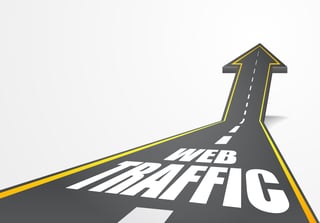 Last time you looked at your blog's statistics, did you notice some outliers? It's not uncommon for most of a site's traffic to come from certain posts and not others, gaining more attention over time than it did when it was first posted. Which begs the question: what makes posts like these so unique? Hubspot found that one "compounding" blog post generates just as much traffic as six "decaying" ones. So what can you do to create compounding blog content that continues to generate traffic long after it's posted?
Go Evergreen
If you're not familiar with the term, think of evergreen content as "timeless." Just as an evergreen tree never loses its leaves, evergreen content continues to be relevant well past when it was posted. Most evergreen content provides authoritative information for their target audience. Good ideas for evergreen content include:
"How-to" Guides
Tips for Beginners
Checklists
"Top" Lists
Avoid statistics that are likely to change in the future, reviews of products that will likely get out-dated, news, and seasonal articles. While not all of your blog content needs to be evergreen, compounding posts are, by nature, evergreen. Considering this, it's important to make sure that a good portion of what you post will last the test of time.
Choose Titles Carefully
The title is perhaps one of the most important parts of a compounding blog post. It should ideally contain common search phrases, so think less about keywords, and more how people actually look for information. When searching for information, people use question words like "How," "What," and "Why," so including those in your title can make a big difference. "Best" and "Top" are good ones, too, especially for list articles.
Research also shows that titles between six and thirteen words perform the best, so try to keep your titles in that range.
Identify a Unique Problem
This is perhaps the toughest part of creating compounding blog content. The best way to continue to generate traffic long after you've posted something is to provide information that isn't easily available elsewhere. That being said, you don't want to get too niche. The best blog content provides specific information, but if you get too specific, few people are going to be looking for it.
An easy way to do this is to identify a potential struggle of your audience then create a piece that identifies and helps them solve the problem. An antiques dealer might write an article on how to restore vintage silver, or a medical supply store might write an article on how to put on compression hosiery.
Content Structure Matters
It might be easy to think that it's blog content that matters, not how you structure it. However, if your post is difficult to read, it's not going anywhere. You'll want to break the content up with headers and subheaders, so a reader can see at a glance what the basic idea is. Don't be afraid to add bullet lists as appropriate and link your sources. You'll also want to make sure the blog content is easy to scan on a mobile device, as more and more people use their phone to get the information they need. The easier your information is to digest, the longer you'll retain readers, and the more likely it is they'll engage with the content.
Be Realistic
According to Hubspot, only 1 in 10 blog posts are compounding. It's not realistic to think that every piece of killer content you put out is going to generate that kind of traffic. The best you can do is put these tips to work, and as you create more content, you're more likely to land a compounding post.
It's easy to get short-sighted and desire those "day one spikes," but as you invest more into your blog and focus on compounding posts, you'll see that it pays off. Focusing on posts that can bring in visitors months and months later means more than higher traffic. It means that you've created content that speaks to the consumer, either their struggles or their needs. The more your blog content brings to the consumer, the more your audience will believe in you, trust you, and rely on you.