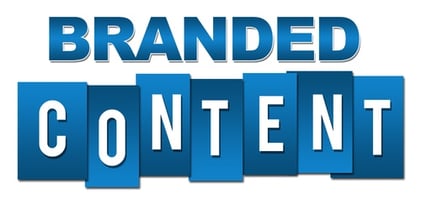 You're often told how important it is to create content that is useful and of value to your targeted audience. Today, it can be just as important for your content to entertain. That's what branded content is meant to do.
What is Branded Content?
Branded content is a powerful marketing tool that can take even the smallest of brands to new levels of success. Let's start with what it's not: product placement. Instead, it's music videos, webisodes, short films, articles, podcasts, quizzes, and other entertaining content that customers love viewing and sharing. While branded content comes in many forms, all effective versions of it share three key traits:
It's entertaining, immediately engaging and draws your audience in with emotional storytelling.
It avoids selling your product or service. It focuses on telling a good story that sells a concept.
It understands the audience it is trying to engage with.
Storytelling as a Selling Tool
Differentiating between advertising, or sponsored content, and branded content can be difficult. A good way to think of it is, if the story you tell strikes an emotional chord, the viewer doesn't care that it was brought to her or him by a particular brand. They watch content for the content itself, not for what product is featured in it, and they're simply going to be happy it was brought to them at all. In other words, companies should focus on being the brand that brings people content they enjoy.
Branded Content Then and Now
Branded content isn't a new idea. Companies have been using storytelling and other popular entertainment ideas to gain brand recognition for decades. In the early days, it worked well because competition was limited. There were fewer platforms, with three networks producing the majority of TV programming.
Once consumers were able to opt out of ads, though, it became harder for brands to monopolize the audience. Today, new technologies, including the rise of social media, are challenging mainstream marketing norms.
How to Use Facebook for Branded Content
Most branded content still comes from agencies and studios who specialize in the field, but more brands are now generating it themselves. Facebook's branded content tool has made the process widely available to creators of ads or organic posts.
Facebook's definition of branded content is any content that features a third-party product, sponsor, or brand that is posted by media companies, celebrities or other influencers. Branded content on the social media site typically features one or more of the following: photos, videos, text, live video, and links. Verified pages can use Facebook's branded content tool to tag products, brands, or sponsors within a post.
You can use this tool safely (i.e. avoid FTC violations) with partners in a standard format. Overly promotional branded content is prohibited, which ensures published branded content is accessible and has integrity.
Why Publish Branded Content
Branded content's rapid growth can be directly linked to the rise of influencer marketing. It's extremely effective for several reasons.
Social media influencers come with a built-in audience.
Engagement and reach are wider than going it alone.
Influencers lend relevance and an authenticity to branded content.
Another benefit: brands can piggyback on an influencer's existing story to build their own. Together, all these advantages make Facebook one of the best platforms for partnering with influencers on sponsored content.
The Bottom Line
It doesn't matter which industry a brand belongs to; branded content is being used on Facebook by a wide variety of organizations. For example, famous YouTubers are joining forces with car manufacturers, organic juice companies, and celebrity product lines. And digital entities like BuzzFeed and Mashable, along with traditional outlets like the Washington Post and New York Times, regularly use Facebook for branded content purposes.
If you're a marketer, agency, brand, or publisher looking to increase your reach, branded content can be the solution you need. It's a great way to expose content to a much larger audience than with a website alone, helps build a collection of credible backlinks, and gets your brand in front of more qualified leads.