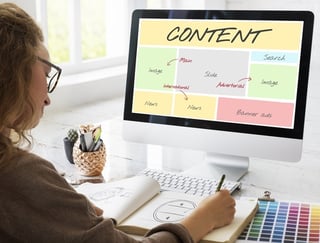 Content creation for your business blog can take time. That's why there are a ton of tools out there to help make the process quicker, easier, and more efficient. If you plan on consistently creating new blog content for your business (which you absolutely should), check out some of these top tools.
Canva is an incredible graphic design service that has both free and paid versions. The free version has nearly everything you need, though, so if you have a limited content marketing budget, you won't have to allocate any of that here.
This is a great tool to use to create your blog post graphics that go in your post and on social media platforms.
This site is great for helping you come up with content topics that are proven to be popular among your target audience. It has an extremely limited free version, so you may need to find room in your budget for this one.
You start by typing in a topic related to your industry and search the platform for its top articles. This is a great way to gather inspiration for your blog's editorial calendar.
Your headline is actually an extremely important part of your content creation process. On average, only 2 out of every 10 people who read your headline actually click through to read your article. You want to increase that number, so it's important to spend time creating a headline that is actionable and engaging so people will have to read your article (without being clickbait-y, of course).
Oh, and did we mention this tool is completely free?
Sometimes when writing, we don't realize we've made basic typos or our sentence structure doesn't make as much sense on paper as it did in our heads. Grammarly is a great tool for ensuring your content is well-written and doesn't contain any mistakes.
HubSpot has several free editorial calendar templates to help you get organized with your blog. An editorial calendar is essential to knowing what you're going to publish and when. It keeps you accountable for your content creation, and it helps ensure you keep a diverse amount of content on your blog covering a range of topics in your industry.
This is a really neat tool for coming up with content topics. It'll take your keyword and find Google keyword suggestions for even more topics and content ideas. This tool should be an essential part of your editorial calendar process and ensuring you've got a wide range of topic ideas to cover on your business blog.
This is a free stock photo library with images you can use for your blog post's featured image, in your blog graphics, in your social media graphics, and anywhere around your website, really. It's a great resource for those with a limited content marketing budget who still want great stock photos.
8. Zerys
Do you have the time to dedicate to content creation? Chances are, probably not. And you really should be publishing fresh, new content to your website about once a week in order to really see the results you're looking for with content marketing.
Zerys can help. We help match you to writers who can perfectly emulate your voice while creating research-based, smart content for your business and your industry.
Contact us today to learn how we can set you up on our platform and get you started sending out an audition to some of our best writers in your field. Out of all of the content marketing tools in this list, Zerys is the one that can do the most for you and your business.