Content marketing is bigger than ever, and most companies now know it's an essential aspect of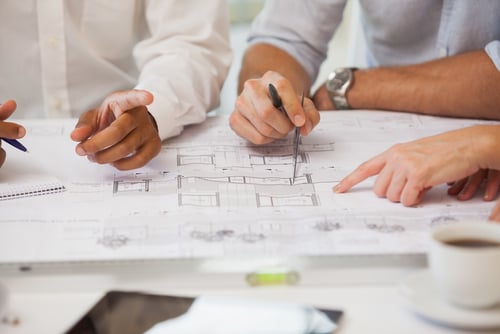 brand building and online presence. It's still an evolving concept, however, which requires a carefully planned strategy and coordinated implementation to be successful. I recently compiled a content marketing plan for a client, and realized while doing so that there are 6 critical components necessary to get it right, regardless of the type of business you're in.
Component #1: A Digital Platform
Before you (or anyone else) can create content for your company, you need somewhere to host it, display it, publish it. The most common digital platform is obviously a website, which you can partition into a blog, educational resources, a photo gallery, a source for downloadable eBooks and a repository for videos and podcasts. There are other options, however, that are less comprehensive but easy to set up, such as:
Social media profiles and pages

Video playlists

Discussion forums / boards
Whatever option you choose, customize it to adequately reflect your company name, your brand personality, your logo and other design elements. It should offer some interactivity so readers and followers can connect with you to ask questions, provide feedback and get additional information.

Component #2: Target Market Information
Determine who you are talking to by doing market research. Establish who the target audience is for your content marketing plan, based on age, location, interests, income range and other demographics. If you're selling kids' clothing, your audience might be a specific age group or their parents. For companies selling business consulting services, the audience is likely medium-sized businesses in a specific revenue bracket. In my case, the client is a children's urgent care clinic, so the audience is parents and families in a 25-mile radius. Ask questions that will help define your audience and determine its every-day concerns and problems.
Component #3: Reader Personas
Narrow down your audience to a particular group that you can target with your content marketing plan and create reader "personas" based on your most ideal client. Using your research, identify the attributes needed for someone to be your customer. To use a children's urgent care center, for example, these criteria would apply:
Has children under 16 (older goes to adult clinic)

Is aged between 25 and 40

Lives within 25 miles of the clinic's location

Earns an average salary for the region or has good health insurance
Create a word picture of the person to target with your content. You might have more than one persona, and each one requires a different approach if your content is to resonate with them.
Component #4: Keyword Research
You know your products and services, but do you know what keywords users type in when they search for them? Keyword research is vital to your content marketing plan because it's important to choose the words with the highest number of monthly searches and the lowest competition. For example, "urgent care" is a very highly competitive phrase, so in spite of multiple monthly searches it isn't practical to try and rank for it. Use Google's Keyword Planner tool to help find "long-tail" keywords and phrases such as "find children's urgent care in Rockville, MD" that are more specific and will yield better traffic results for your site.
Component #5: Editorial Calendar
Ok, so now you know who your content marketing plan is aimed it, where the material will be published and what keywords you need to incorporate into the content. But what are you going to create content about? This is one of the stumbling blocks many marketers encounter, because it's difficult to think of ideas. Creating an editorial calendar will help you to bring order to the chaos. You can note ideas so you don't forget them, and develop blog posts, videos and eBooks well ahead based on your time-table.
Component #6: Analytical Reports
One of the benefits of inbound marketing is the ability to track and measure your progress so you can see what is working, and then to adapt your content marketing plan for optimum results. Setting up an analytics account in one of the free or paid programs available makes it possible to keep a close eye on the performance of your content, otherwise you may be missing the mark or audience you're aiming to reach.
You'll need to put these critical components in place before you flesh out your content marketing plan to ensure that your efforts are successful. Whatever business you're in.
Photo courtesy of Shutterstock