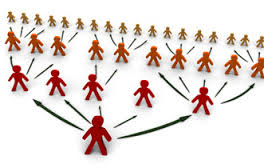 People talk about "viral videos". The fact is, in today's online world it's the stories, not the videos, that really go viral. Everyone loves a good story, and every brand has one. However, the hard truth is: If your brand's story is not shared, it won't matter to the public. Going viral is the quickest, sure-fire way to get your brand's story out there and gain recognition.

With the bar for wildly popular viral content set so seemingly low, it's logical to want to give it a shot. After all, if a man gushing about a "double rainbow" can become a hit, you can too. Right? The trick to going viral is telling your story in a way that others care about enough to share with others (thousands or millions of times over).
Content is Always King
As Megan O'Neill shares in an article for Social Times, if people don't like your content, they are not going to share it with others. While SEO is important, remember that search engines don't have the ability to emotionally like your content. Content that's most likely to go viral has one or more of the following elements:
Trendy: Good timing is on your side. Trendy items are those that related to popular concepts, current affairs or even the season (like the winter holidays).
Controversial: Those who make history are not the individuals who fit in with the crowd. Be brave, hit hot buttons, arouse emotions and discuss topics that others care about or hate.
Inspiring: The public likes to feel good. They like to learn about an underdog's success. When you make your content relatable and inspirational, you touch an emotional nerve and make your message the public's message.
Useful: The public likes to learn and feel empowered. If your content serves as an excellent and trustworthy resource, it will be shared. (Keep in mind that you can't always build trust overnight.)
Makes others feel clever or cool: Flattery can go a long way. By making a target group feel wanted, cool, smart or "normal," the group will respond by sharing your story.
Unexpected: Sometimes seemingly silly content—like a mama panda getting scared when her cub sneezes—goes viral because it's innovative, novel, surprising, funny or unanticipated.
Researchers at the University of Pennsylvania's Wharton School concluded in a 2010 study that content that evokes anger or awe is most likely to go viral.
Winning Headlines
With thousands of pieces of new content uploaded to the Internet every second, you only have a couple of seconds to make your story stand out from the rest. Tweak a simple headline to make it more interesting and relatable. For example, people are more likely to click on a headline that reads "How Jane Smith Gained Control Over Her Life and Lost 50 Pounds" than one that simply states "How to Lose Weight," even if they both had the same content. The first headline is immediately relatable and allows a reader to compare Jane's situation to his or her own.
Research Trends
Neetzan Zimmerman in Gawker took the time to research the Internet's listeners and storytellers to find the origins of popular content, track its movements across the Web and discover the moment that it went viral. Zimmerman found that content is more likely to go viral when it meets the expectations of popular sites that consistently help boost brand popularity. In general, a brand's story is more likely to go viral when it's part of a larger community. When you're able to determine the next hot discussion, you will favorably advance your target audience's conversation. This technique is generally more fruitful than trying to start a new conversation.
Share Your Content
Your brand's story won't share itself. After the content is live on the Web, use social media to share it. Blog about the content, ask people you know to share the page and ask influential people in your industry to help you spread the word. In a 2011 TED Talks, Kevin Allocca, YouTube's trends manager, states that one of the best ways to go viral is to have a tastemaker (a trendsetter) introduce you to a larger audience. This technique allows for community participation and lets the public become part of the viral phenomenon/community collective when they spread the popular content.
The viral content floating around on the Web can sometimes seem randomly selected to be popular, but it's important to remember that it's not. Also, keep in mind that popularity doesn't usually happen overnight. To make your brand's story go viral, appeal to and nurture your target audience so those priceless social media mentions work in your favor.