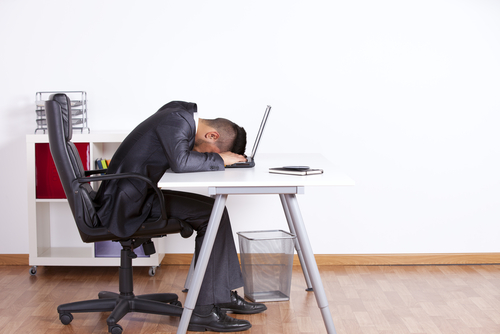 It seems like anyone who has a business or a blog is also a content marketer. In fact, up to 91 percent of B2B marketers now use content marketing. When a business does it right, content marketing drives traffic, generates quality leads, builds brand awareness and can be the enterprise's social marketing lifeblood. When it sucks, you're only adding to the online clutter that your target customer already sees in abundance. Creating sucky content wastes your time and, as you've learned, doesn't bring you the ROI you want.
Check out the following reasons why you might fail at content marketing and learn how you can avoid such blunders:
You didn't make a plan. Content marketing is kind of like going on a road trip. Before you embark on such a journey, you make an itinerary of places you want to see, where you'll sleep at night, possible side trips and your final destination.

Before you start marketing your content, you need to make a clear plan that will serve as your map and itinerary. This plan should include specific content marketing goals that are measurable and specific, as well as the steps you'll needed to take to succeed. Otherwise, you're going to aimlessly cruise around the Web.

Your ego is front and center. It's a common mistake—your product or service is so great that all you do is talk about how awesome your company is. The harsh truth is that consumers don't care. They simply want to know how you can benefit them. Yes, it's selfish, but that's how it works. Brianne Carlon in a post for Kuno Creative shares that consumers will value your content and want more of it if you offer a quality takeaway or something of perceived value.

So, instead of telling prospective customers about how great your selection of flashlights is, for example, give them tips about essentials to pack in an emergency preparedness kit. Or, offer an e-book about the best campsites in the Midwest along with a checklist of camping supplies to pack. Such content offers the consumer something of value that relates to your company.

Your headlines are boring. Headlines are first impressions, thus the reason that newspapers and magazines make them big and flashy. Kay Singh in a post for Social Media Today states that good headlines are simple to understand, concise, use strategic keywords and grab the attention of your target audience.

Good headlines tease readers so they want to learn more. A boring headline reads like this: "An Examination of Different Modules in which Family Units Can Participate to Strengthen the Bonds Between Children and Parental Figures." Yawn! This is content marketing, not a university paper. An attention-grabbing headline reads more like this: "8 Fun Activities to Strengthen Family Ties."

Your content isn't optimized. If you want your target consumer to spend his time and/or money on your business, you have to make your content simple to find. SEO (search engine optimization) goes beyond blog posts as it's equally important to optimize your content marketing efforts, whether it's an article, press release, status update and so on.

Use targeted keywords in your headlines, Meta titles, headings, image descriptions, and ALT image descriptions to help current and prospective customers find your business. These keywords are the words that consumers are most likely to enter into a search engine to find the products or services you offer. For example, if your company sells office supplies, it would make sense to use keywords like "office supplies," "cheap pens" or "printer paper." While optimization sounds logical, a lot of businesses don't do it.

Your priorities aren't straight. As a business person, it can seem like a no-brainer to shoot out a dozen daily status updates across the company's social media platforms, publish content every day and seek as many "Likes" and "shares" as possible. While these content marketing achievements are good, they're not worth a pat on the back if they compromise quality. Consumers notice when there are spelling and grammatical errors, phrases that don't make sense, missing words, mistruths and time-wasting fluff.

Don't blog or post for the sake staying "connected." In content marketing, if you can't do the simple things well (like know the difference between there, their and they're), don't do them at all. Otherwise, you'll hurt the company's reputation as an industry expert and you'll lose consumer trust. The online magazine EContent shares that it's better to publish less and offer exceptional quality than publish more and be useless.
Photo courtesy of Shutterstock